This super healthy vegetarian Tom Kha soup is perfect to beat any cold that may be attacking you this season as it's packed with vitamins, it warms up your body and boosts your metabolism!
A healthy dish a day keeps the doctor away
With such changing weather it is hard to keep yourself safe from colds. I've been avoiding one for about a month now, and I'm very proud of the system I've developed. Whenever I feel like the cold might hit me, I cook something high in vitamin C. Coriander, lime and ginger are two of my strongest allies in this fight.
A month ago I made a delicious ceviche as soon as I felt like I might get a cold. A bit later, I made this other tasty Thai style soup with prawns. Last week, since the temperatures in Edinburgh have gone down quite a lot, I felt vulnerable again. So I decided to try another Thai soup, this time with coconut milk. I looked online for bits and pieces of information to get an idea of what exactly a Tom Kha soup is, and then I picked some veggies that I like and thought would fit well.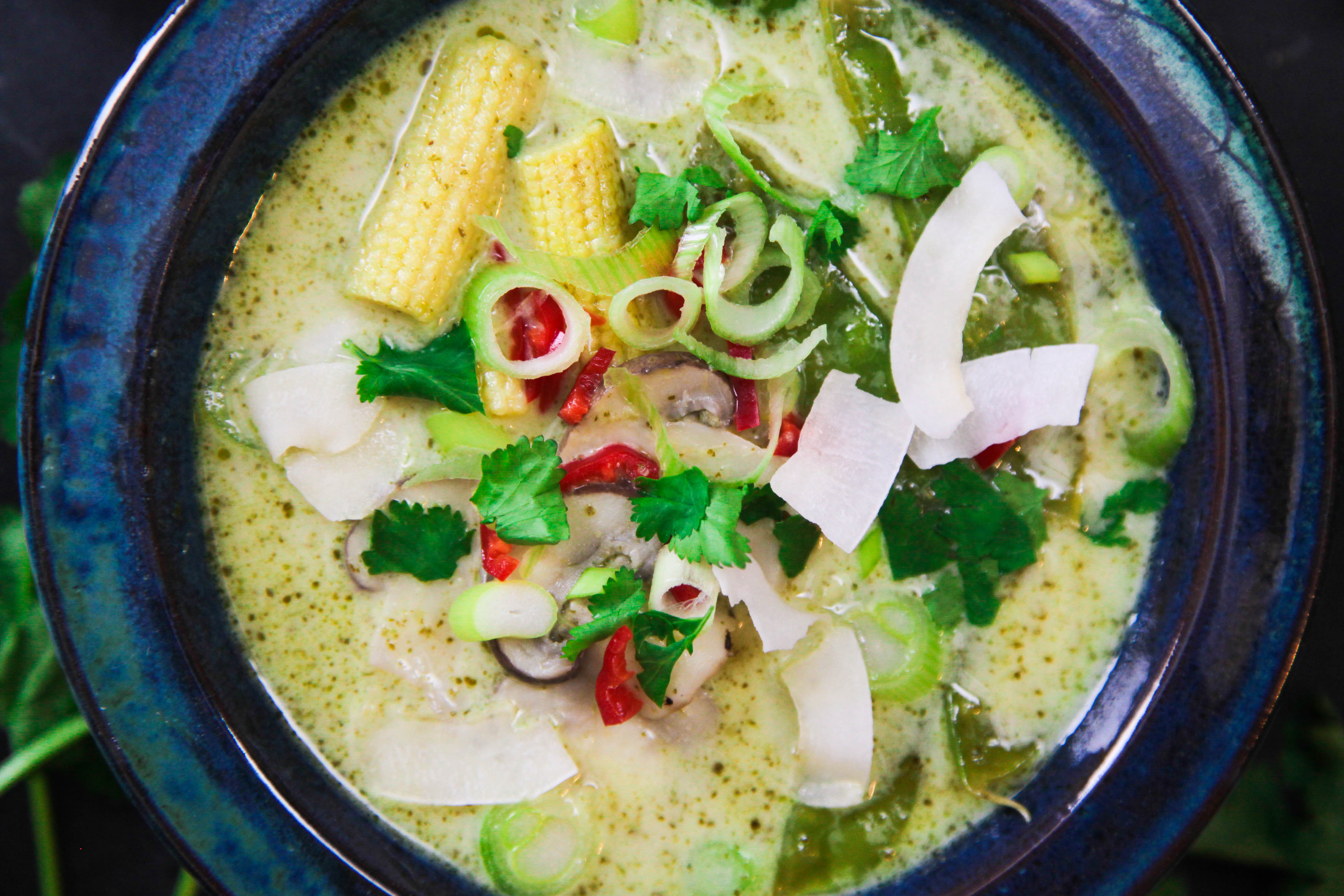 This soup is probably one of the strongest natural antibiotics! It contains lime juice, ginger, galangal and lemongrass, all super healthy and full of vitamin C. To enhance them warming your body and boosting your metabolism I added some lovely spiciness to it. All natural, vegetarian and very easy to make. Just try it out!
Here's the recipe
INGREDIENTS
2 tbsp sesame oil
1 lemongrass stalk, chopped finely
1 bunch of spring onions, chopped
1 tsp galangal paste (or fresh)
1 thumb sized piece of ginger, chopped finely
1 tsp dried Thai purple basil
5 kaffir lime leaves
1 small bunch of coriander
3 cans coconut milk
3 vegetable stock cubes
juice from 1 lime
5 Indonesian long peppercorns
1 tsp fish sauce
1 tsp chilli powder
250g mushrooms of your choice, sliced
150g mange touts, whole
150g baby corns, halved
1 small handful of coriander leaves to sprinkle on top
1 red chilli, sliced or chopped to sprinkle on top
INSTRUCTIONS
In a small pan heat up the oil and lightly fry the lemongrass, spring onions, galangal, ginger, thai purple basil, lime leaves and coriander. Add a little water and purée with a blender or food processor until you obtain a smooth paste.
Add the paste to a large pot together with the coconut milk, stock cubes, lime juice, peppercorns, fish sauce, chilli powder, mushrooms and about 1l of water and bring to boil.
Once the soup is boiling, turn the heat down to medium low and simmer for about 20 minutes.
Add the mange tout and baby corn only about 5 minutes before you wish to serve the soup, or else they will lose their crunchy texture.
NOTES
If you wish to have this as a main meal, you can add some thick rice noodles to it to make it more filling.