These creamed chanterelles with Austrian bread dumplings are one of those extremely easy to make yet utterly delicious recipes, for those days when you're not counting calories, but simply wish to enjoy the best autumn produces.
Take this walz
As you may already know, my boyfriend, Max is from Vienna, Austria. I myself spent a lovely year in the city and would happily move back anytime. I first visited Vienna a good six-seven years ago. As a tourist I was struck by the majestic atmosphere of the city's neoclassical architecture. Vienna sure is a beautiful city, but I am not one to properly appreciate the elegant buildings and large roads unless I discover the soul of the city. The people, the cultural life of the city are aspects that make me get a proper grasp of a city. Plus, as the geeky graphic designer that I am, I am in a constant need of exhibitions, events and festivals of all sorts.
When will you realise Vienna waits for you…
I ended up in Vienna fairly randomly. The day I quit my advertising job in Bucharest I found an AIESEC internship offer there. I felt like a good fit for the offer, plus I was open for any experience abroad anyway. After I applied I went through a couple of interviews and a month later there I was. I still remember frantically looking for a flat with the help of my assigned AIESEC buddy, Mokka, since I only had a couple of days to find my place before I started my job.
Vienna and I
Have you ever discovered a city which you felt is your home despite it not being your actual home? That, for me, is lovely Vienna. I may be writing this to Leonard Cohen's Take This Walk and may be biased by the delirious emotions that song carries (to me), but Vienna is the city of my dreams! It is the place that brings together a really high quality of life, decent house pricing, a great startup environment and a whole lot of fun activities to do in your spare time along with some amazing foodie experiences. Did you know that Vienna is the only city in the world that has vineyards within its borders? One of my favourite places was Kahlenberg. Imagine being up there, on a hill, in the middle of a vineyard and enjoying a glass of homemade wine in one of their Heurige. All of this while looking at the city from above.
Austrian food
I guess the first things that pop into anyone's mind when thinking about Austrian food are Schnitzels and Apfelstrudel. Experiencing Vienna and living with my Viennese boyfriend I got to discover that their cuisine has quite a lot in common with the Romanian one. A lot of the food is meat and carb based, with simple seasoning of salt, pepper and perhaps one or two other herbs. However, the one thing I really didn't  know about Austrian food is their variety of dumplings – knödel. Yeast dumplings, bread dumplings, semolina dumplings, potato dumplings are just a few of them.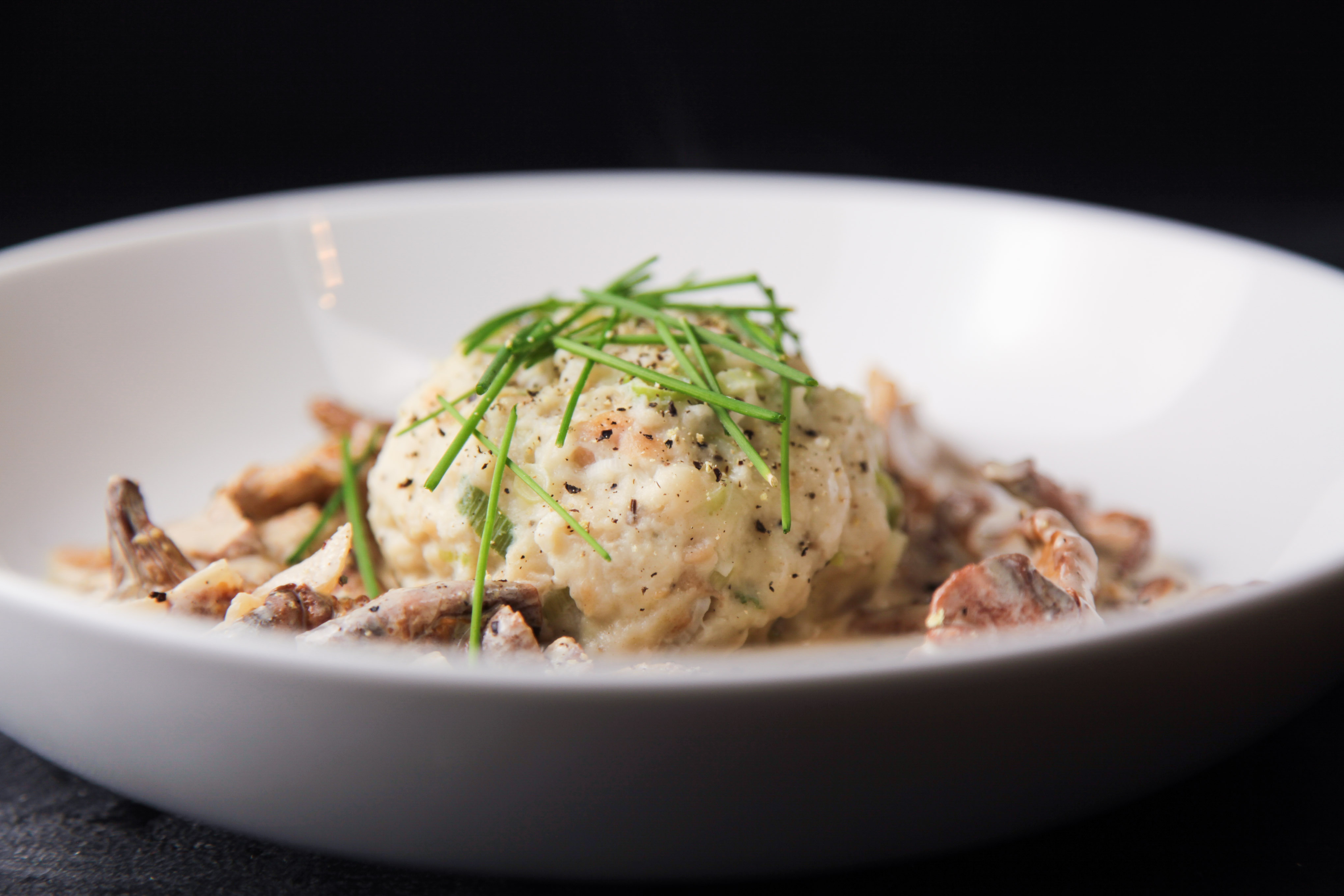 Mushroom picking and childhood memories
I grew up spending most of my time with my grand parents because my parents had busy, full time jobs. For my grandparents everything needed to be excessively safe. Therefore outdoor activities were often our of their comfort zone. I never went mushroom picking because I was told that I could get poisoned. I wasn't allowed to climb up trees and not even go down a slide (yes, imagine that!). And while my other grandma (who was not living in Bucharest) compensated by being overzealous about my outdoor activities, the little time I spent with her was never enough for me to get too adventurous. Max did though. He tells me with a lot of excitement of the times him and his Mom were going mushroom picking. He tells me about the different types of mushrooms he used to pick, and I often laugh at their funny sounding German names, because he often forgets what those mushrooms are called in English.

Challenging Max's childhood memories
I bought chanterelles and Max told me about the way his Mom used to make them. I always say that no dish tastes better than your Mom's or grandma's. This is why I felt hugely challenged when I had to make one of Max's favourite childhood dishes. He didn't tell me much about the recipe, but whenever I was making suggestions of changing something he did not seem very happy. So I decided to try and make it the way he's always had it, yet with no recipe for support. I mean, creamed mushrooms, they can't be that hard to get right, can they? For the bread dumplings I used this recipe for inspiration that I changed following my gut feeling. I also upgraded the chanterelles sauce by mixing a bit of adult-juice to it – some whisky.
The final dish
I had never had creamed chanterelles nor bread dumplings before. However, Max seemed to be very happy with the final product. And while it may not have been the same as his Mom's, I'm pretty proud I managed to remind him of his childhood even here, in Edinburgh, far away from beautiful Austria.
The recipe
FOR THE BREAD DUMPLINGS
500g soft white bread (burger buns are a great option), preferably a bit stale
2 eggs
250ml milk
3 spring onions, finely chopped
1 tsp dried sage
1 tsp black pepper, freshly ground
1 tsp salt
FOR THE CREAMED CHANTERELLES
500g fresh chanterelles
1 tsp olive oil
2 yellow onions, finely chopped
600ml single cream
3 tbsp whisky
1 tsp salt
1 tsp black pepper
1 small handful of chives to sprinkle on top
INSTRUCTIONS
It is good to start with the dumplings as they are the most time consuming. If you are using stale bread, then simply chop it in small cubes then mix it with the rest of the ingredients in the bowl.
If you are using fresh bread, cut it into cubes then place it in the oven for a couple of minutes at 160ºC, until it dries on the surface.
Once a bit dry, mix it together with all the ingredients for the dumplings. The texture of the mix should be relatively sticky, yet hard enough for you to be able to form the dumplings.
Add water to a pot and bring it to boil. Once it's boiling, turn the heat down and simmer the bread dumplings for about 15 minutes.
In the meantime prepare the chanterelles.
Heat the olive oil in a large pan and sauté the onions until translucent.
Add the chanterelles and stir them for 2-3 minutes.
Add the cream, whisky, salt and pepper together with a small glass of water (150-200ml) and let simmer for about 10 minutes. Don't forget to stir from time to time.
Serve warm with fresh chives sprinkled on top and enjoy!