Can I tempt you with a finger-licking good colourful gourmet poutine with normal and sweet potatoes, a whisky mushroom gravy, vintage cheddar and a garlic yogurt sauce? I had this for dinner and it was so good I made it again for lunch the next day!
The Canadian Poutine
Despite the fact that I've never actually been to Canada (nor tasted an actual poutine), I have heard so many of my friends talk about this delicious dish. Some were having it as the end of a successful night out, others had it when they were too lazy to cook, and some were looking for the most exquisite recipes. I've even heard of the Great PoutineFest in Montreal. Luckily for me, I've got enough friends in Canada to learn about these wonderful things. [twocol_one]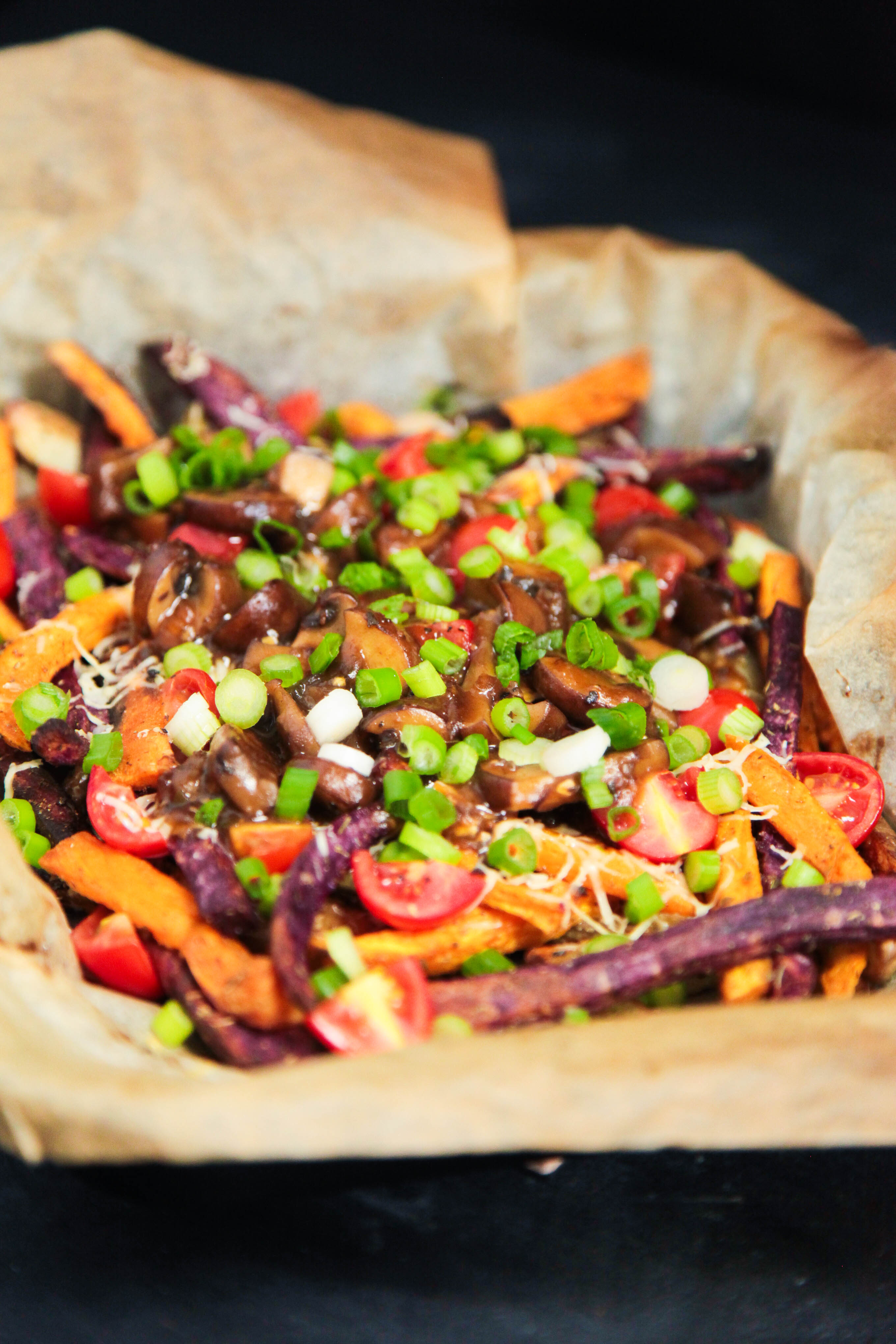 [/twocol_one] [twocol_one_last]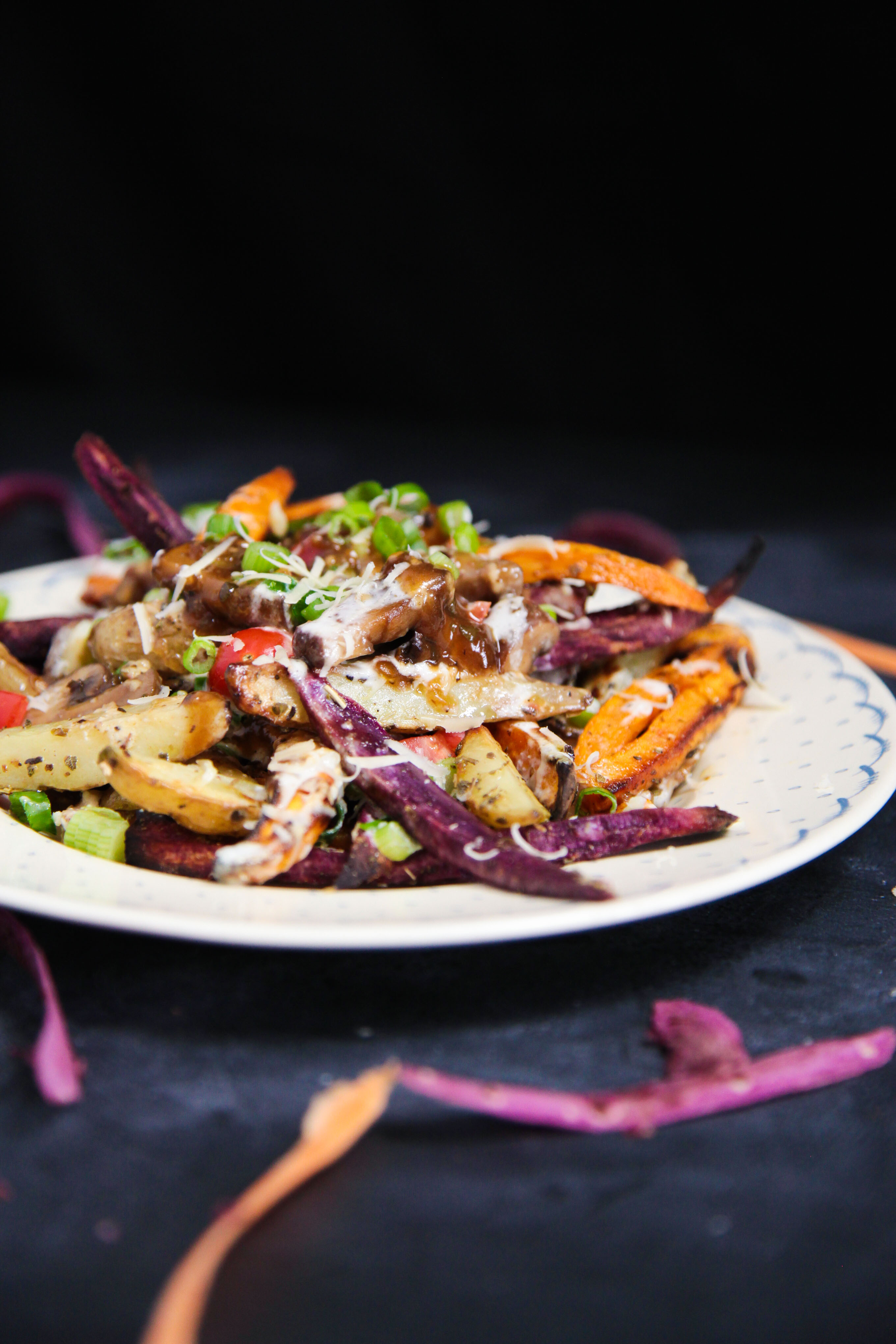 [/twocol_one_last]
Gourmet and healthy everything
Poutine is a traditional Canadian fast food with fries, curd cheese and gravy. However, since we live in the century of foodies, nothing traditional satisfies our greatest cravings. In an interesting article Turow, the writer of A Taste of Generation Yum: How the Millennial Generation's Love for Organic Fare, Celebrity Chefs, and Microbrews Will Make or Break the Future of Food blames the new generations' sensory deprivation and isolation for the growing obsession for food. Fast food chains are either declining or pressured to adapt their menus to the young generations' improved needs for tasty and healthy food.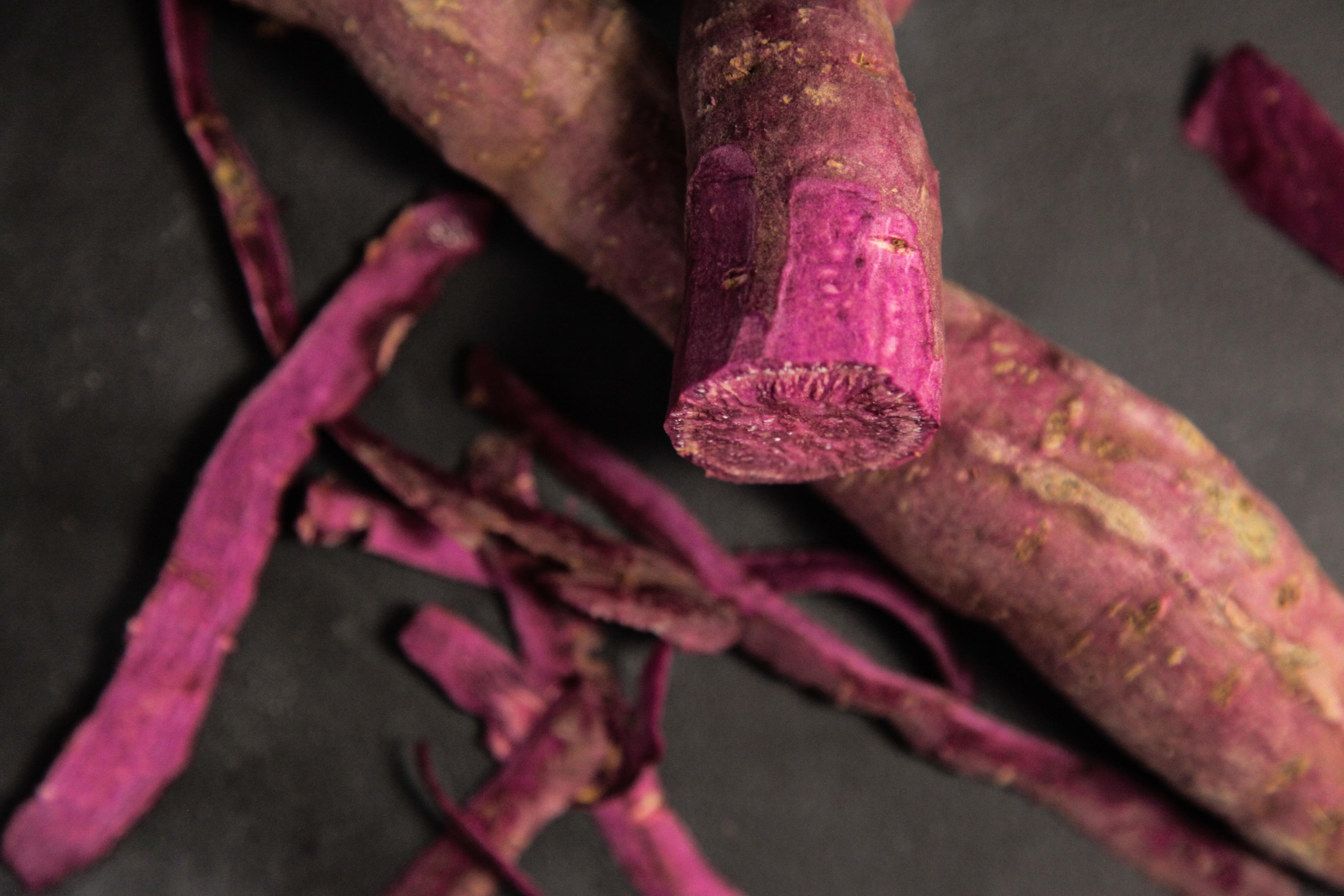 It all started with burgers
And while it all started with burgers, which have now become more sophisticated than ever, this trend has not ceased to develop further. We don't want fries, we now want baked sweet potato fries, we no longer drink a cup of milk, but now we want it golden, and there's nothing wrong with it. We're just becoming more aware that we need to eat healthier, and our overall standards have gone up. So, should we all agree that traditional food is, well… overrated?
Baked, colourful and sweet tatties
We've all agreed (or so I hope) that frying is unhealthy. We've also figured out (or so I hope) that there's always a healthy alternative that doesn't have to only involve kale, broccoli, or any other health bomb that you are trying so hard to like but simply can't. Sweet potatoes have proven to have a whole load of health benefits, contain less carbs and are less calorific than normal potatoes and purple potatoes are loaded with antioxidants. This is why I decided to combine all the different types of potatoes in this dish. The other reason is purely aesthetic and is linked to my colourmania.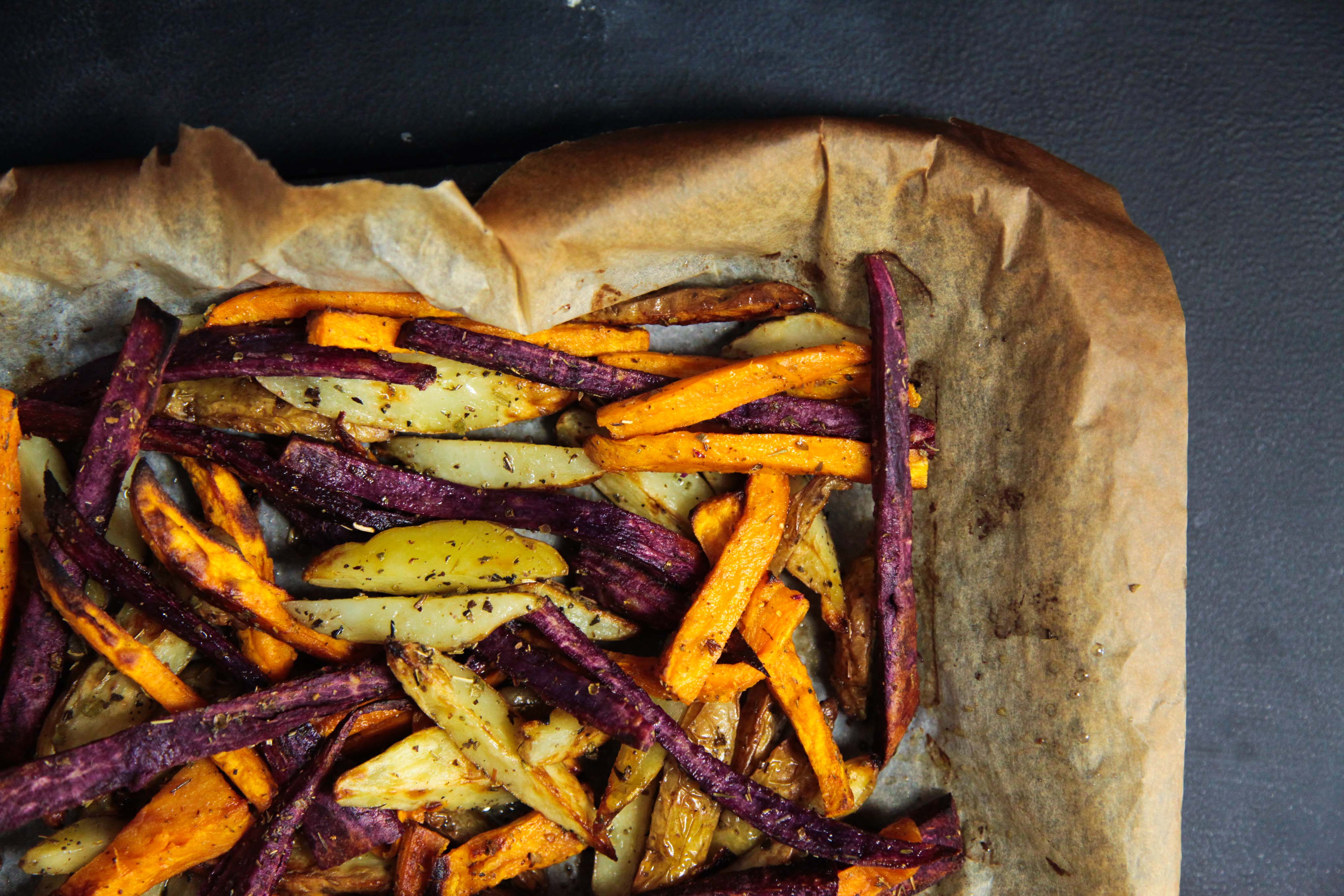 My gourmet poutine
I've so far been bragging about so many things, yet I haven't really said much about my gourmet poutine. It's super easy to make: if you're well organised and read the recipe beforehand, 50 minutes will be enough to make it! I added cripsy, yet lighter and healthier colourful potatoes that are baked instead of fried. I pimped the normal gravy with a delicious whisky and mushroom one. I've replaced the curd cheese with good quality vintage cheddar for extra flavour. Finally, I've topped it with some freshness from tomatoes, spring onions and a greek yogurt garlic sauce.
Here's the recipe
FOR THE POTATOES
1 sweet potato
1 purple potato
300g fingerling potatoes
1 tsp marjoram
1 tsp oregano
1 tsp rosemary
1 tsp sage
1 tsp salt
2 tbsp olive oil
FOR THE MUSHROOM GRAVY
3 garlic cloves
300g chestnut cup mushrooms, halved
2 beef stock cubes
20g butter
2 tbsp whisky
2 tsp cornflour (or some starch to thicken the sauce)
1 glass of water
salt
FOR THE GREEK YOGURT GARLIC SAUCE
200ml greek yogurt
1 garlic clove
1 tsp sage
1 tsp oregano
1 tbsp olive oil
OTHER TOPPINGS
1 handful of sweet cherry tomatoes, halved
a bunch of spring onions, sliced
100g vintage cheddar, grated
INSTRUCTIONS
First prepare the potatoes. Preheat the oven at 200ºC. Cut your potatoes into fries and mix them with the herbs, salt and oil.
Place them on a tray and let them bake for about 10 minutes, until they become slightly crispy, but still have their natural colour. The more you spread them on the tray, the faster they will cook!
In the meantime prepare the gravy by heating the butter and quickly frying the garlic for a minute in a pan.
Add the mushrooms, water and stock cubes and let cook on medium heat for about 7 minutes.
Add the starch to a small glass and mix with a bit of water, then add the mix to the gravy sauce to thicken it.
Add the whisky and stir for a couple of minutes, after which remove the pan from the heat.
Prepare the yogurt sauce by mixing all ingredients in a blender.
Once the potatoes are ready, move them in a deeper tray (use baking paper to avoid them from sticking to the tray), add the grated cheddar, tomatoes and gravy and bake for an additional 2-3 minutes.
Finally sprinkle some spring onions and drizzle some yogurt sauce.
Enjoy!
NOTES
If you wish to make the recipe simpler, you can just use one type of potatoes. However, keep in mind that different potatoes may take longer to cook!