Last weekend I turned 26 and to celebrate that, I decided to pick a reasonably priced contemporary dining restaurant where the food it styled and plated impeccably and the flavours leave me craving for more: The Atelier, Edinburgh (2 AA Rosettes). I chose this restaurant using four criteria: high ranking on TripAdvisor, beautiful and appetising photos (on the website and posted by reviewers on TripAdvisor), appealing menu and manageable prices (for a young professional). I made my booking a month before my actual birthday, and studied their website over and over again.
[twocol_one]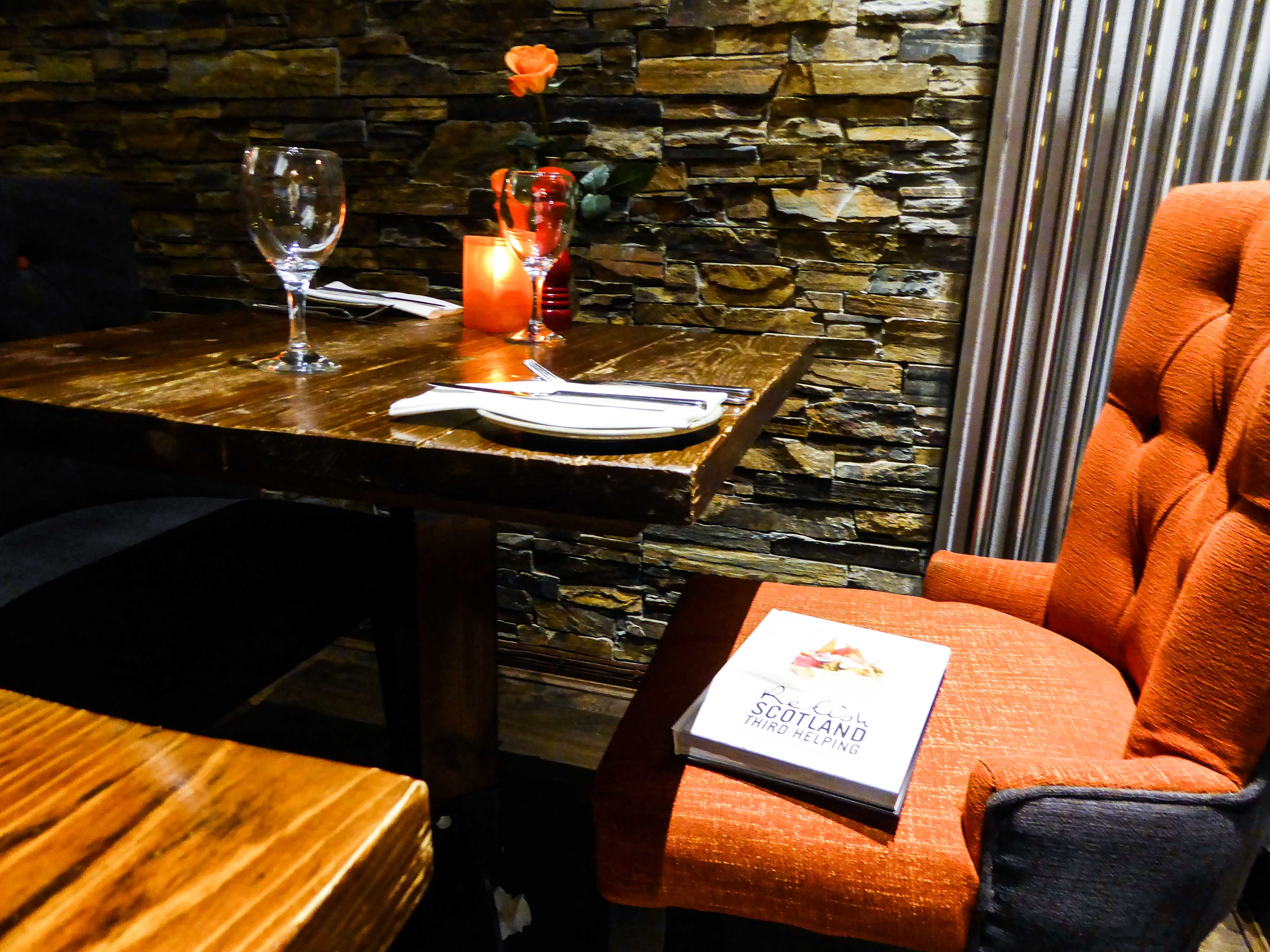 [/twocol_one] [twocol_one_last]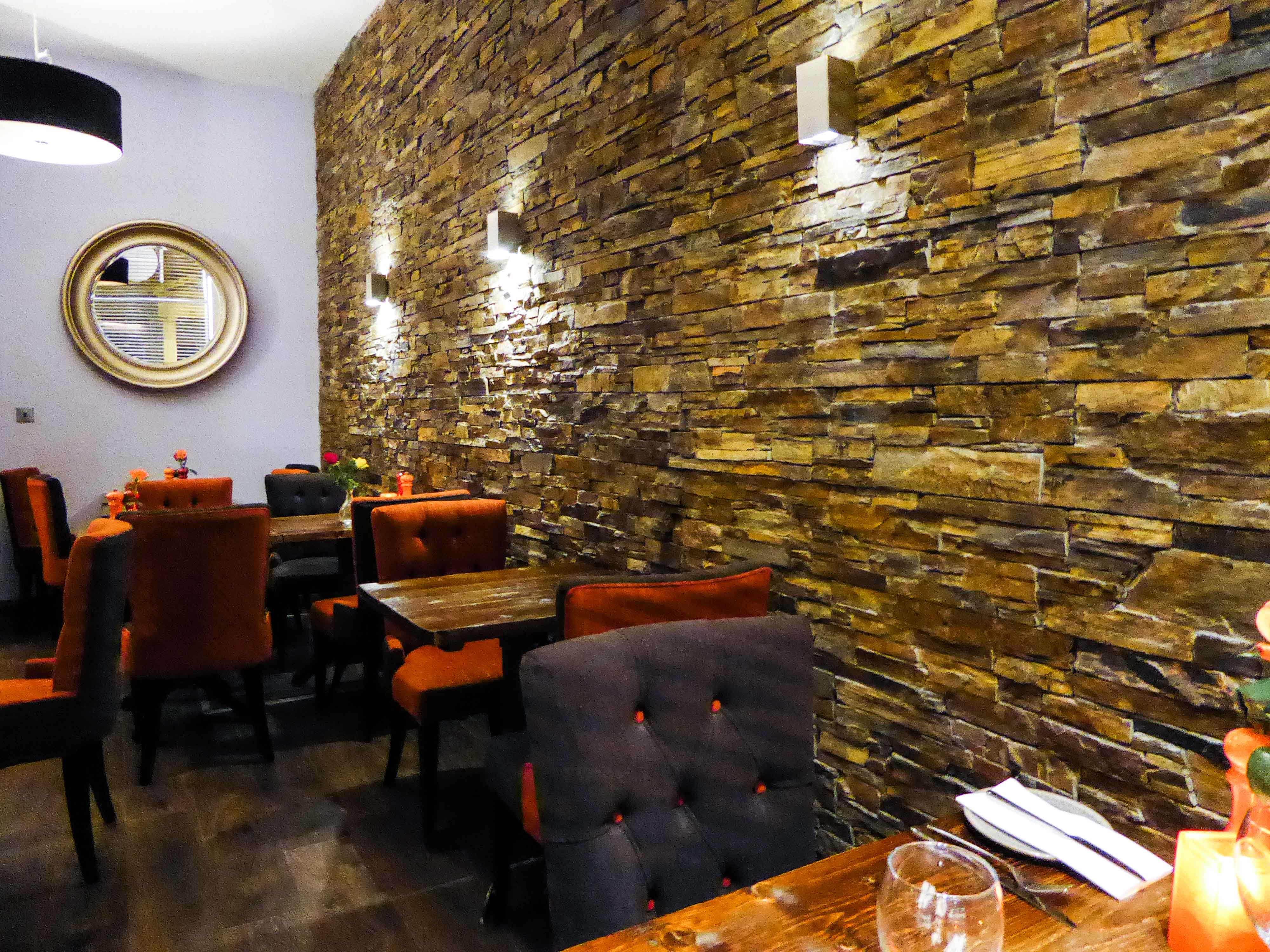 [/twocol_one_last]
The overall experience
I set my expectations high. Very high! I was hoping to be delighted by incredible flavours and surprising combinations of ingredients, a top notch service and a nice (yet unpretentious) atmosphere. The Atelier did not cease to surprise me throughout the whole evening! The food was great, the service was excellent and the atmosphere was the one I was hoping for.
An exquisite 8 course tasting menu
Since it was my birthday and I had never before had a contemporary dining experience, I decided to go for their tasting menu: 8 different dishes with amuse bouche and coffee included. I knew the portions were small, and I was hoping that the 8 different dishes would be enough, but I was wrong! At the end of the evening both my boyfriend and I were full and more than satisfied.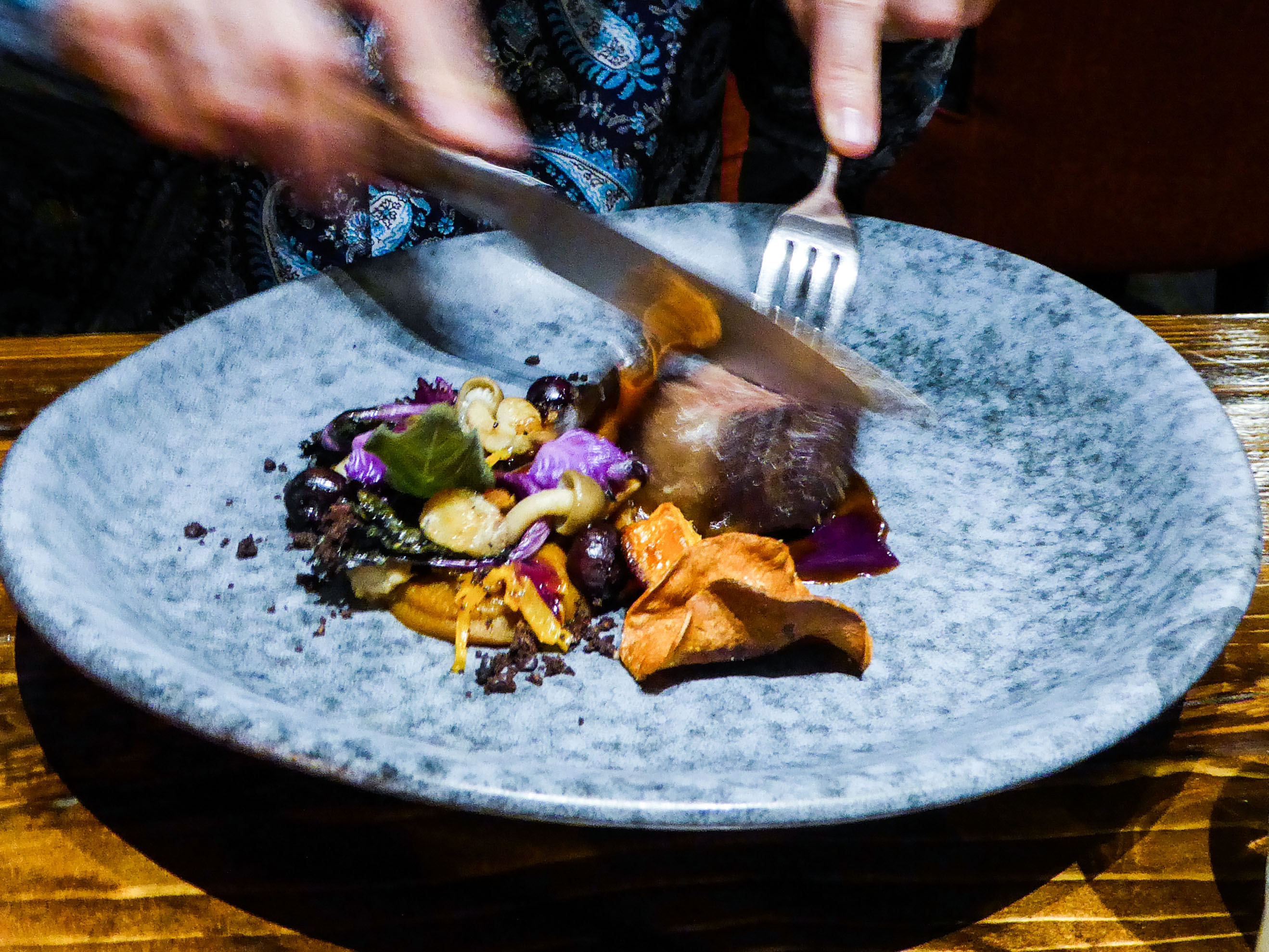 The menu
The menu was as follows (I hopefully managed to remember most ingredients):
mushroom purée with chocolate crumbs, fennel leaves and a blueberry
perfectly seared scallops with carrot and lobster butter puree, with grape jus, pickled grapes and fennel, apple chips and little gem lettuce
quail breast with its jus, pickled garlic and tomatoes, grilled tomatoes, basil leaves, charred aubergine puree, black olive powder, roasted red pepper and crunchy israeli couscous
stone bass with cauliflower two ways, cockles and cockle sauce, grapefruit and caviar
lamb with butternut squash three ways, pumpkin and sunflower seeds, king oyster mushrooms, red cabbage emulsion and kale (I definitely forgot some of the ingredients in this dish)
the most delicious dessert I have ever had: prosecco sorbet with mousse, fennel shortbread, peach, peach jus, nasturtium and fennel – coffee powder
chocolate olive cake with mousse, chocolate and mint sauce, figs and fig-leather
coffee and white chocolate truffles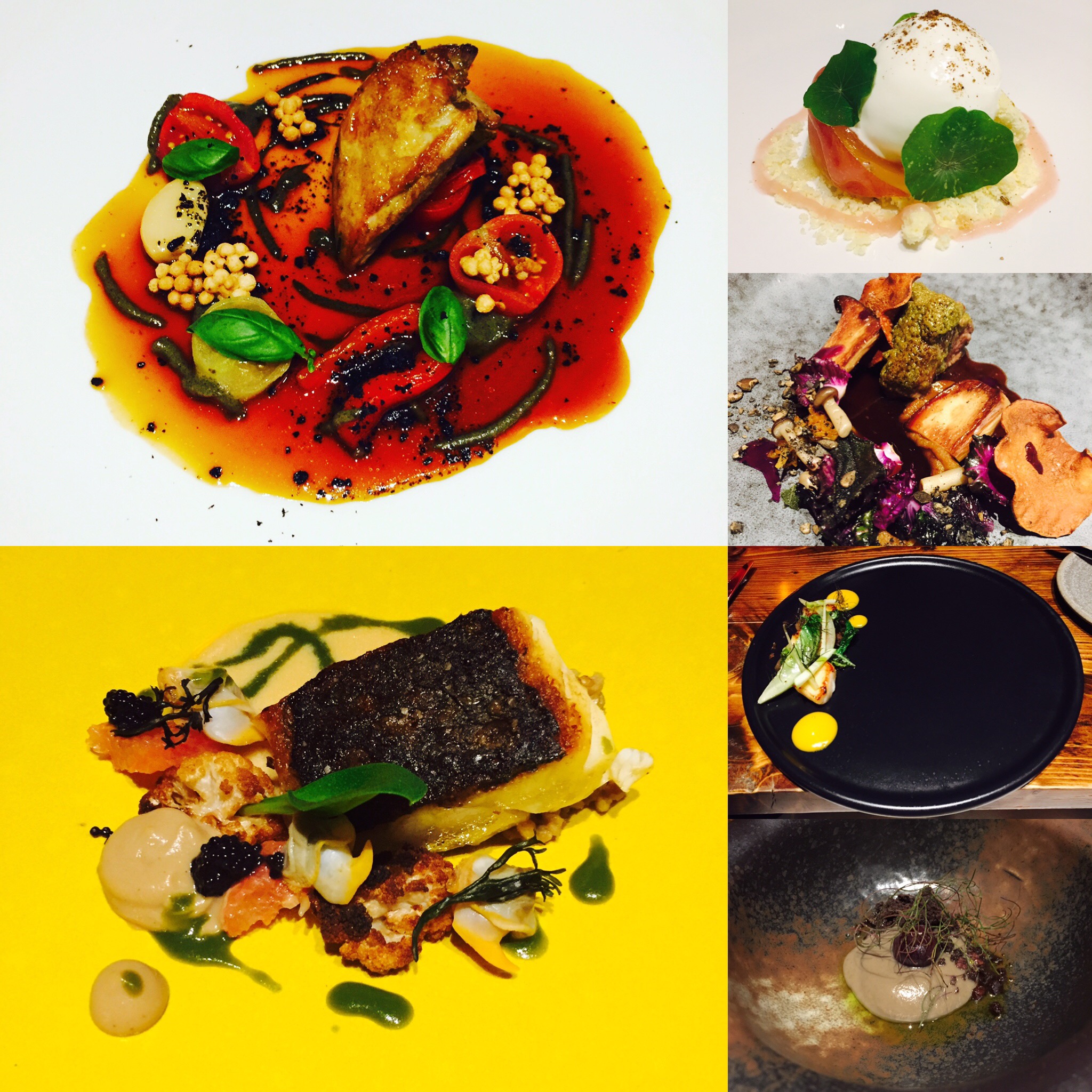 Capturing the essence of flavour
With skill and creativity flavour can be captured in the smallest form and the feeling of satiety isn't only related to the size of a dish. This is something that The Atelier taught me oh-so-well. I never thought that a spoonful of mushroom purée could actually be enough to satisfy the core of my senses, or that a few drops of red cabbage emulsion would capture the flavour of the whole vegetable!
[twocol_one]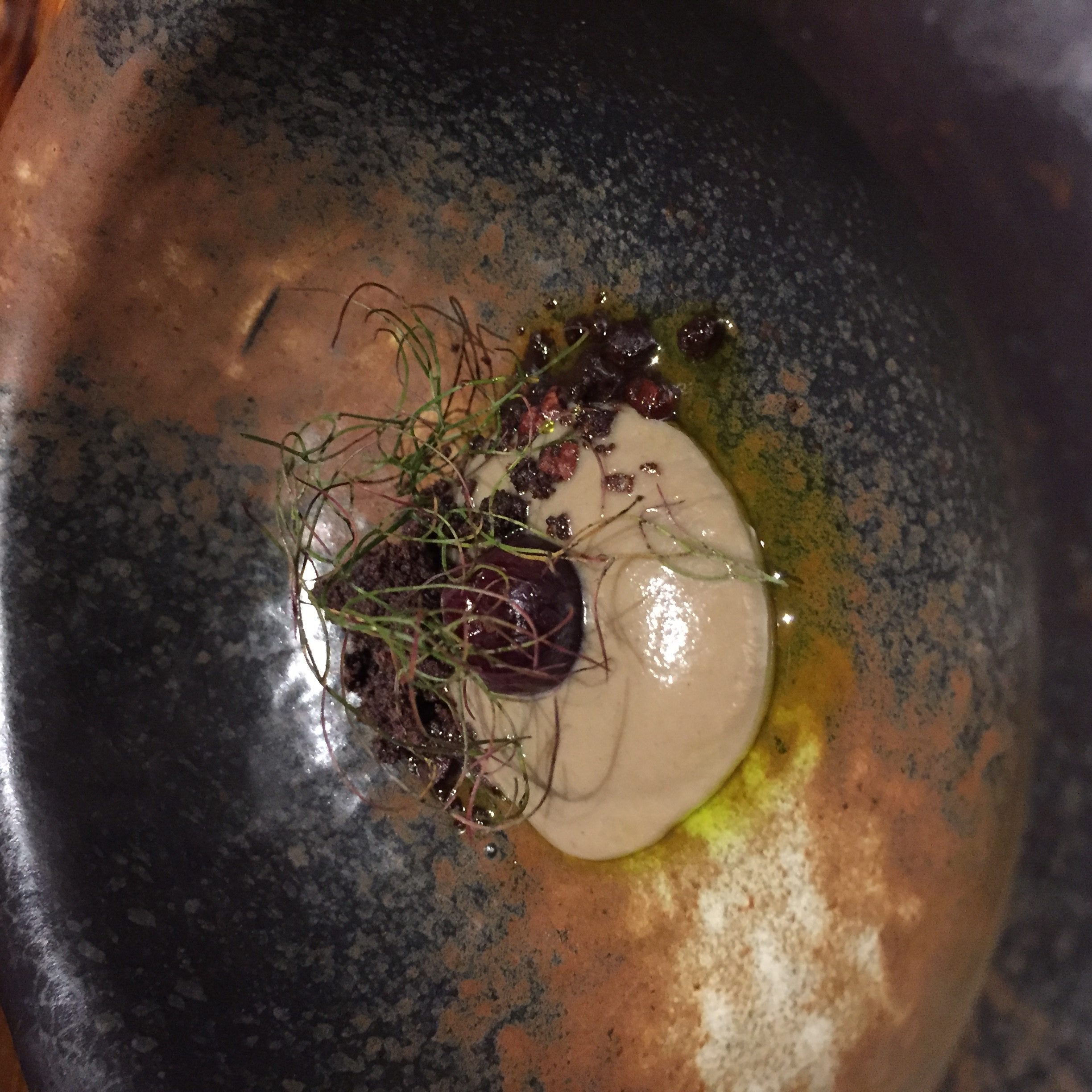 [/twocol_one] [twocol_one_last]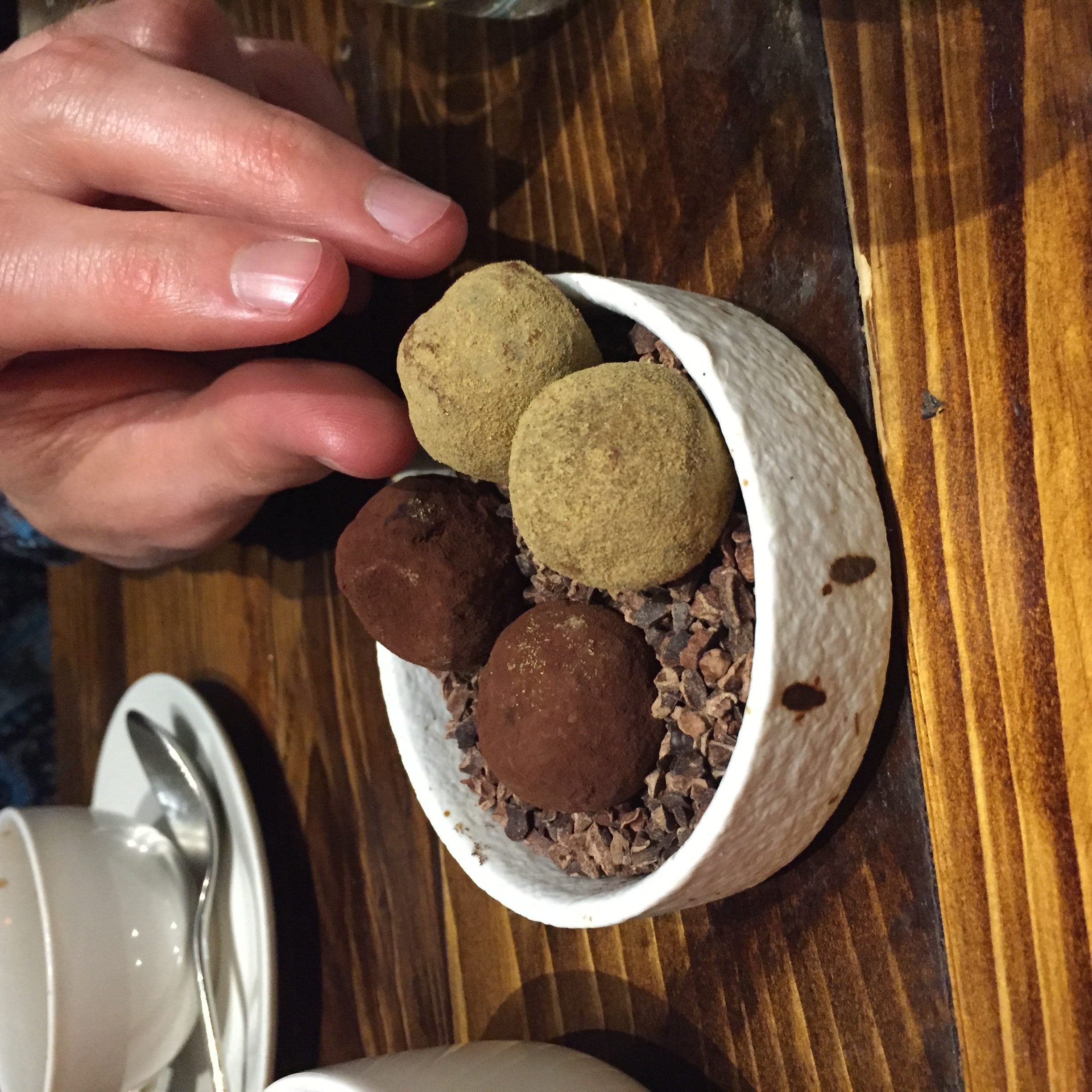 [/twocol_one_last]
Texture, colour, sear, crunch
I'm not sure whether it was the novelty of the experience or watching too much MasterChef, but I found it difficult to talk to my boyfriend about things other than food related – studying the textures, the colours, plating and styling, the carefully selected stoneware that perfectly matched each different dish. I recently read an article about the art of plating and the rules a chef should follow when building a dish:
'For 3-star fine dining plating, you know there's gonna be a puree of one vegetable. There's gonna be a sear. There's a shave—or a chip—something with crunch. […] On top of that, you might add a bit of charcuterie, a pickle, and a finishing sauce or two.' How to plate food like a 3-star Michelin Chef, Fast CoDesign
The Atelier's dishes surely reminded me of this article and helped me remember these golden rules even better.
[twocol_one]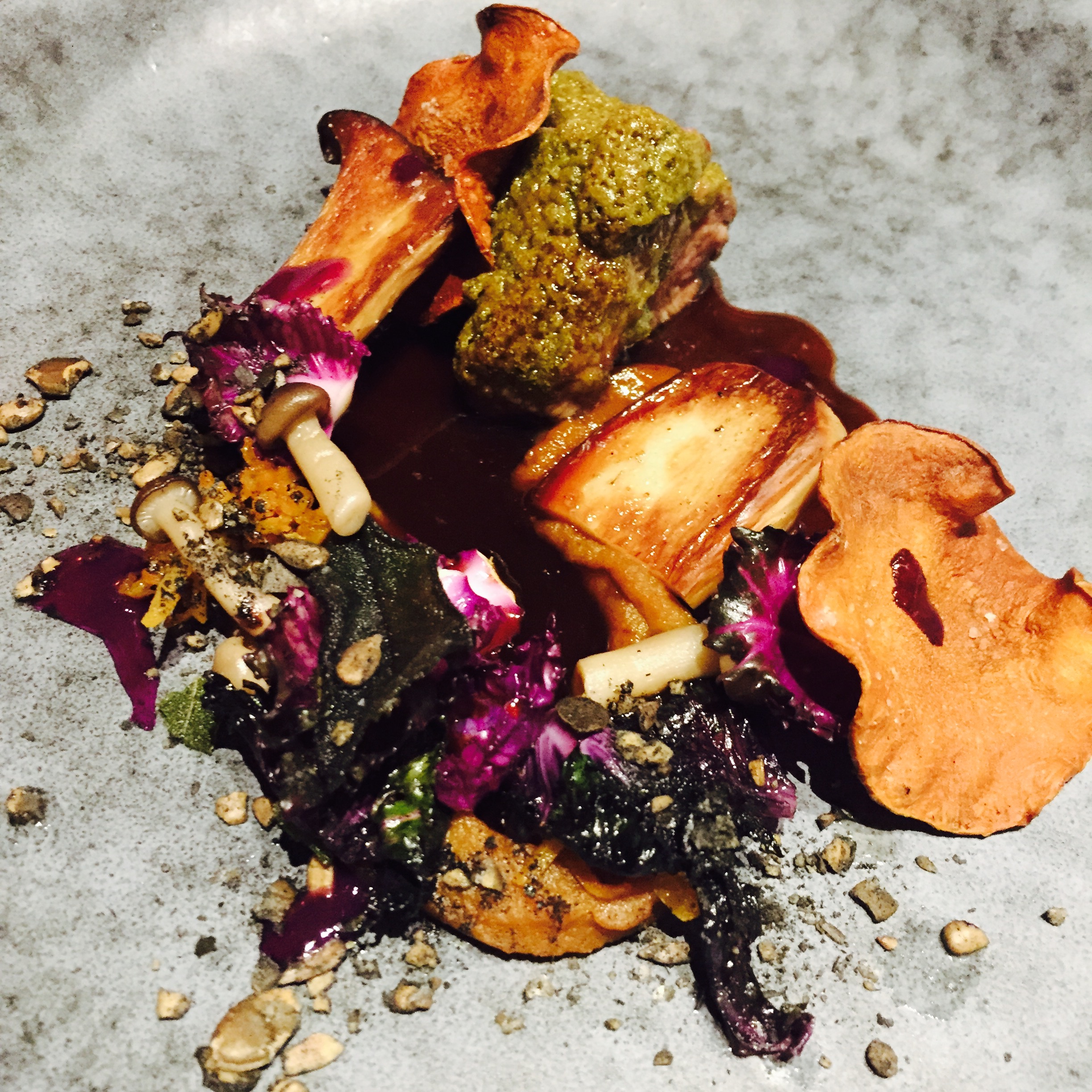 [/twocol_one] [twocol_one_last]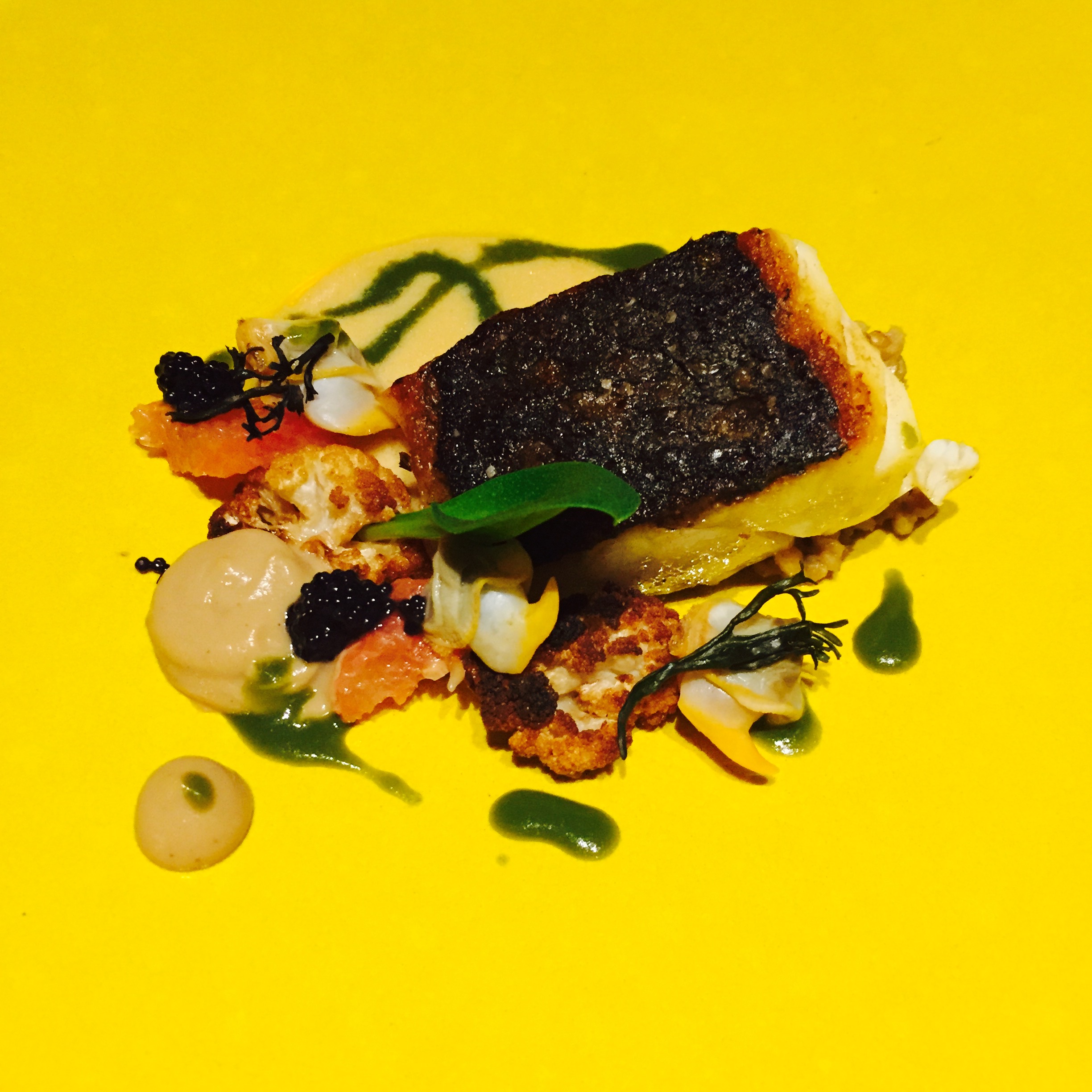 [/twocol_one_last]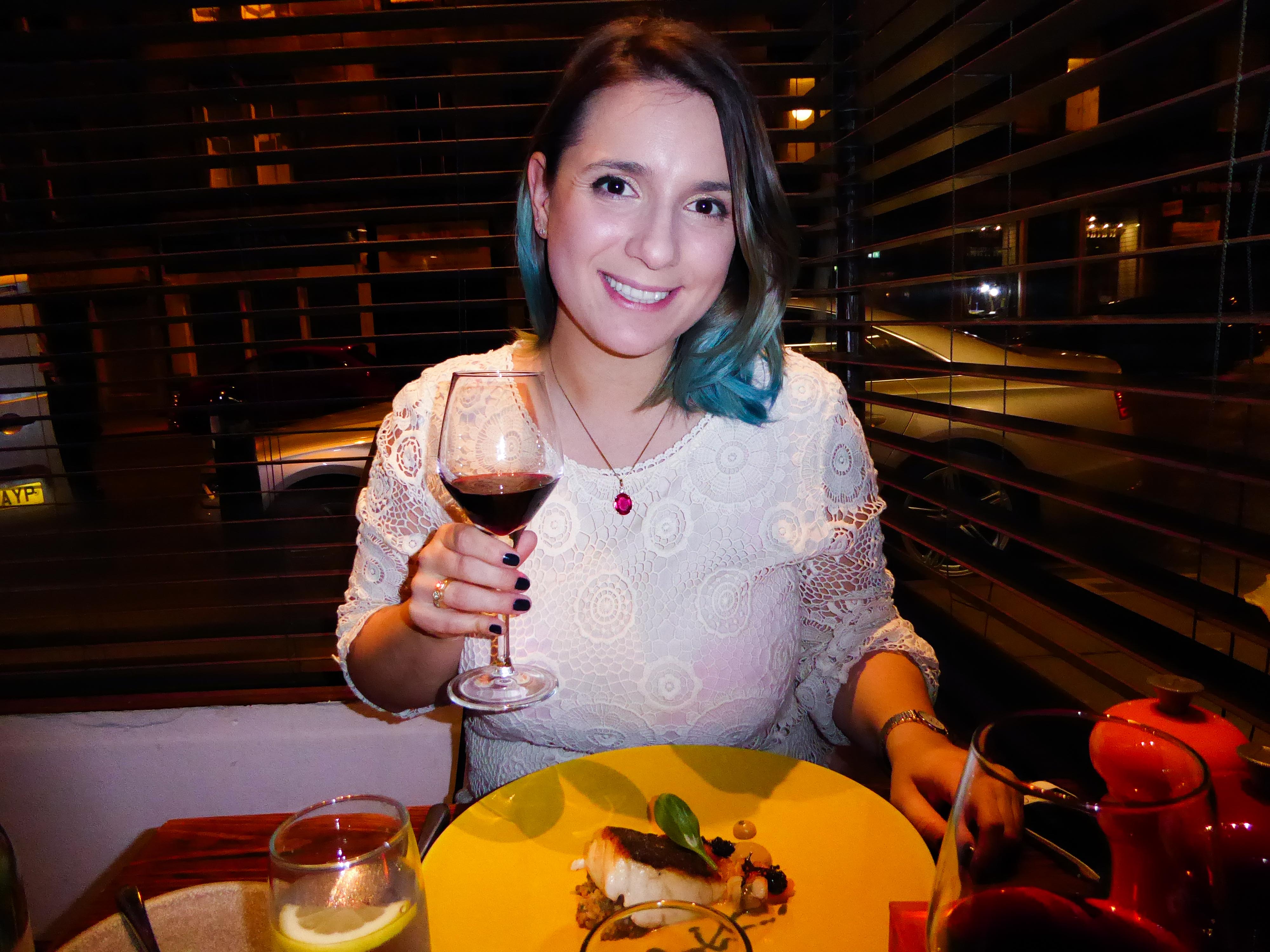 Tasting the life of a food critic
I tried imagining chef Maciek Zielinski's thought process and incredible minutious patience to make each and every dish look beautiful. I noticed and appreciated the presence of fennel as a common thread keeping the menu consistent. It is difficult to imagine the conclusions a Michelin Restaurant Inspector would have to say about the dinner. The flavours were exquisite, the combinations were surprising, and there was a good level of cohesiveness throughout the whole menu. Perhaps the quail was a bit too Mediterranean compared to the other dishes, which had French and Japanese influences. Yet, this is such a small detail that perhaps only very strict food critics would notice. (Plus, I personally adored the quail, it was tender and juicy and its accompaniments were genuine, simple and utterly tasty!)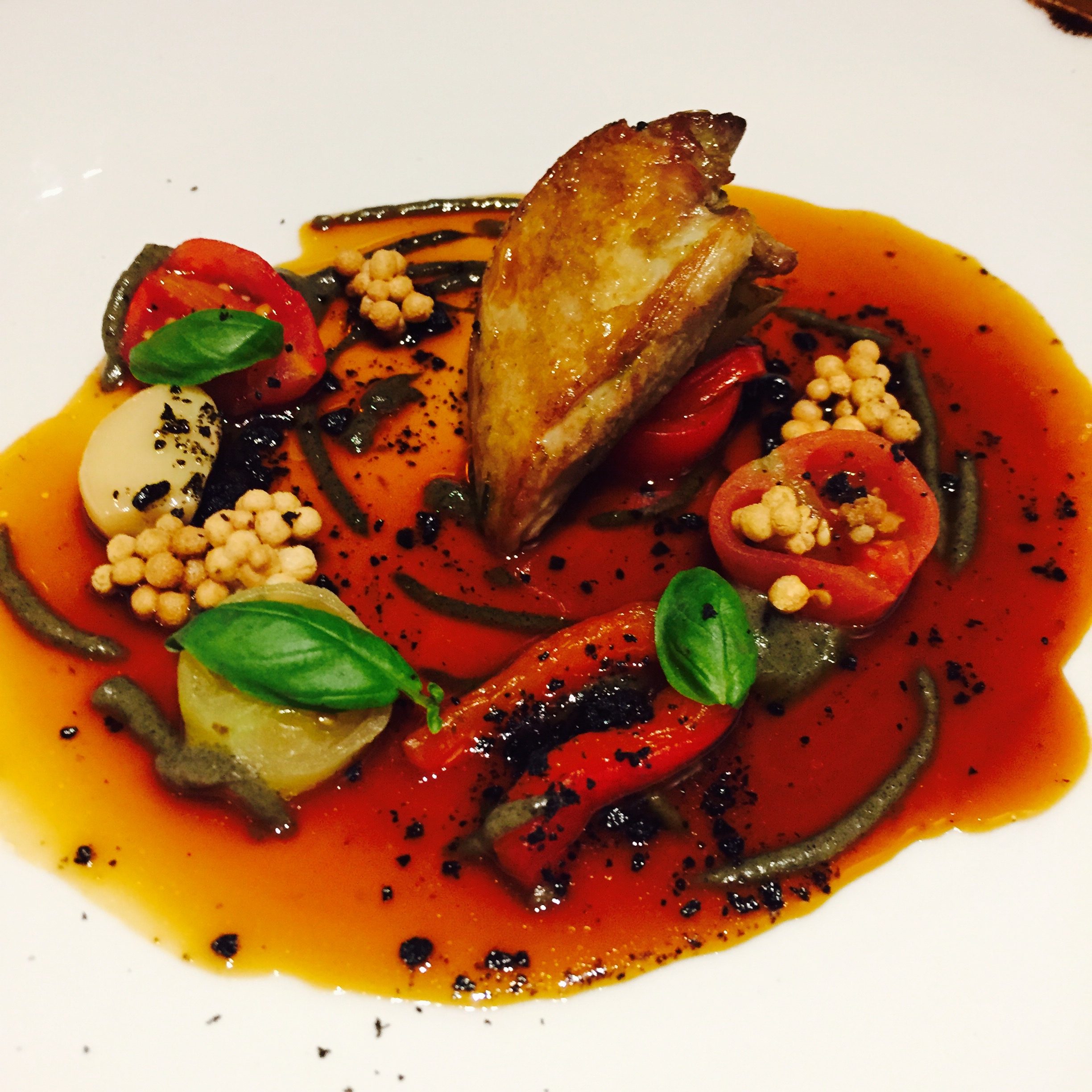 The Atelier, Edinburgh, tickling all senses
With a bottle of Chateau la Condamine, Corbieres (Languedoc, France 2013) and two 8 Moments of Discovery menus we ended up paying £124. While this was not a cheap dinner, I felt like every single penny was worth our experience! The Atelier, Edinburgh is a lovely little restaurant with a contemporary yet casual look, delicious, beautiful and well built dishes that will tickle all senses and an excellent service. I enjoyed every minute of the experience and would gladly go back again.
Love, happyholism and nom-nom,
Ioana