This ras el hanout beef stew with dried apricots is a great option for a large dinner party or a meal that will last one or two days. It is easy to make, tender and very flavoursome.
Meat is ok, but with moderation
Since the beginning of 2016 my boyfriend and I have decided to reduce out meat intake and eat mostly vegetarian food. While at first we were not very strict about it, we realised that not only did we feel better eating less meat, but that, in reality, we didn't really need it on a regular basis. Of course this puts a lot of pressure on the meat dish I am preparing, and while most times I love to indulge in a nice homemade gourmet burger (like this venison one or this very decadent one), this time I decided not to.
[twocol_one]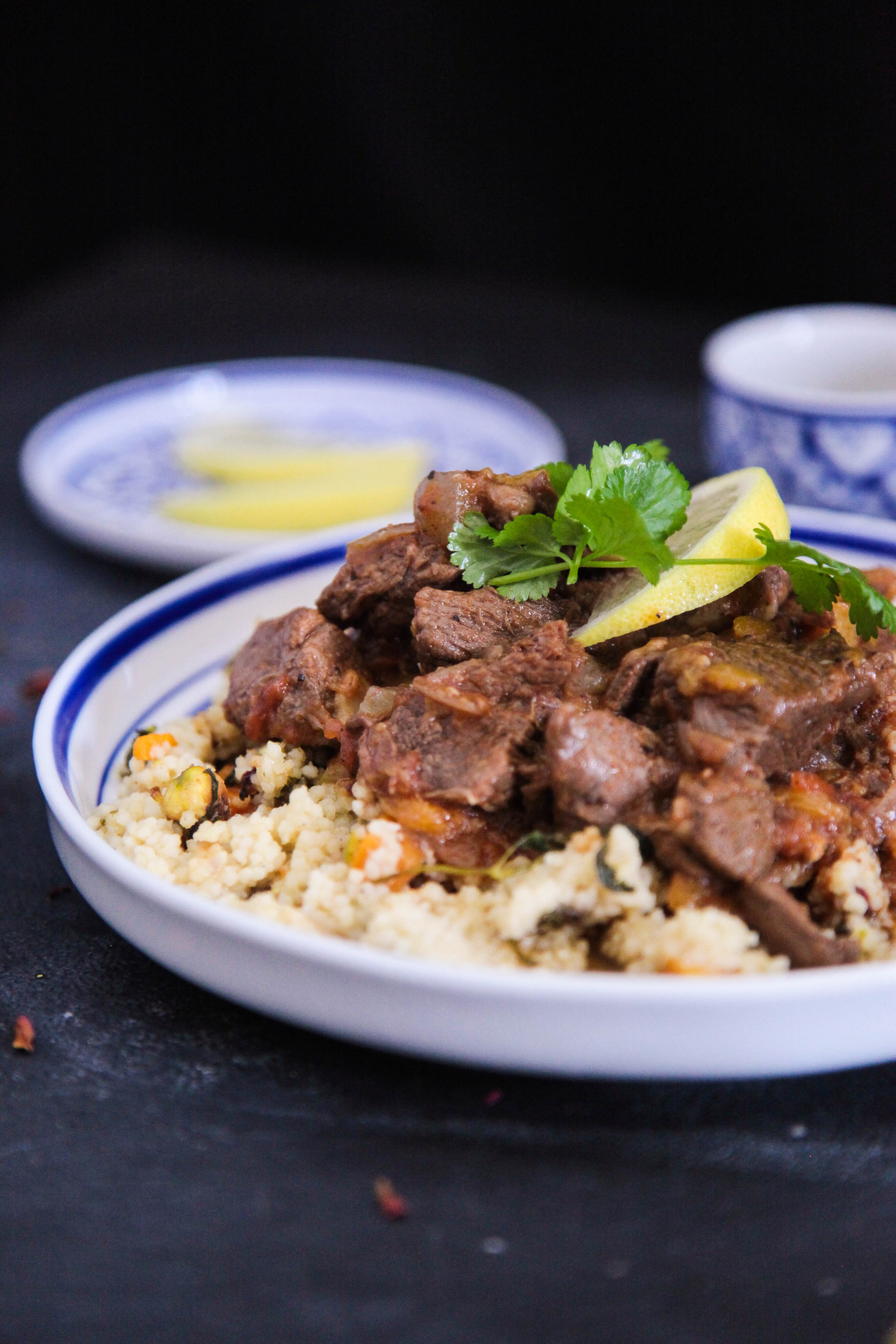 [/twocol_one] [twocol_one_last]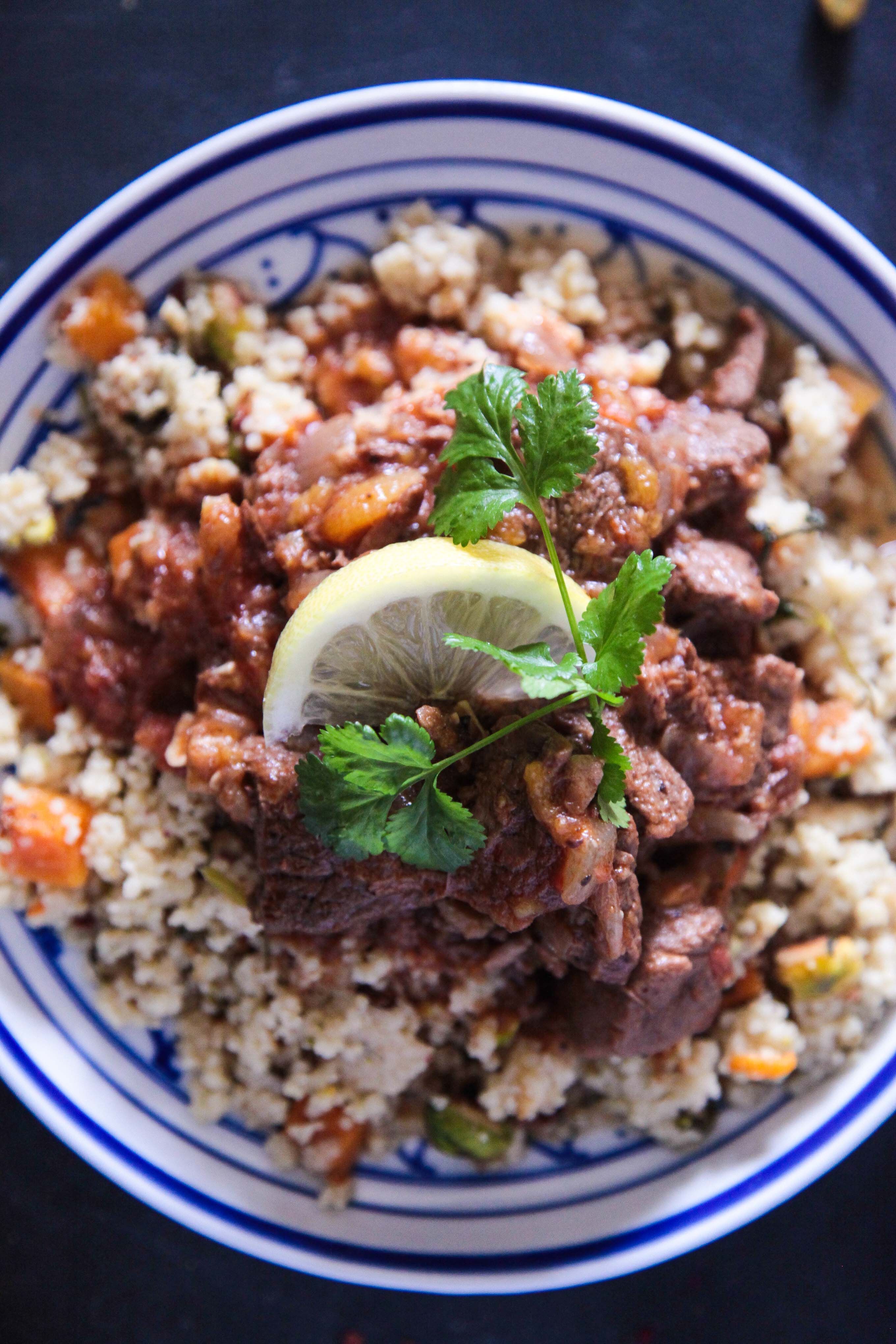 [/twocol_one_last]
My local butchers
I am really lucky to have two butchers that are very close to where I live. This makes buying meat a pleasure. When I first moved to the UK, I was buying meat from the supermarket. With time I started really disliking it. I always felt that supermarket mince, no matter what, had a really bad flavour, no matter how well I was cooking it. And now, honestly, with two butchers around, why would anyone buy their meat from the supermarket?
I feel like a lot of prejudices turn around prices, but in reality, the meat that I get from the butcher is really not that much more expensive than the one in supermarkets; it's also locally sourced.  Therefore, not as full of antibiotics and all sorts of drugs. Plus, it makes me feel good to support the very local economy.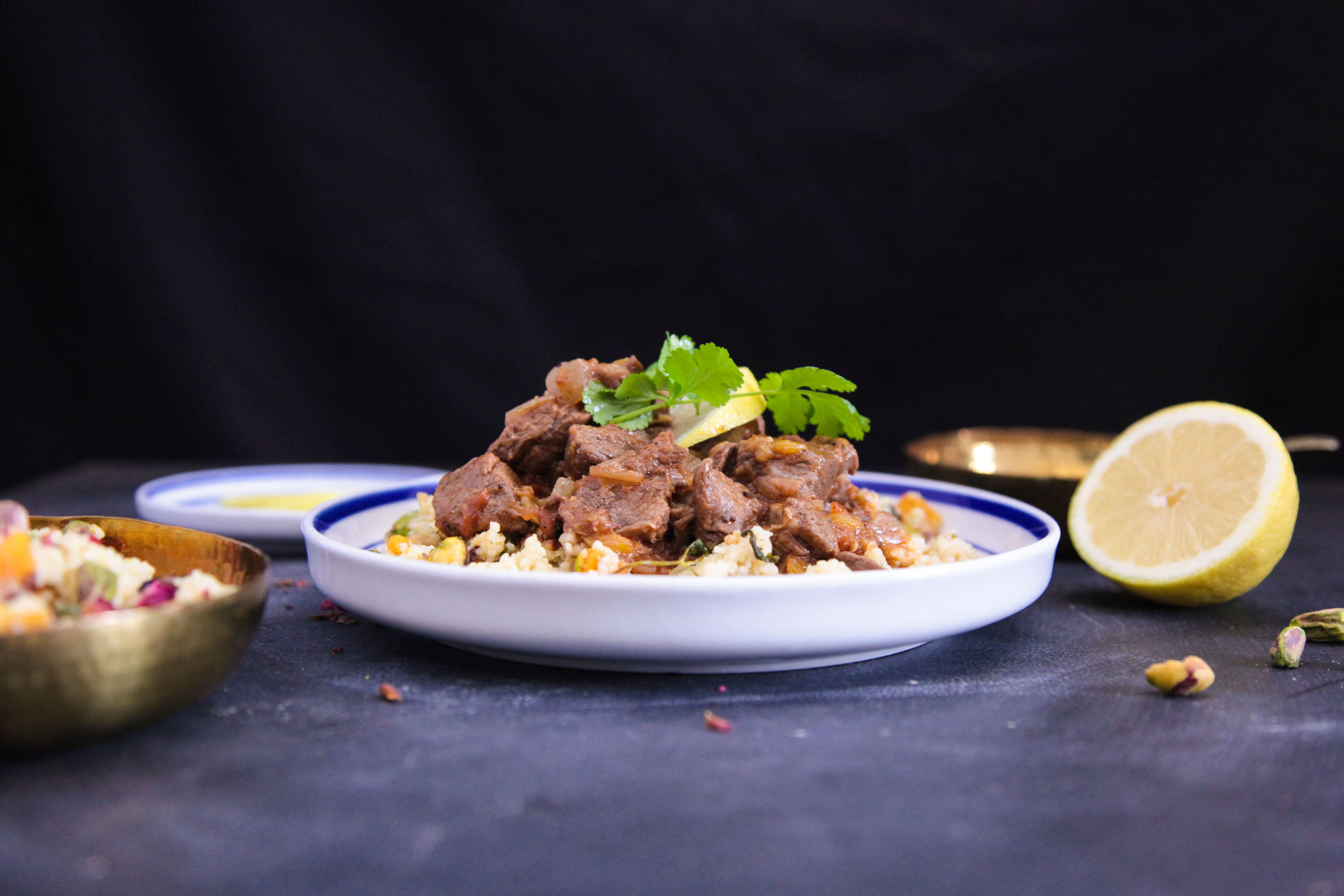 1kg of… stewing beef
When I bought the 1kg of stewing beef for this dish I made an entirely compulsive decision. I had just met up wit a friend of mine and wanted to get some meat before the butcher closed. We were talking, as we walked in. The butcher asked me what I wanted, and I pretty much had about 5 seconds to decide. Yes, I was also in the middle of my sentence, my head was not very focused on the meat. I just asked for the first thing that popped into my mind and that was not mince.
When I got home, I had to decide on what to make, as I didn't really have a plan, like I usually do. I surfed Pinterest and FoodGawker for some inspiration, and then remembered the chicken stew my boyfriend had at a restaurant not so long ago. It was at Pera, the Turkish restaurant that previously inspired me for these spinach and kale baked fritters. I didn't really remember Max's dish very well, but all I knew was that it contained dried apricots, which in my head tastes absolutely amazing next to a beef stew. I googled the idea and came across a bunch of Moroccan recipes. Later I put together my own recipe and started cooking.
I have to admit that I perhaps bought a bit too much meat for two people. We ended up having the beef stew 4-5 times in a row. But I also have to admit that it was so tasty it didn't bother us to have it so often.
The recipe
I had this stew with this delicious ras el hanout coriander couscous. The combination was a definite win, so I recommend you try it out if you are planning on making this stew. 
Here's the recipe
INGREDIENTS
1/4 cups of olive oil
3 tsp ras el hanout
1 pinch of chilli flakes
6 garlic cloves, chopped finely
2 large red onion, diced
200g dried apricots, halved
1 kg stewing beef
1 can of chopped tomatoes
1 beef stock cube
3 lemon slices
2 l water
2 tsp salt
INSTRUCTIONS
Heat the oil in a large pot and brown the beef by cooking it slightly, for a couple of minutes on really high heat.
Remove it and place it on the side.
In the remaining oil lightly fry the garlic and the spices.
Add the onions and sauté them until soft.
Add the stewing beef and the rest of the ingredients and bring to boil
Once it's boiling, turn the heat down and simmer for 5-6 hours, without a lid.