Writing the recipe for this delicious Costa Rican Ceviche is an ode to my friends Anne and Ernesto who just recently got married. Guess where? Yes, in the land of happy people and sunny days. Congrats, guys! <3
The backstory
I've never really known much about central and south american cuisine, but somehow had this awful stereotype that everything revolves around corn and beans, two ingredients I've never been too fond of. I have to admit, with guilt, that I'm realising that what we, in Europe often consider to be Mexican or Central American food is more likely Southern food from the USA. I'm not entirely sure where these misconceptions originate, but I know that I was very happy to discover dishes outside of the corn and beans area.
Last year my Dad travelled to Mexico and he got me (no surprises there) a cookbook. My friend Ernesto came over to visit at some point and started looking through the book. Despite my 5-6 years of Spanish, I couldn't understand any of those weird dish titles, but Ernesto kept mumbling something every time he saw a recipe he knew or that reminded him of his traditional cuisine from Costa Rica. Excited, he said 'I'll make a Costa Rican dinner next week, you in?'. Of course I'm in, I mean, who wouldn't be?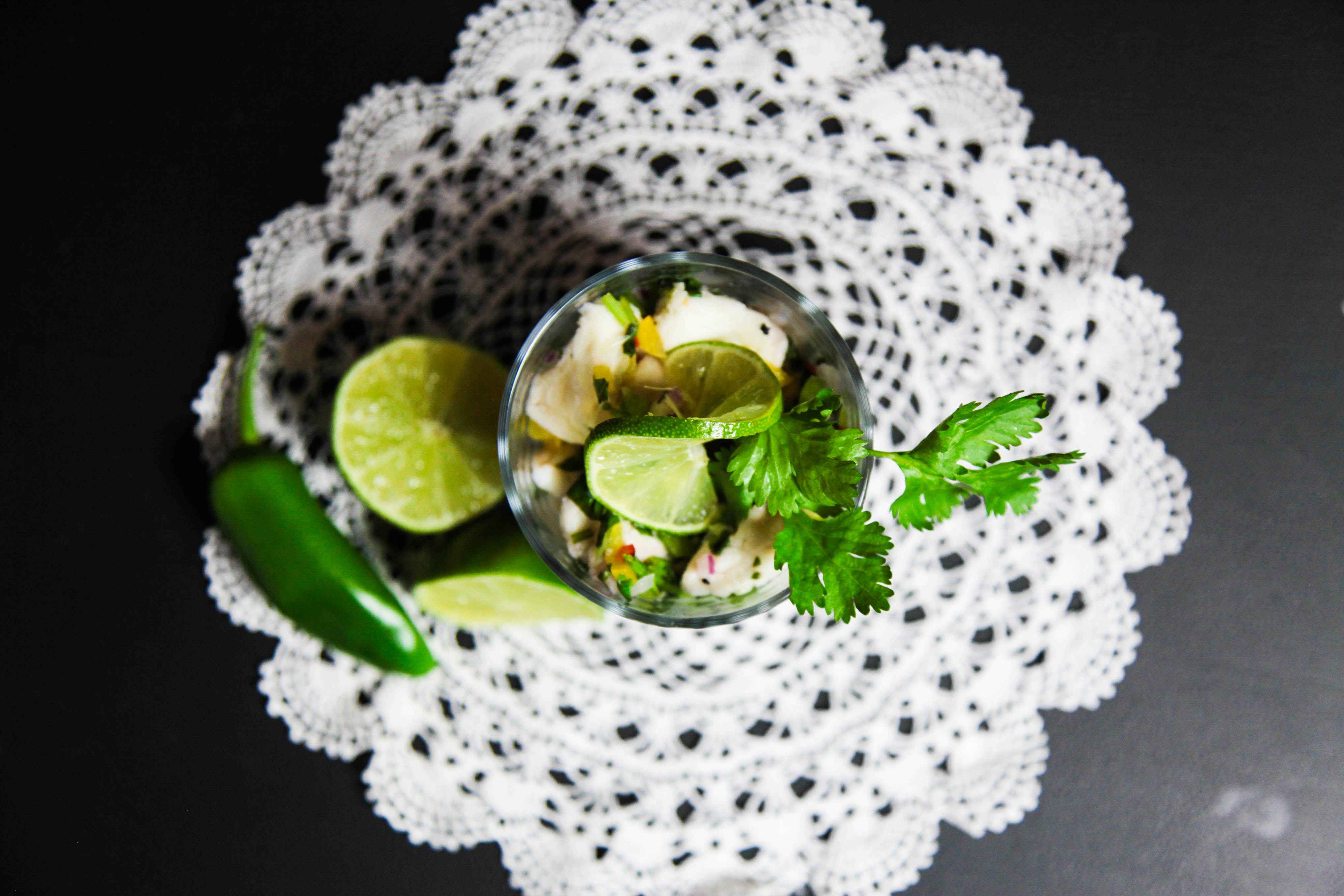 A couple of weeks later my boyfriend and I arrived at Anne and Ernesto's place which was smelling of coriander, lime and kiwi, that for a moment I thought I no longer was in rainy and cold Edinburgh, but on a sunny beach… I guess in Costa Rica, since that was to be the overarching theme. My boyfriend and I indulged in some about two soup bowls of the ceviche. That night I dreamt of it and woke up wanting to develop my own ceviche-making skills.
Failure is learning
There was just one tiny little detail I didn't think about: on a Sunday afternoon chances are you won't find any of those amazing fishmongers with freshly caught fish, so I ended up buying some frozen cod fillets. To this day I'm still wondering why I made that poor choice, but I guess my hangover was not helping me in making the wisest decisions. I thawed the fish, prepared it, and only had one bite of the wannabe Costa Rican ceviche. It wasn't bad, but I remembered my friend Anne telling me all these stories about how they bleach fish fillets, and all of the sudden my hunger turned as non-existent as warm days in Scotland.
It was time to try again
A bit more than half a year later I visited my friend Anne who, again, prepared that delicious Costa Rican ceviche. Guess what happened? The next day I woke up wanting more, so much more. However, this time I was wise enough to wait for a day when my fishmonger was open. I bought some fresh sea wolf, a firm fish that is very flavoursome in itself, got home and immediately marinated it in the lime juice.
I let it marinate in the juice, coriander, chillies and peppers for almost 4 hours before I had it. It turned out delicious and promised myself to make it again when I will have a dinner party, because it's one of those perfect dishes for a dinner party. Or for a healthy, detox dinner. I mean, one bowl of Costa Rican ceviche later, I felt like I'd been infused with so many vitamins I was turning into Superwoman.
Anyway, here's the recipe.
 The recipe
INGREDIENTS
500g white firm fish fillets (I used sea wolf), cut in cubes
juice from 5 limes
1 red chilli , finely chopped
1 jalapeño, finely chopped
1 large handful of coriander, finely chopped
1 small red onion, finely chopped
1 garlic clove, finely chopped
1 yellow bell pepper, finely chopped
1 tsp black pepper
1 tsp salt
1/2 cup of cold water
INSTRUCTIONS
I think the only thing that takes time to make this dish is chopping the ingredients. Take about 18 minutes to do that, and about two to actually put the dish together.
In a bowl add all ingredients and mix well. Make sure the fish is covered in the lime juice.
Cover and leave in the fridge for at least one hour. Consume cold and enjoy!
Love, happyholism and nom-nom,
Ioana