Last weekend I had dinner at Bia Bistrot Edinburgh. A friend of my boyfriend's came to visit us and we decided to go out for dinner on Saturday evening. This allowed me to relax instead of having to cook. It also helped us feed our constant excitement to try new restaurants. We used TripAdvisor for new recommendations and chose Bia Bistrot relatively randomly, out of the 10 best restaurants in Edinburgh. We've never been to any of the top 10 restaurants in the city. Trying this one out was definitely exciting! It's also very close to our place, and despite that, we had never heard of it.
Choosing the right place
How do you usually pick a restaurant? I personally always need to first read reviews, find the restaurant's website, look through pictures of food and, most important of all, study the menu. At a first glance Bia Bistrot seemed to have very straight forward, simple, French style food. 'Perfect choice for a Saturday evening', I thought.
The only free time slot they had available was at 5:30pm. Yes, we called on the same day and during the Fringe! After a short discussion whether or not we should try another place that would have a table a bit later, we decided that Bia Bistrot seemed like the best choice. An early dinner wouldn't actually be a bad thing at all, especially since I had made this tasty and crunchy chocolate hazelnut cake that we had not yet managed to eat. We were always too full. That would have been the perfect late snack in case we'd get hungry after our early dinner.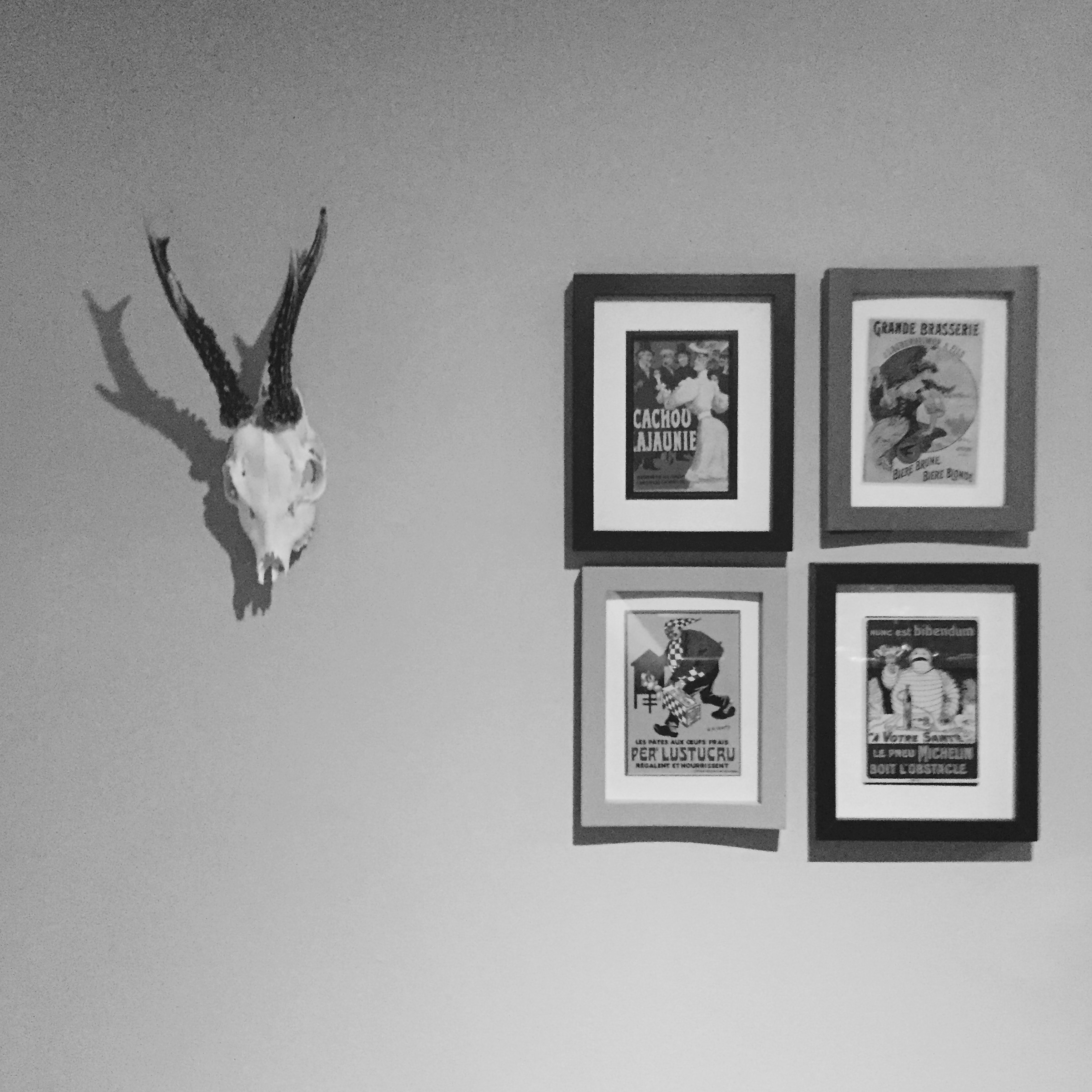 Arriving & getting a table
Since we made the booking relatively late, our friend was joking that we would end up being seated in the basement, next to the toilet. Jokes aside, we did end up in the basement, yet not so close to the toilet.
The table wasn't bad, and the basement looked very nicely decorated and cozy, just like the rest of the place. However, given that there was still light outside, we would have definitely preferred having a table upstairs. The waitress reacted very quickly and went to check if it's possible to seat us upstairs. A couple of minutes later, that's where we were.
There was something that stroke me as I entered the restaurant: a wall full of awards. Later, when I got home, I quickly checked out their website to pay a closer attention at what they've been awarded: an AA rosette, among many, many others.
The wine & the cork
Our friend ordered a bottle of red wine, and after a couple of minutes of struggle from the waitress to open the bottle, a bit of cork ended up in the tasting glass. The waitress apologised and promised us some dessert wine on the house to make up for the inconvenience.
I always pay attention to the service, particularly in restaurants, and, honestly, Bia Bistro Edinburgh, chapeau! Our waitress finished her shift in the middle of our dinner and left. Despite that, the message about the dessert wine had been passed on to one of the remaining waiters. At the end of our dinner we each received a small glass of muscat.
The food
I guess you're now wondering: what about the food? The food was delicious! Simple, straight forward, with a short menu, but long enough to give you the choice to pick something you like. We each had a starter and a main meal, but were way too full to have dessert. I am not a massive fan of sweets, don't really like pies or chocolate desserts, so nothing in their menu jumped into my eyes. Yet, if you like chocolate mousse or creme brûlée, I can tell you that they looked delicious on other people's tables!
The starters (£4-10)
We had roasted bone marrow with red onion jam and foie gras ballottine with rhubarb chutney as starters. The portions were large! I mean, on a regular day, those would have been enough to fill me up. But this was no regular day, it was restaurant day, and extra space in the belly was a requirement. I shared the roasted bone marrow with my boyfriend and he shared half of his foie gras. They were both delicious, flavoursome and special.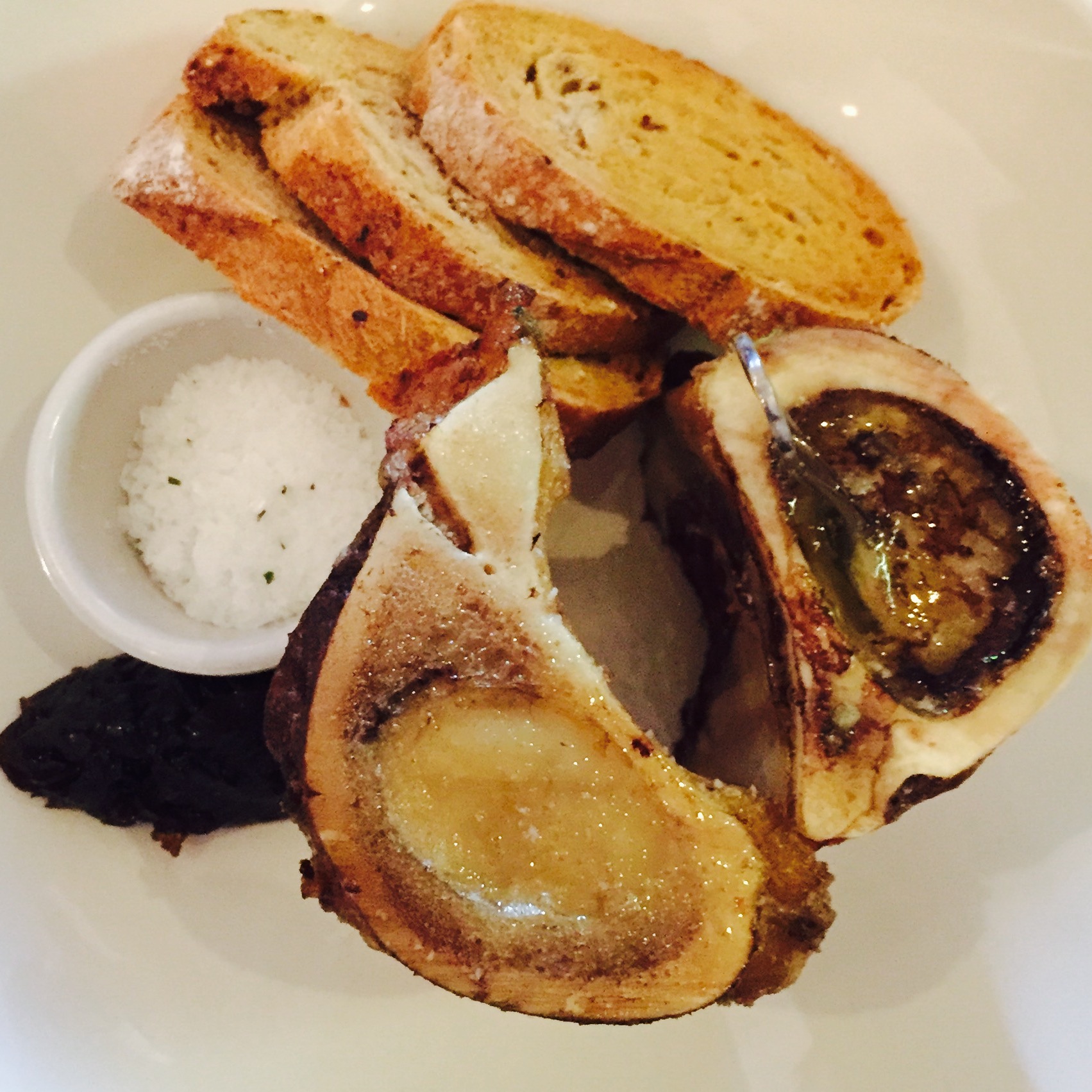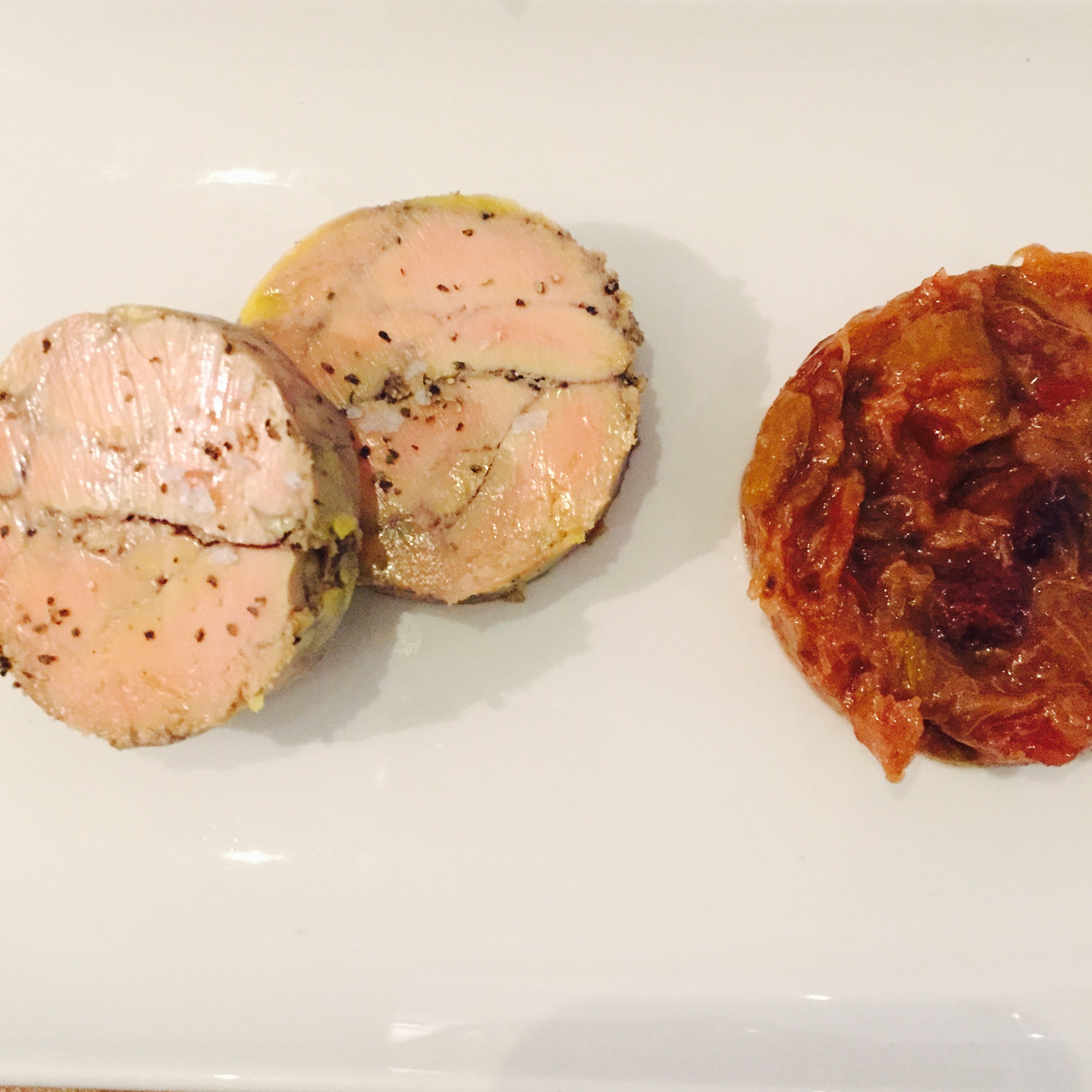 The mains (£12-20)
As a second course our friend and I had the lamb rump with salted peaches, parmesan gnocchi and french beans with toasted almonds. The lamb, cooked medium rare as we asked was perfect: tender, juicy, flavoursome. The peaches added a little bit of extra something special with every bite. My boyfriend had pork belly with crackling, pea purée and fondant potatoes. The pork belly was really soft and juicy, you didn't even need the knife to cut it. The crackling was perfect – crispy but not too hard and not too oily, which tends to be the main issue with crackling. The fondant potatoes were amazing as well, yet we were all too full to actually enjoy them.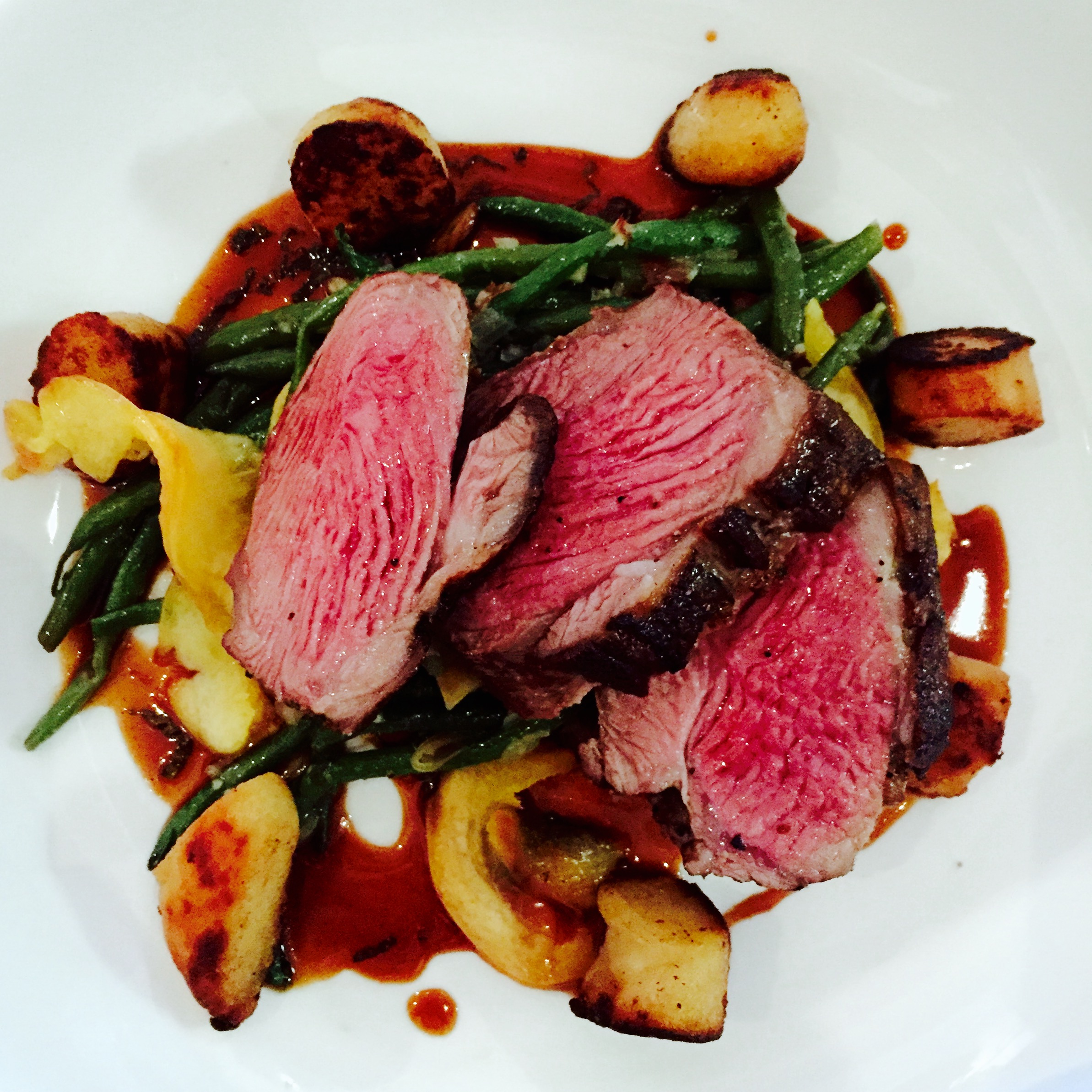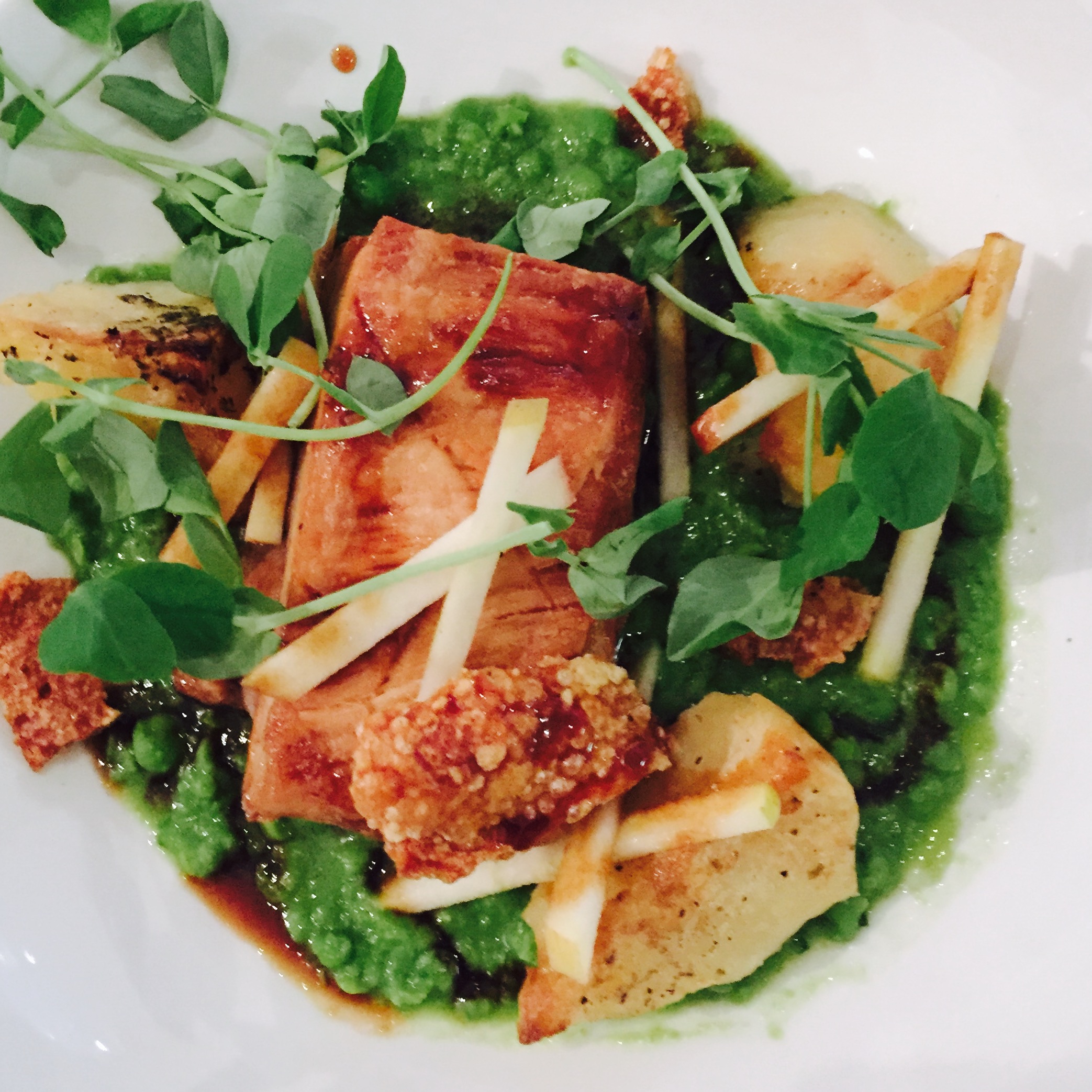 The end & conclusions
Two hours, two dishes and a bottle of wine later, really full and very happy, we were finally done. Bia Bistrot Edinburgh is one of those places where, with £25-30 per person you can eat exceptional food and enjoy some good wine as well. The quality of the service and the food were excellent. Value for money, most definitely! Bia Bistrot is a beautiful, cozy and very nicely decorated restaurant, perfect for both a quick lunch or a romantic dinner. I, for one, am already looking forward to going back again.
Should I also tell you that they serve a two course lunch for £9.50 from Tuesday to Saturday, between 12-2:30pm?
Love, happyholism and nom-nom,
Ioana