This Asian style prawn soup is slightly spicy, very refreshing and very flavoursome. Should I also add very easy to make? It just needs 10 minutes of your time.
Ioana & Thai Food
Recently I met two lovely Thai ladies who were traveling in the UK and stopped in Edinburgh because of the festival for a couple of days. We chatted about my passion for cooking, about my food blog and, undoubtedly and most obviously, about how tasty Thai food is. They asked me what kind of Thai dishes I cook, but I realised – not that many, actually. I mean, I've never been to Thailand, and I've only made Thai green or red curry and some shrimp cakes.
Tom Yum – how cute does that sound?
They told me that most tourists in Thailand end up falling in love with their Tom Yum soup, with prawns and a lot of ginger. This soup, not only due to its lovely name, but more because of the ingredients, got stuck on my mind. I've been waiting for a good moment to try to make Tom Yum, or at least something similar.
My weekly obsessive menu
I finally managed to add an 'asian prawn soup with ginger' to my week's cooking plan. Oh, have I told you I have a weekly cooking plan? Every Sunday, I spend between one and two hours building next week's menu. This helps me reduce food waste and know exactly what I need to order from my supermarket. It saves so much time and hassle during the week, as well!
Getting inspired
I got all the ingredients, looked at some Tom Yum recipes, looked at some other Asian soups, I even took our my Asian cookbooks, including a Japanese one. I then started planning the recipe – if I don't I'm very likely to end up forgetting ingredients. I didn't really know what I was doing, but in my mind it all tasted fine. And guess what? The final result turned out so good that my boyfriend and I almost finished the whole pot of soup in one go.
Putting everything together
My tips? I added dashi to have a more intense fish flavour. I cooked the prawns in butter because I think there's no better way to make prawns taste delicious than by cooking them in butter. Finally, I tried to keep the soup fragrant by adding whole star anise and letting it infuse during the entire cooking process.
The recipe
FOR THE BROTH
250g shiitake mushrooms
30g ginger, finely chopped
1 handful of fresh coriander, chopped
1 garlic clove, finely chopped
1 small yellow onion, whole
1 fresh lemongrass stalk, finely chopped
1 thumb sized piece of galangal (or 1 tbsp galangal paste)
4 kaffir lime leaves
1 tbsp Thai basil (preferably fresh)
1 red chilli pepper, thinly sliced
2 star anise, whole
1 sachet of dashi
1 veggie stock cube
1 tsp fish sauce
FOR THE TOPPING
500g prawns
20g butter
20g ginger, finely chopped
150g fine glass noodles
Juice from 1 lime
INSTRUCTIONS
Firstly prepare the broth. This recipe is very, very simple and the steps are very straight forward. Add 2L of water to a pot and add all the soup ingredients. Bring to boil. Turn the heat on medium low and keep boiling, with a lid on, for about 30 minutes, until the broth has become fragrant.
Once the broth is almost ready, cook the prawns. Melt the butter in a pan, then add the ginger and fry it a little bit. Add the prawns and cook on high heat for a couple of minutes, stirring constantly. Be careful not to overcook the prawns, because they will lose their tender texture and become very chewy.
Finally, cook the glass noodles.
Remove the onion from the broth. Add noodles to a bowl, then some broth, and finally prawns. Pour a bit of freshly squeezed lime juice. Finally sprinkle some fresh coriander and red chilli on top (depending on how spicy you wish the soup to be).
NOTES
I personally like enjoying this with some chilli paste or sauce. I used Cantonese Suki sauce that I bought from an Asian store.
Enjoy! Also, if you do make this recipe, I'd love to hear what you think about it! 🙂
Love, happyholism and nom-nom,
Ioana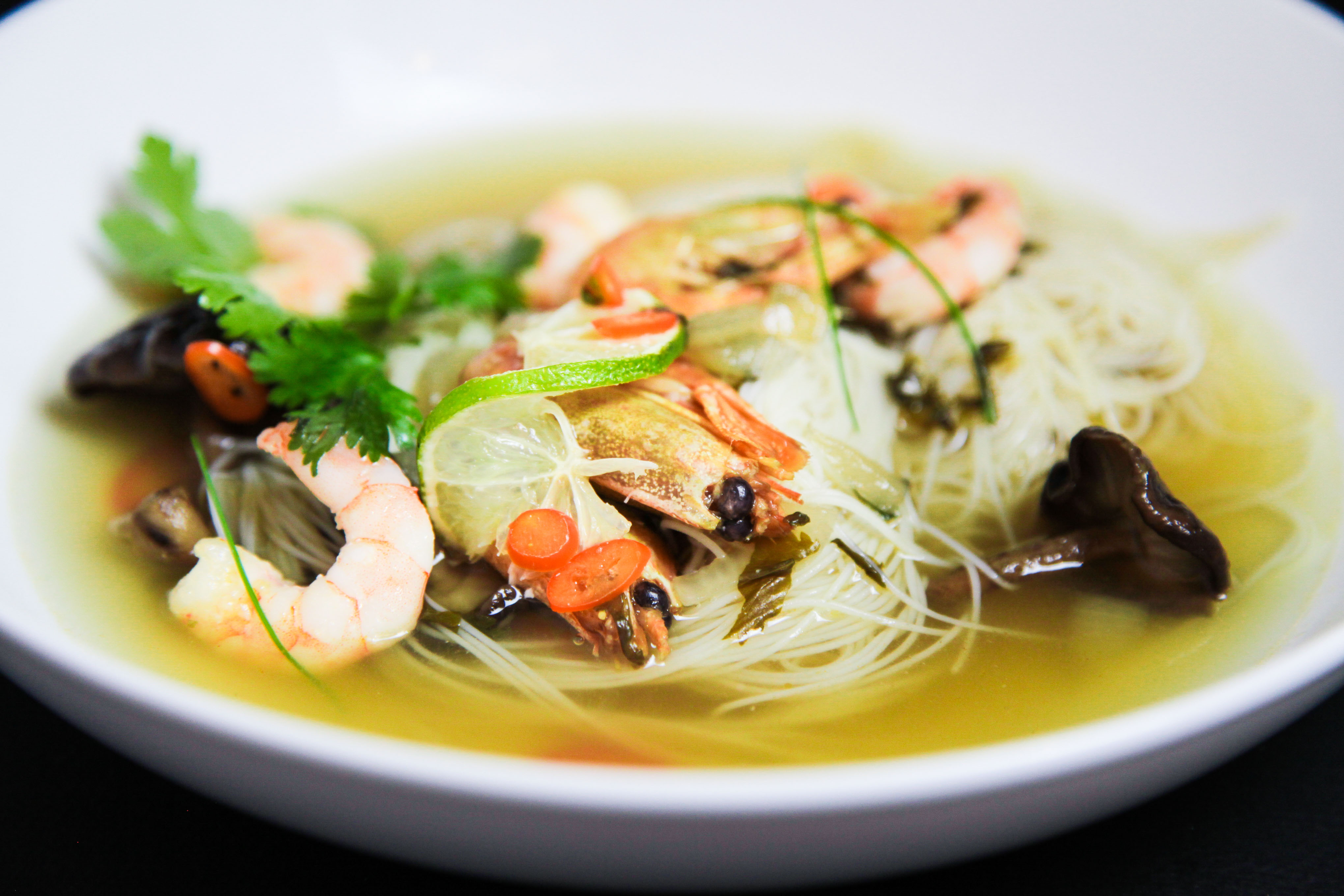 [twocol_one]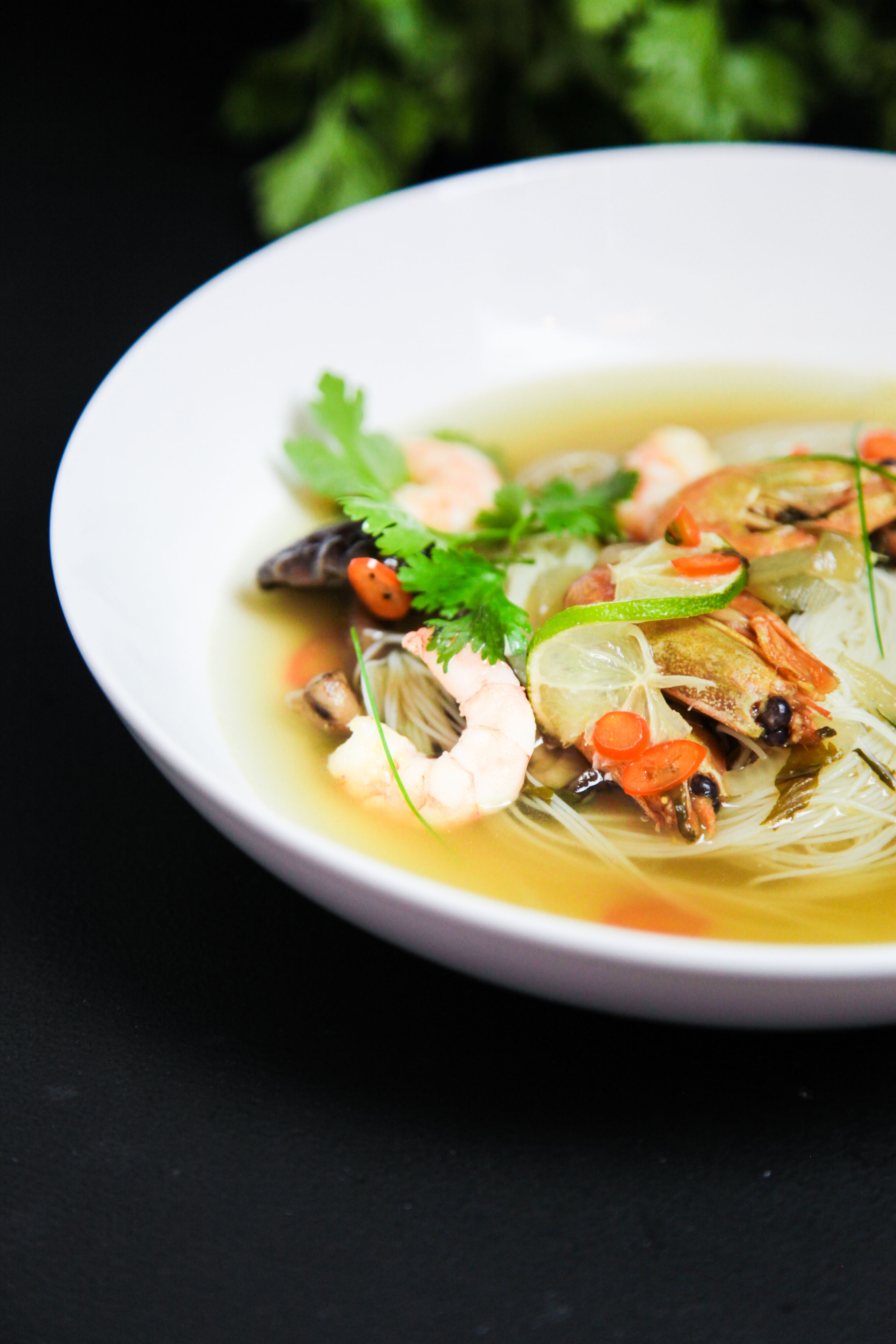 [/twocol_one] [twocol_one_last]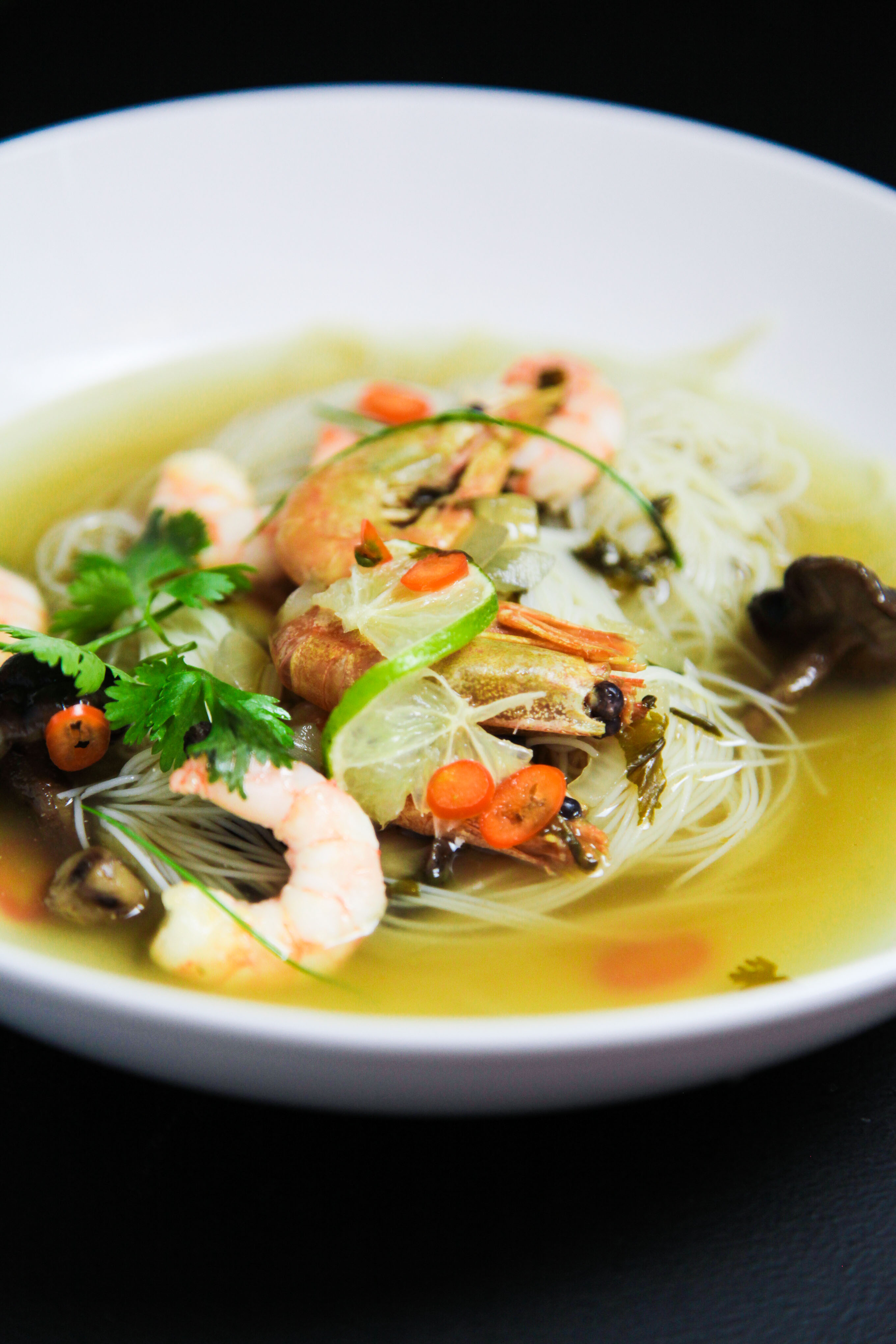 [/twocol_one_last]