René Redzepi recently said that Georgian is the most underrated cuisine and I couldn't agree more. Travelling through Georgia recently made me fall in love with its cuisine and discover its enormous untapped potential. So, what is Georgian food exactly? In this article, you'll find out about the culture and history of Georgian cuisine, a mini-dictionary of the most popular Georgian dishes, as well as why you should embrace Georgian food in your kitchen.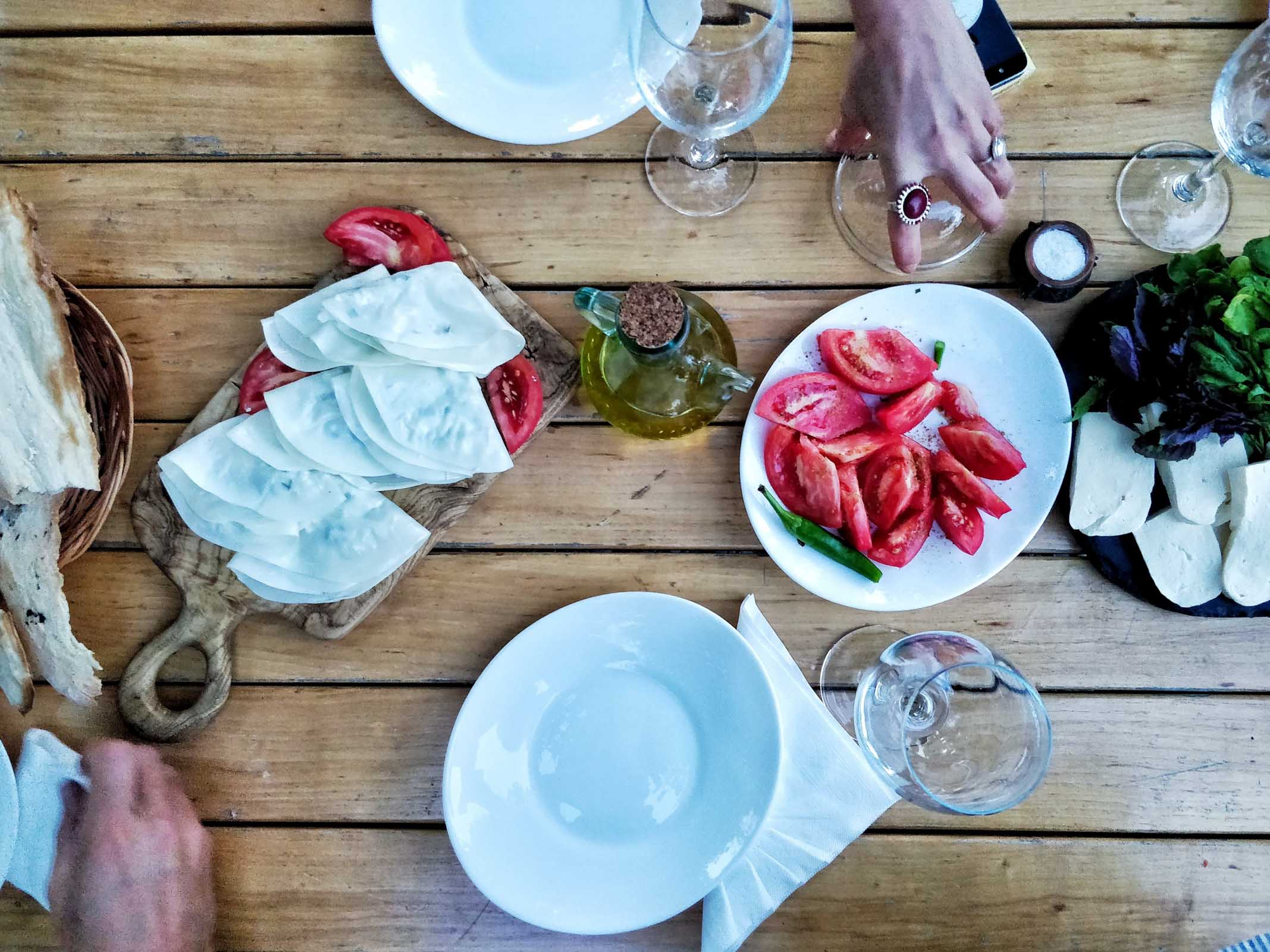 An introduction to Georgian food
You may have heard of khachapuri, but I am quite sure, unless you have travelled to Georgia, that pkhali, tkemali, kharcho, chkmeruli and khinkali will just look like eerie words that use the letter 'k' in convoluted ways. Indeed, Georgians have a certain affinity for the letter 'k' placed in words that become almost impossible to pronounce, but once you taste the dishes behind those complicated names, you will become an expert in Georgian pronunciation to be able to order your next dish.
A very brief history of Georgian food
Throughout history Georgia has been a territory of interest to many foreign countries, mostly due to its strategic location between the Black Sea, the Caucasus mountains and the Caspian Sea. Also part of the Silk Road, it was invaded by Greeks, Mongols, Persians, Romans and Arabs, all bringing their influences to the Georgian table and creating a unique and exciting cuisine unlike any other.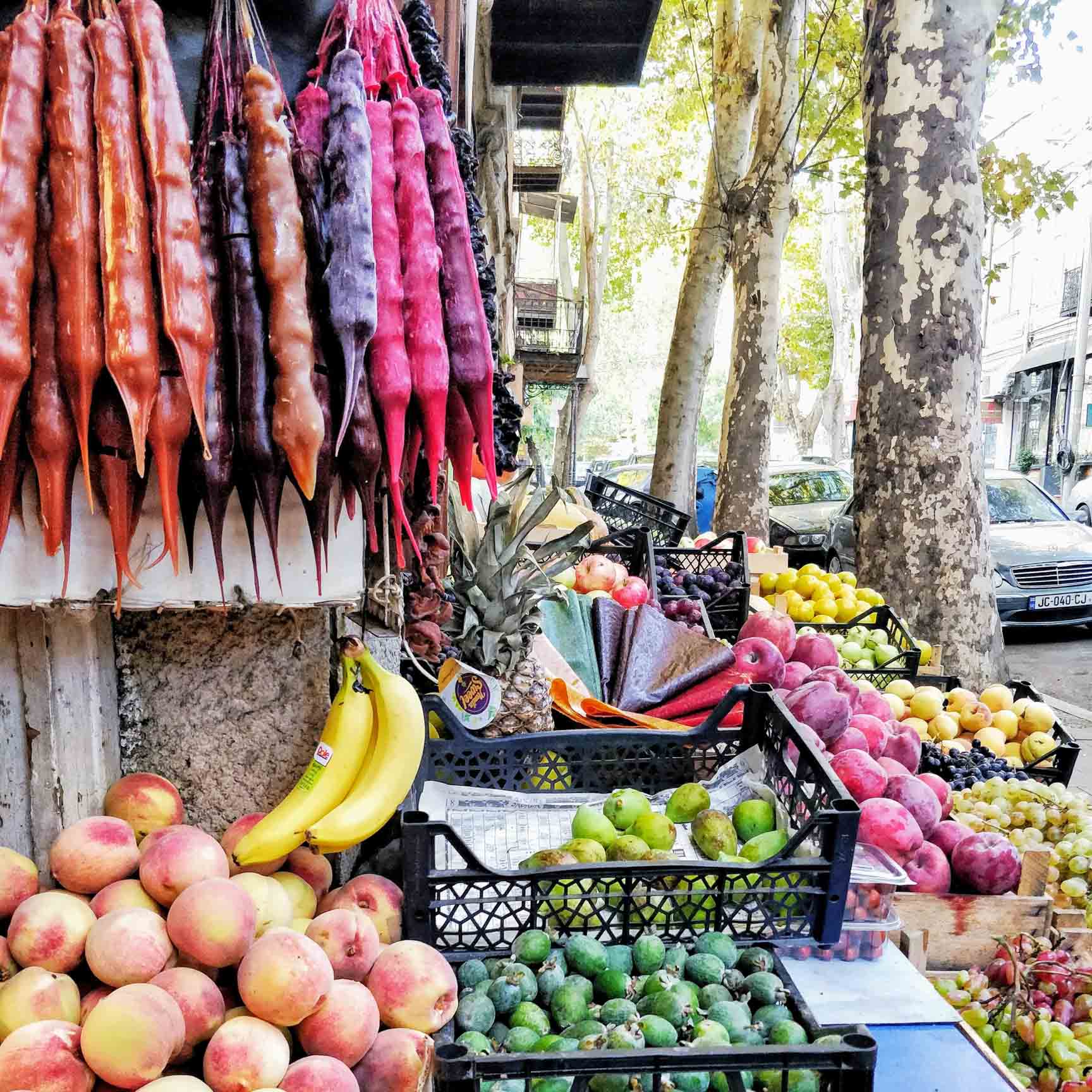 A feast of Georgian food: The Supra
Hospitality is genetic in Georgia, and guests are holy. If you are lucky to be part of a Supra – the traditional feast, you will be able to experience the core of Georgian culture. A multitude of dishes overpopulating the table; the Tamada (toastmaster) going through his numerous toasts, leading to glasses emptying at a dashing speed; guests and hosts singing traditional folk songs; more wine, more cha-cha (Georgian grape vodka). At this pace, no wonder why nothing in Georgia is open before ten or eleven in the morning, or why Georgians have a national dish that they consider to be the perfect hangover cure (khashi)!
Regional Georgian food
Perfectly bringing together spices, nuts, herbs, cheese, meat and vegetables, Georgian food is balanced, healthy, cheap, and diverse. Each region celebrates its terroir to the fullest and brings its own imprint to the country's exciting cuisine.
Apart from it being the main Georgian wine production region, Kakheti is famous for its cold pressed sunflower oil, used in tomato, cucumber and fresh herb salads, as well as its cottage cheese and melted butter stuffed dumplings (khinkali), and churchkhela (often called 'Georgian snickers'), a sausage-like sweet made with walnuts and thickened grape juice.
Adjara has its internationally popular type of khachapuri (Adjaruli Khachapuri), shaped like a boat, topped with cheese, eggs and butter. In Imereti they make imeruli khachapuri (the most popular khachapuri in Georgia, a round flat bread filled with cheese), as well as pkhali (walnut and vegetable pastes). Jonjoli, the Georgian pickled sprouts, part of every traditional meal, come from Kartli. Tusheti is famous for its ewe's milk, aged, salty gouda, as well as for soup dumplings (khinkali). Svanetian Salt, the second most popular spice mix used in Georgian cuisine (after adjika) is from the Svaneti region. Samegrelo is the home of adjika, as well as a wide variety of cheeses. Abkhazia (currently under Russian occupation) is famous for abkhazura, an aromatic dish of meatballs seasoned with strong spices and barberries and topped with pomegranate seeds and sliced onions.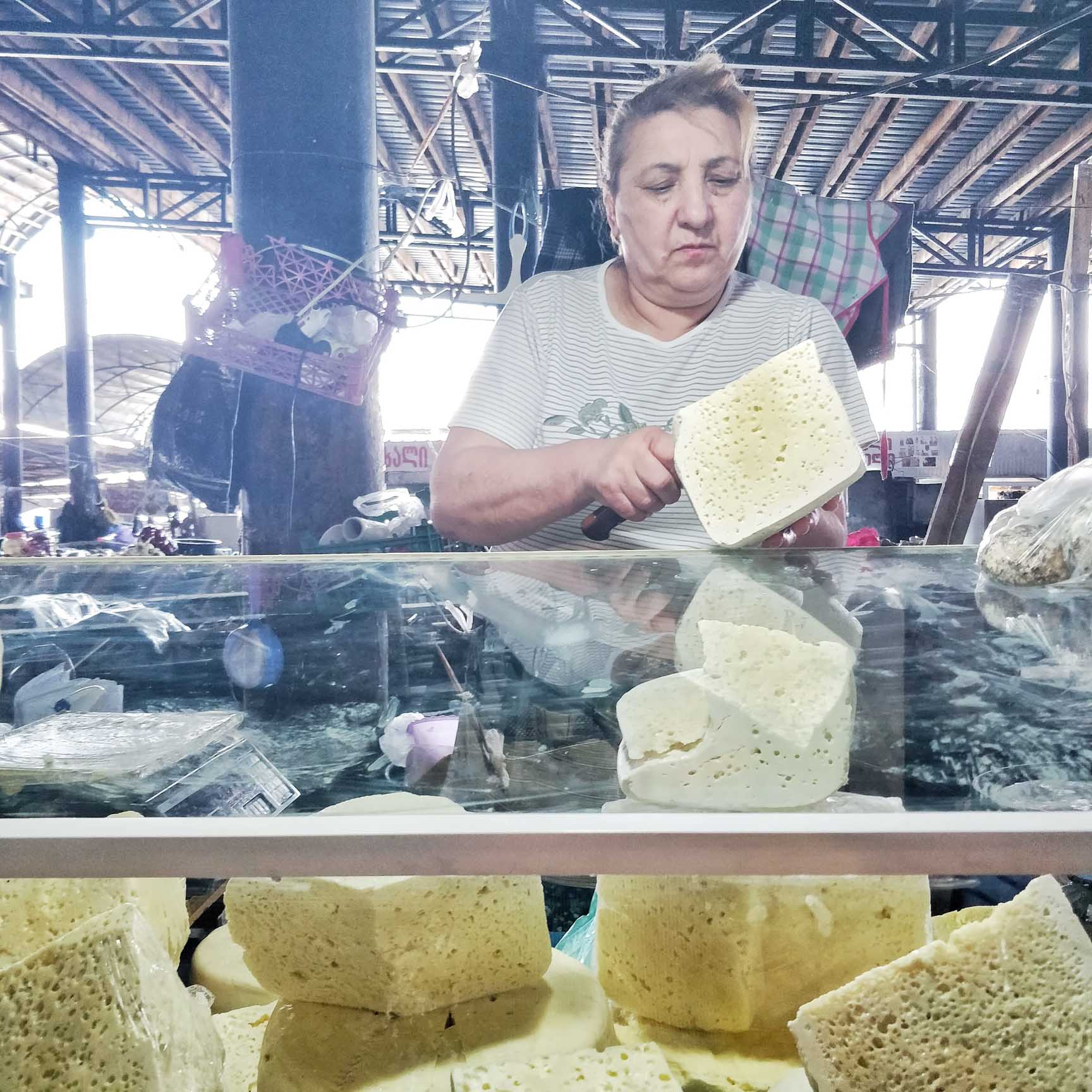 So, what is Georgian food: Mini-dictionary of Georgian dishes
If the previous chapter confused you with names of unknown dishes and regions of a country you don't know much about, this chapter will untangle all of that. The lists below will give you an introduction to the most popular Georgian dishes, how they are prepared and what they contain.
Spices and spice mixes
If you are getting ready to introduce Georgian dishes into your kitchen, make sure you have blue fenugreek, dried marigold petals and summer savoury at hand, as they are three of the most popular (uncommon) spices in Georgia. If you don't have any large spice shop near you, order them online.
Khmeli suneli is the most well-known Georgian spice mix and can be used in a variety of dishes, from meat, to soups and sauces. It is usually made with marigold petals, blue fenugreek, coriander, black peppercorns and savoury.
Svanetian salt is a universal seasoning prepared by mixing dried coriander, dried dill, blue fenugreek, dried marigold petals, cumin, salt and freshly, finely chopped garlic. Georgians use this often to season fresh tomato salads. Here is how to make it.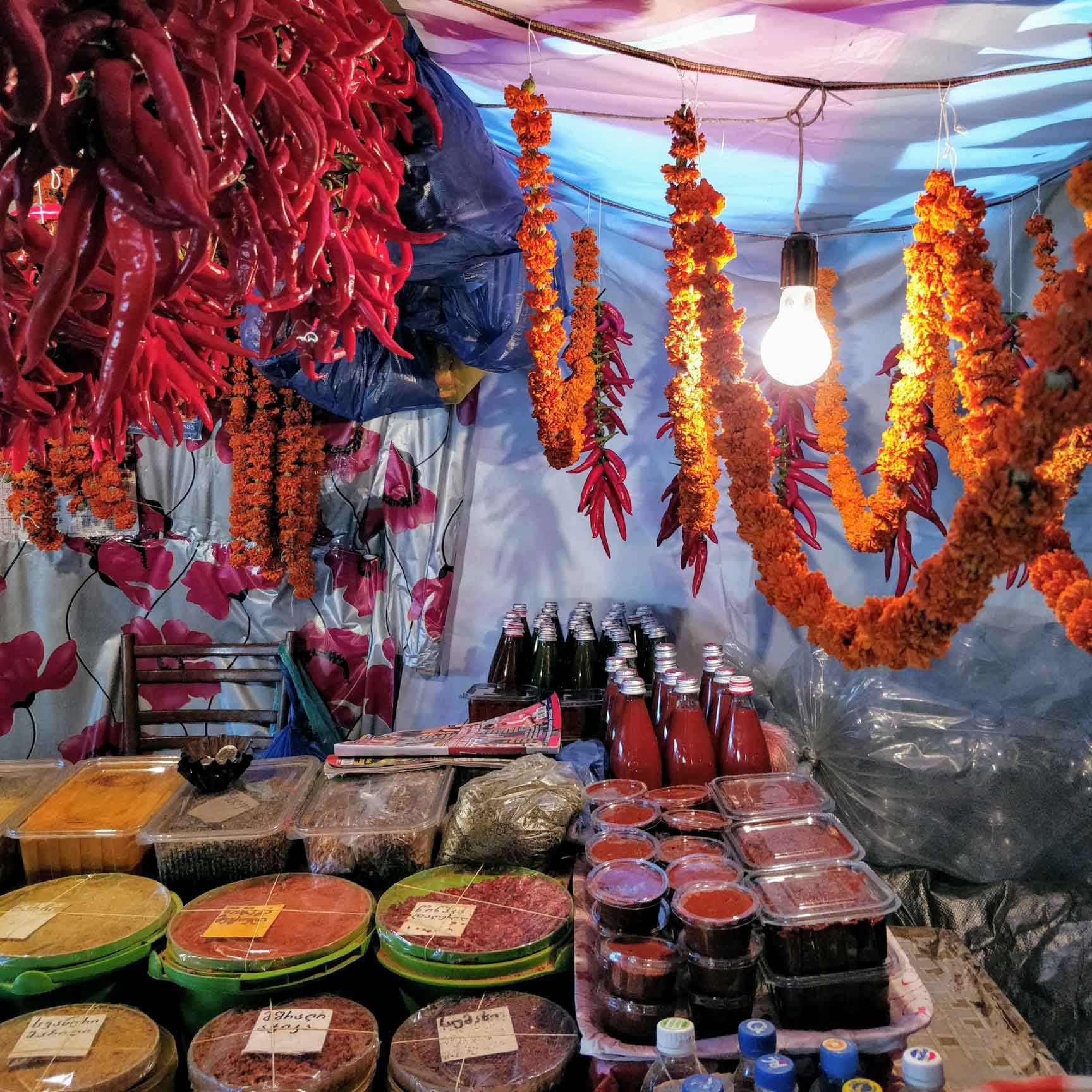 Herbs and salads
Georgians love herbs, and if you pay attention to what they order in restaurants, you will notice that no meal will start without a plate of fresh herbs. They are meant to be eaten with the hand, with a mix of different types of cheese. Tarragon and purple basil are the country's most celebrated herbs, found in lemonades (tarragon and apple lemonade is to die for!), soups, salads and stews.
Tomato and cucumber is the national salad, and it can have two toppings: walnuts or Kakhetian cold pressed sunflower oil and fresh herbs.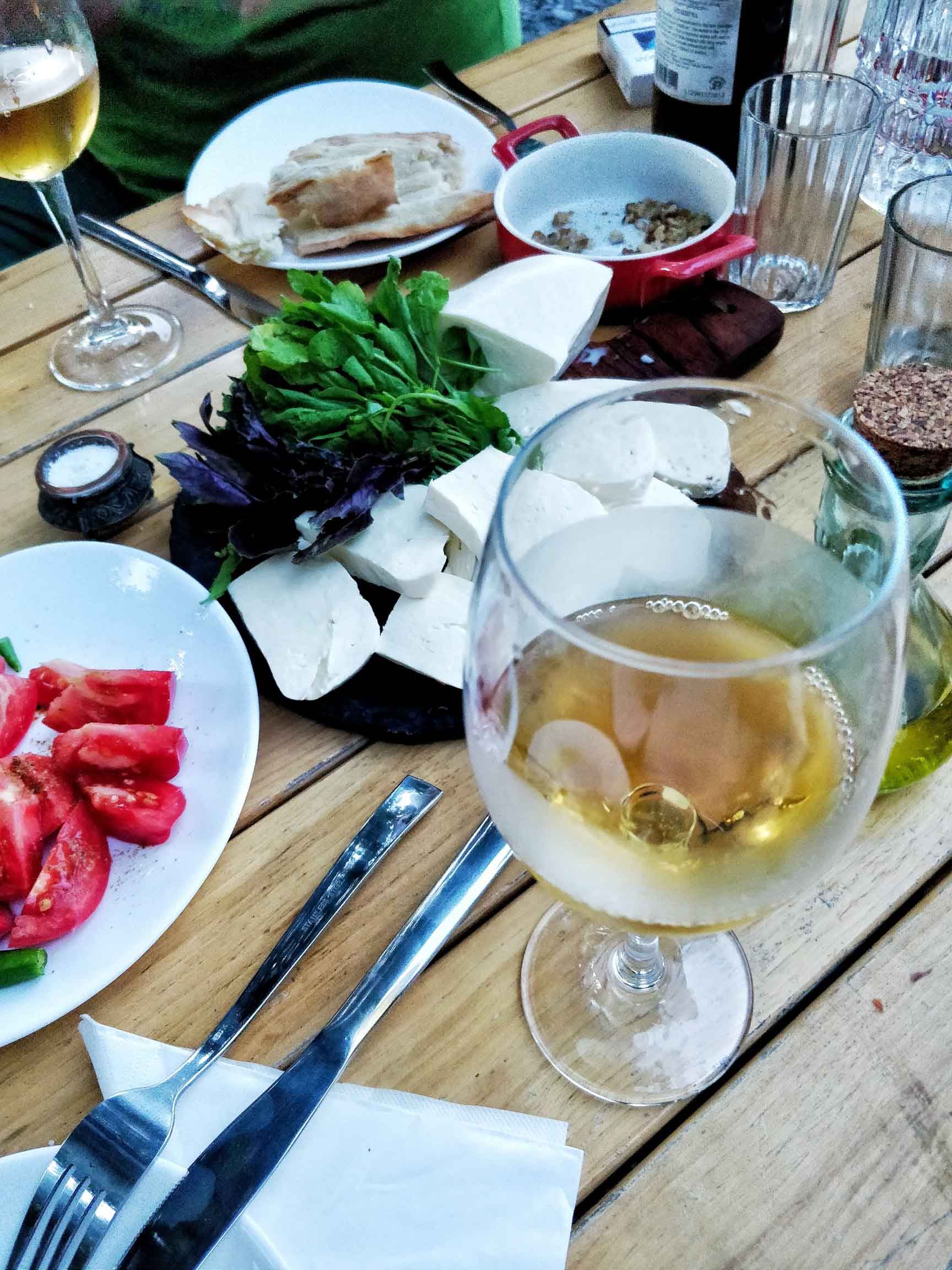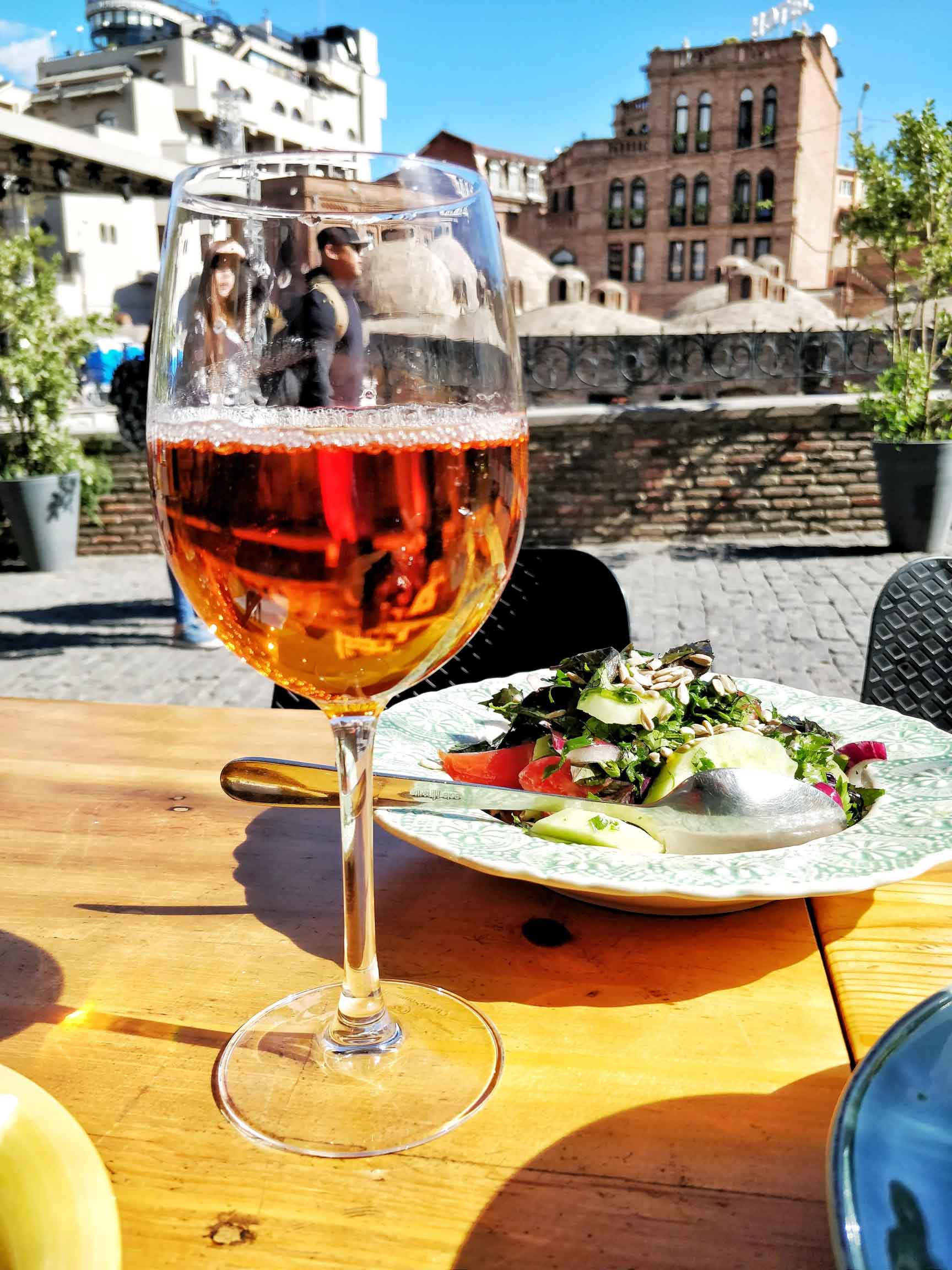 Sauces and pickles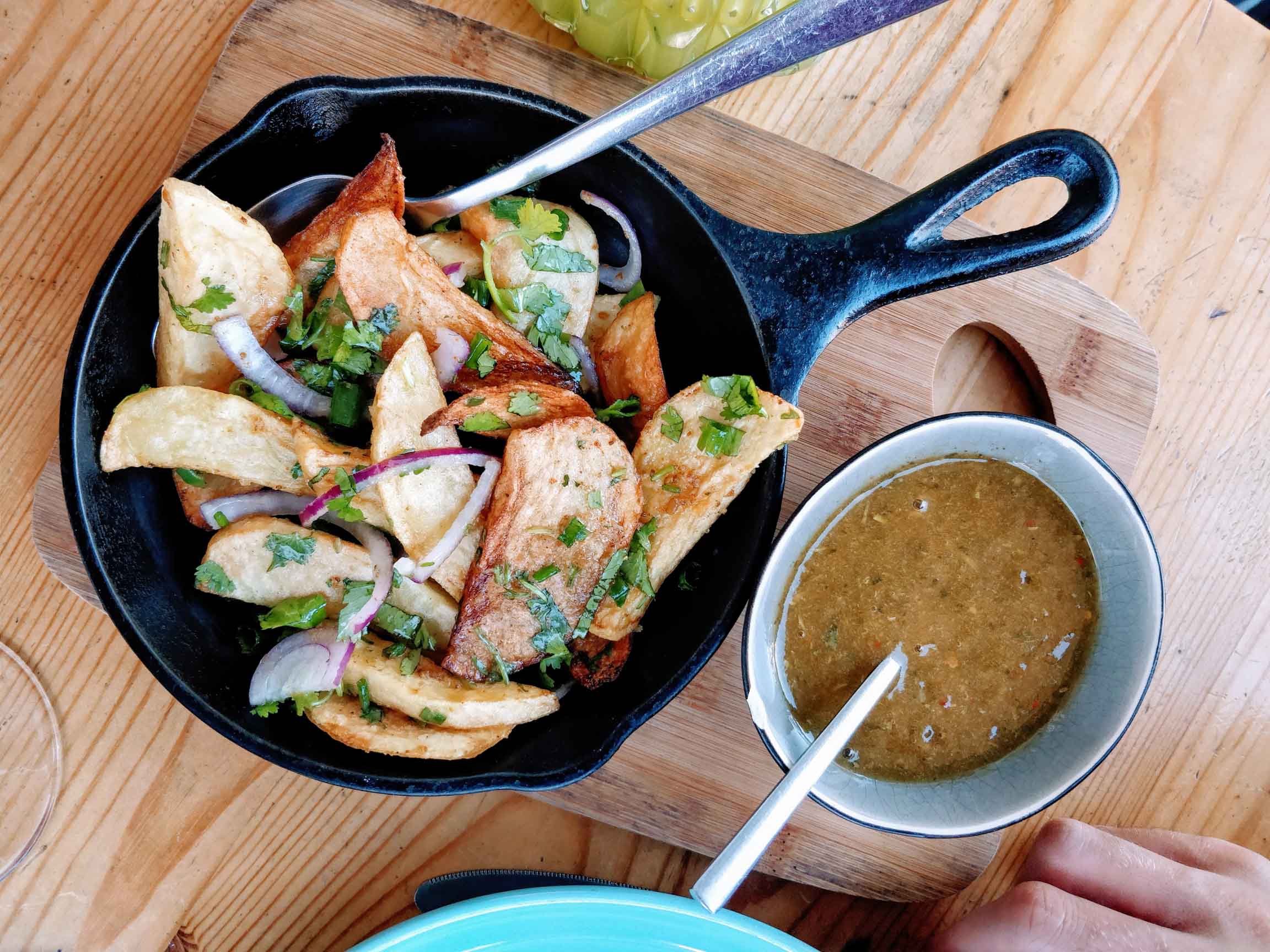 In every Georgian restaurant menu, there is an obligatory sauce section, where you will find:
Tkemali: a sour and slightly spicy sauce made from wild plums. It comes in two types, red and green and is a staple of Georgian food. Tkemali is a perfect accompaniment to fried or roasted potatoes, as well as barbecue or fish.
Adjika: a chilli based sauce that often accompanies meat dishes, but can be a great dip for bread. Just like tkemali, adjika also comes in two types (red and green), and looks similar to pesto.
Bazhe / Satsivi: a walnut and garlic based sauce or paste, commonly used for nigvziani badrijani (more on that in the next subchapter), meats and fish, but also as a dip for ghomi (traditional cornmeal bread).
Mixed pickles (often called fermented vegetables): they often contain green tomatoes, cauliflower, chillies and cabbage.
Jonjoli: a fermented sprout, widely popular in Georgia. It is an acquired taste, so don't be worried if you don't like it from the first bite!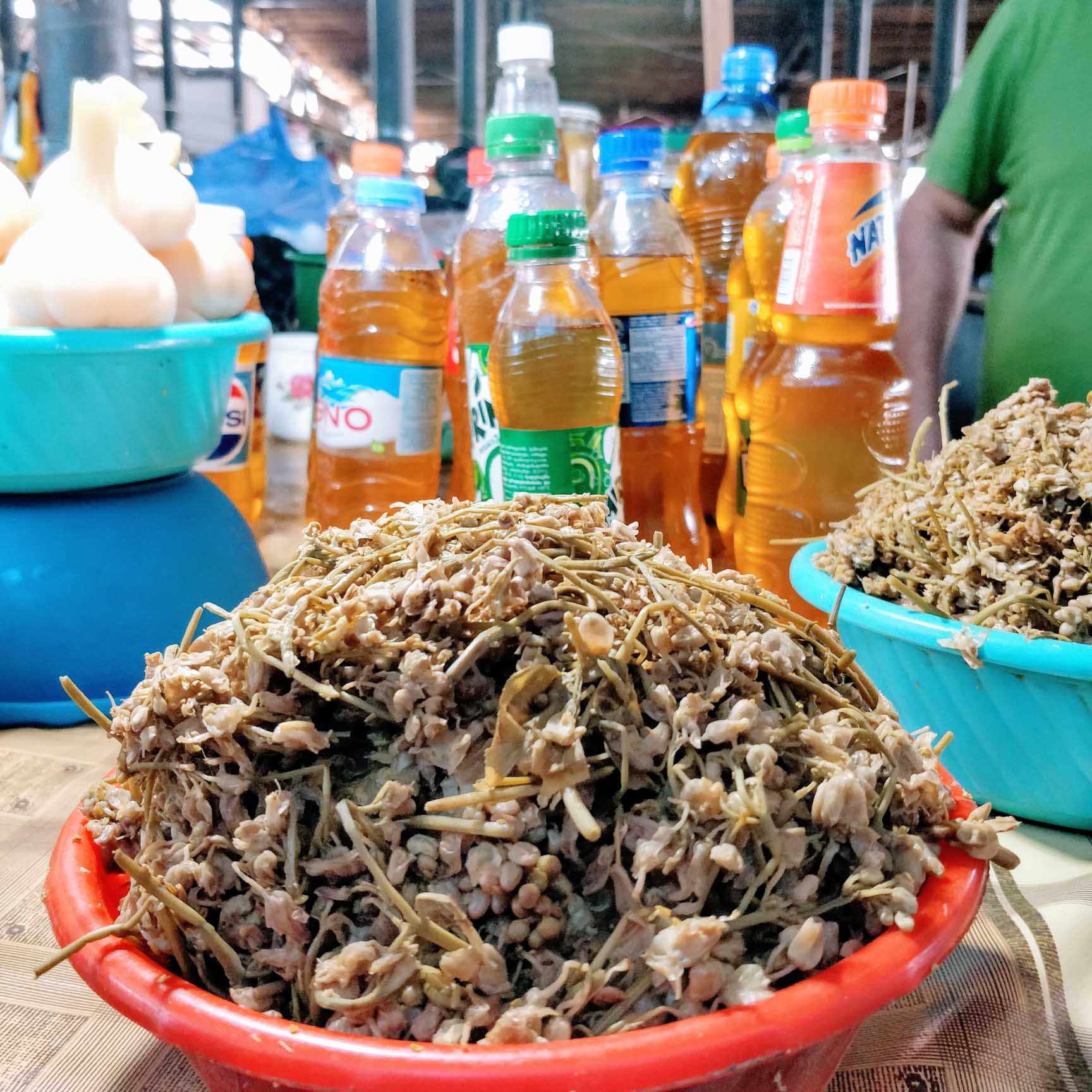 Georgian soups
Khashi, kharcho and chikhirtma are the three magical words to remember after a night of supra and endless glasses of wine and cha-cha. They are the most popular Georgian soups, and your best hangover friends:
Promoted in Georgia as the ultimate hangover soup, khashi is a rich and hearty tripe soup with lots of garlic. Disclaimer: it isn't exactly the prettiest dish to cook or eat, but trust me, it does cure that hangover!
Kharcho is a soup made with beef and (often) rice. Its heartiness is balanced out by wild sour plum sauce that gives the soup its unique sour taste.
Chikhirtma (I know, the hardest to pronounce) is not your average chicken soup. When cooked well, it is rich, fragrant but refreshing, thanks to the addition of citrus juice and fresh herbs such as coriander, mint and basil.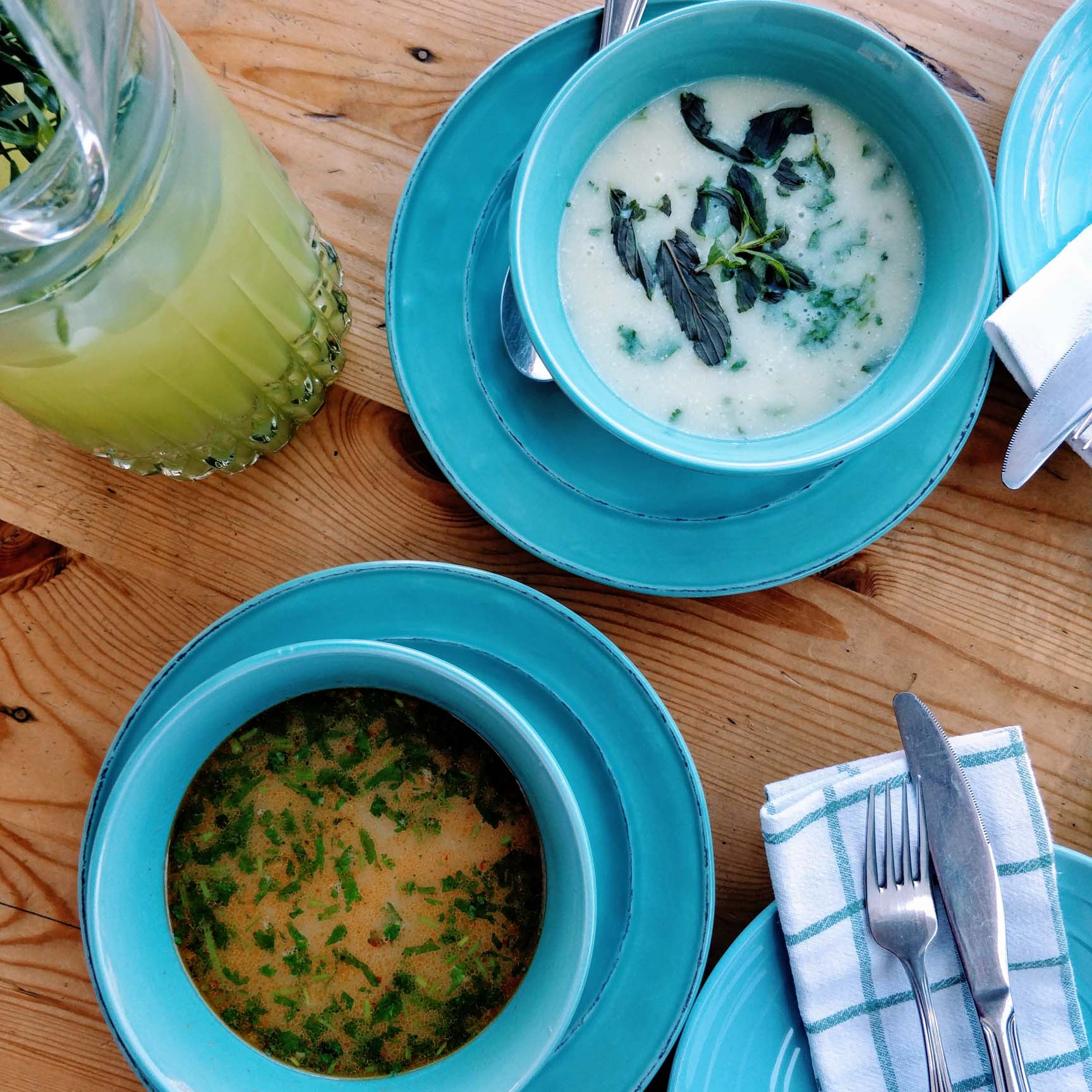 The four starters that cannot miss from the table
Pkhali, in its various forms and using different vegetables as the base is one of the most popular Georgian starters. In traditional restaurants, they are shaped into balls and topped with pomegranate seeds. More modern chefs have started turning them into more elegant dips that they serve with crispy flatbread topped with walnuts.
Another classic, and often served next to pkhali, is nigvziani badrijani, thin slices of gilled aubergine, topped with bazhe paste, then rolled and served with pomegranate seeds and chopped fresh coriander.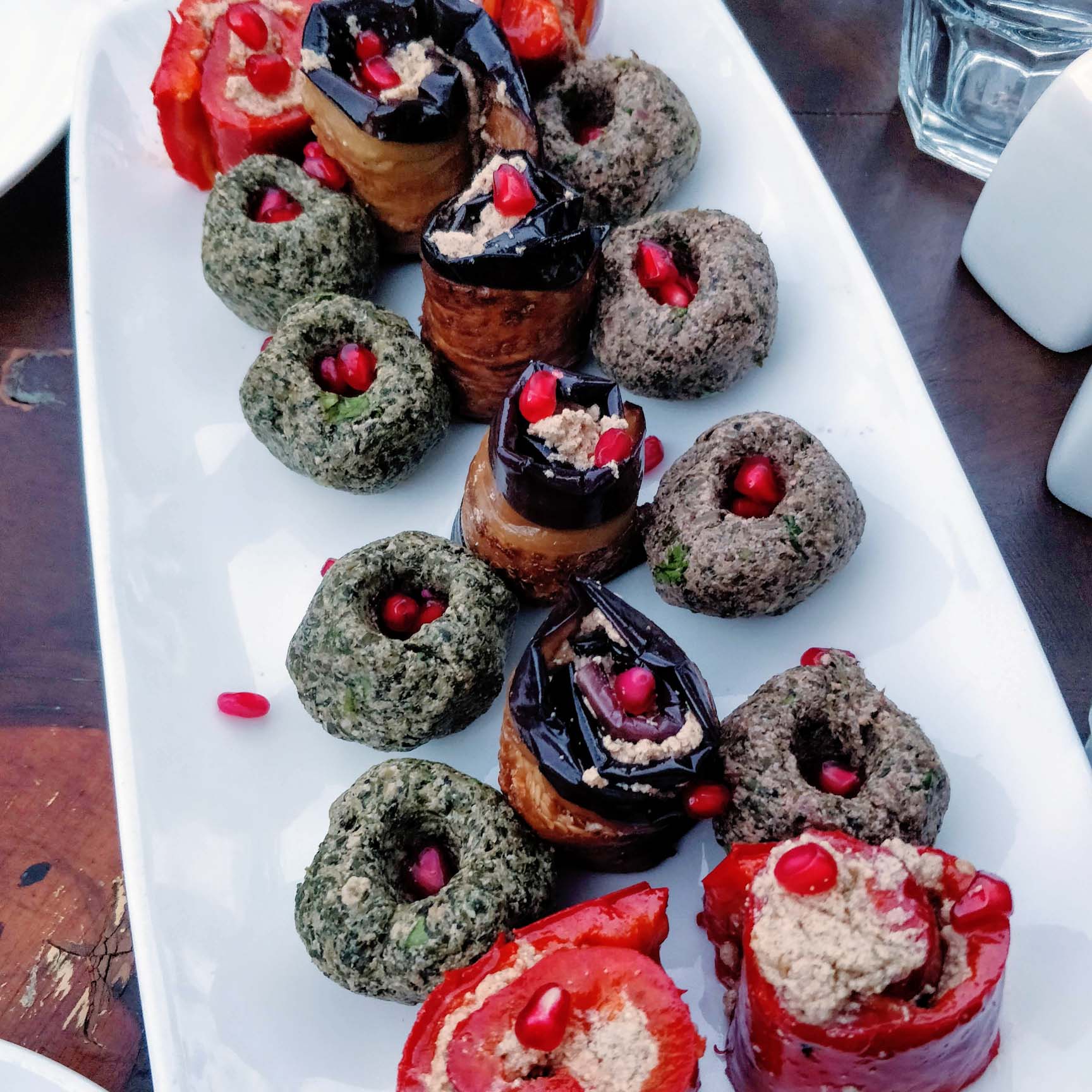 For cheese lovers, there is nadugi, traditionally a thin sulguni cheese wrap with a cottage cheese and herb filling (usually mint or tarragon). More modern restaurants have skipped the sulguni cheese wrapper and only serve the cottage cheese mixed with herbs and topped with adjika sauce.
Matsoni is a type of yogurt, often made with buffalo milk. Restaurants often serve it mixed with mint (or other herbs), chilli and garlic.
Other Georgian dishes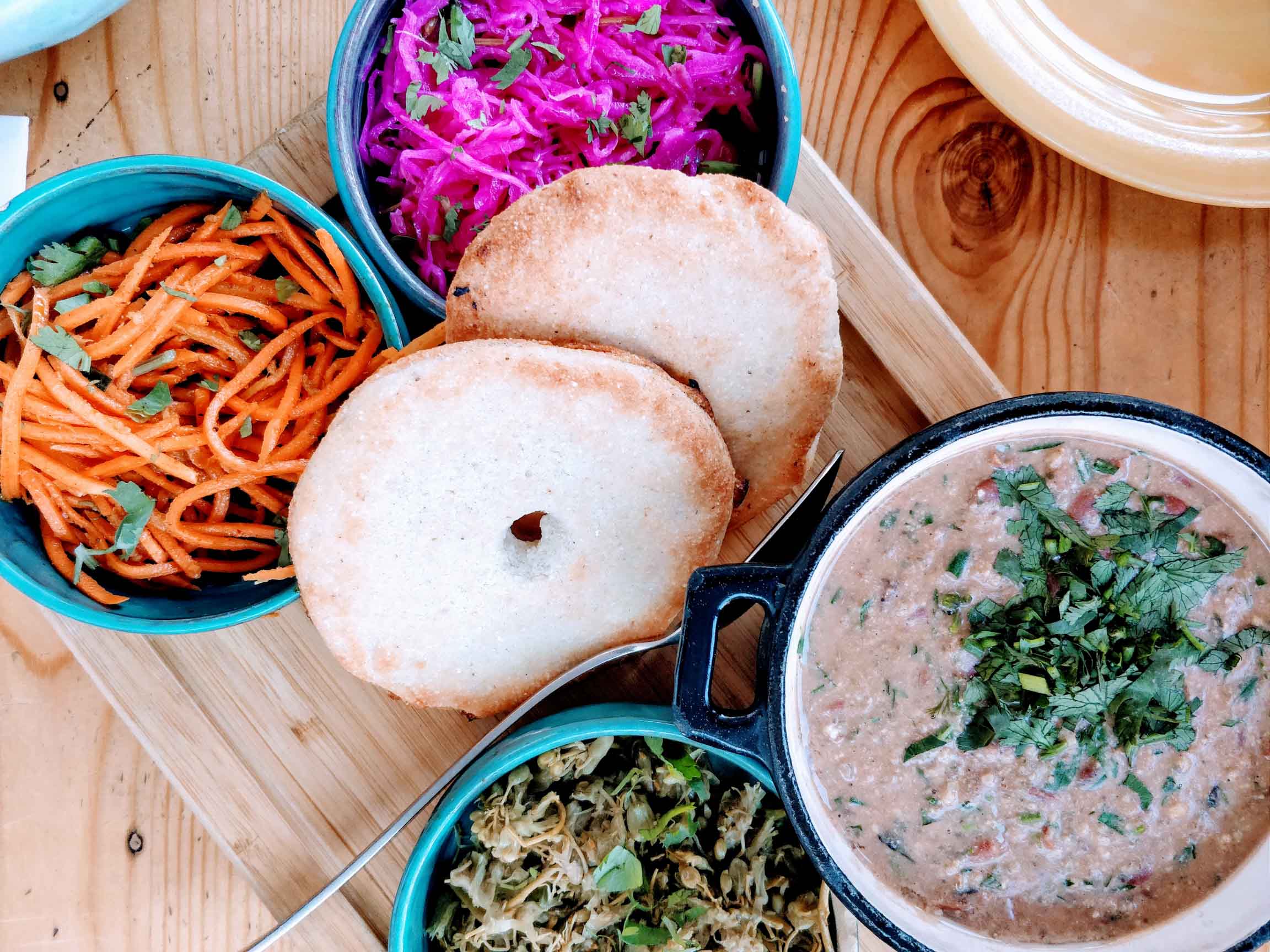 Lobio: cooked beans, often served with mixed pickles (including the famous jonjoli) and cornbread.
Ajafsandali: aubergine, bell pepper, onion, potato, tomato and parsley stew. It can sometimes contain meat.
Wild mushrooms with herbs: fried onions and garlic mixed with wild mushrooms and herbs.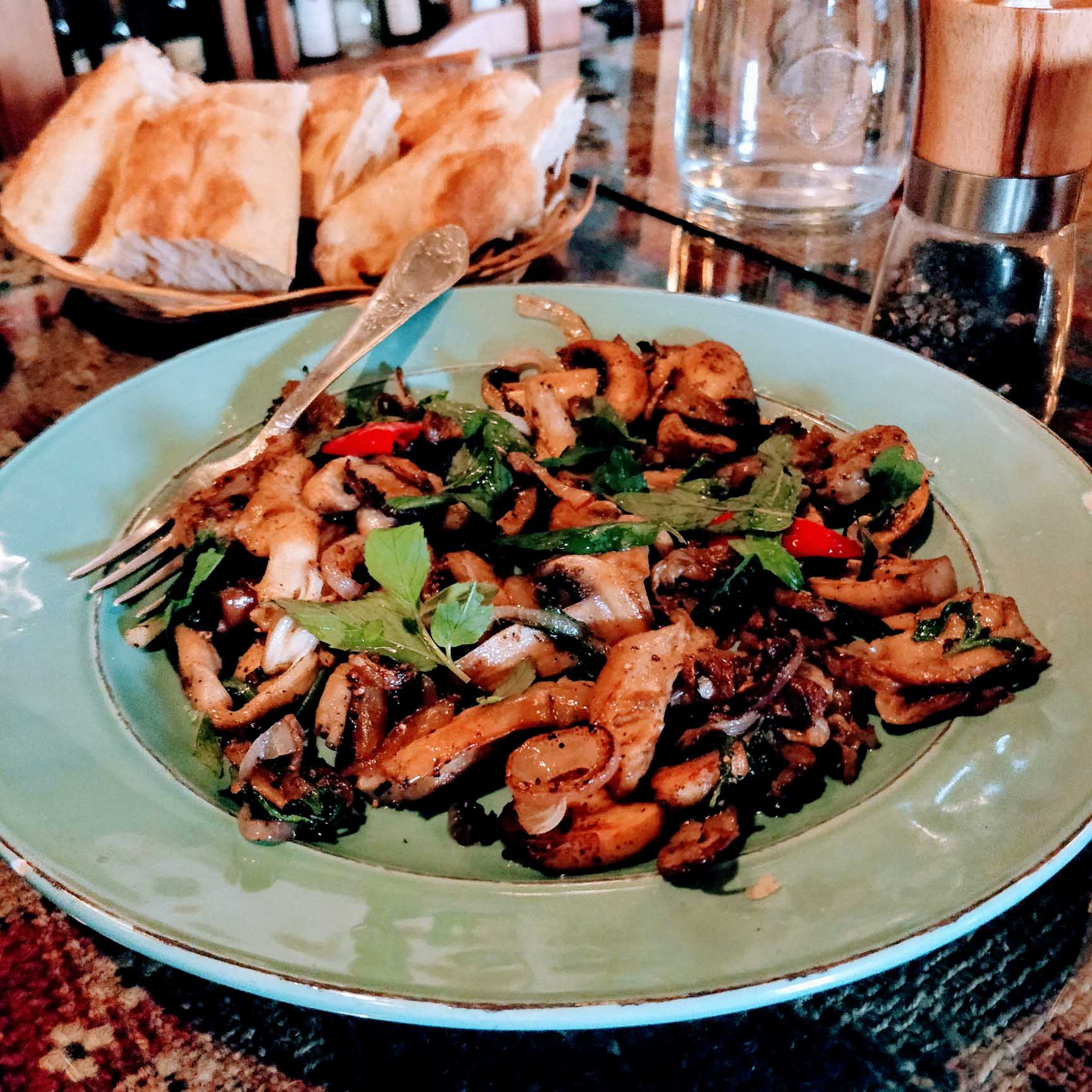 Chkmeruli: roasted chicken pieces (with bones and skin), smothered in a milk and garlic based sauce.
Megrelian Kharcho: beef stew with walnut sauce.
Abkhazura: spiced mince meatballs often wrapped in caul fat, grilled, then topped with sliced onion and pomegranate seeds.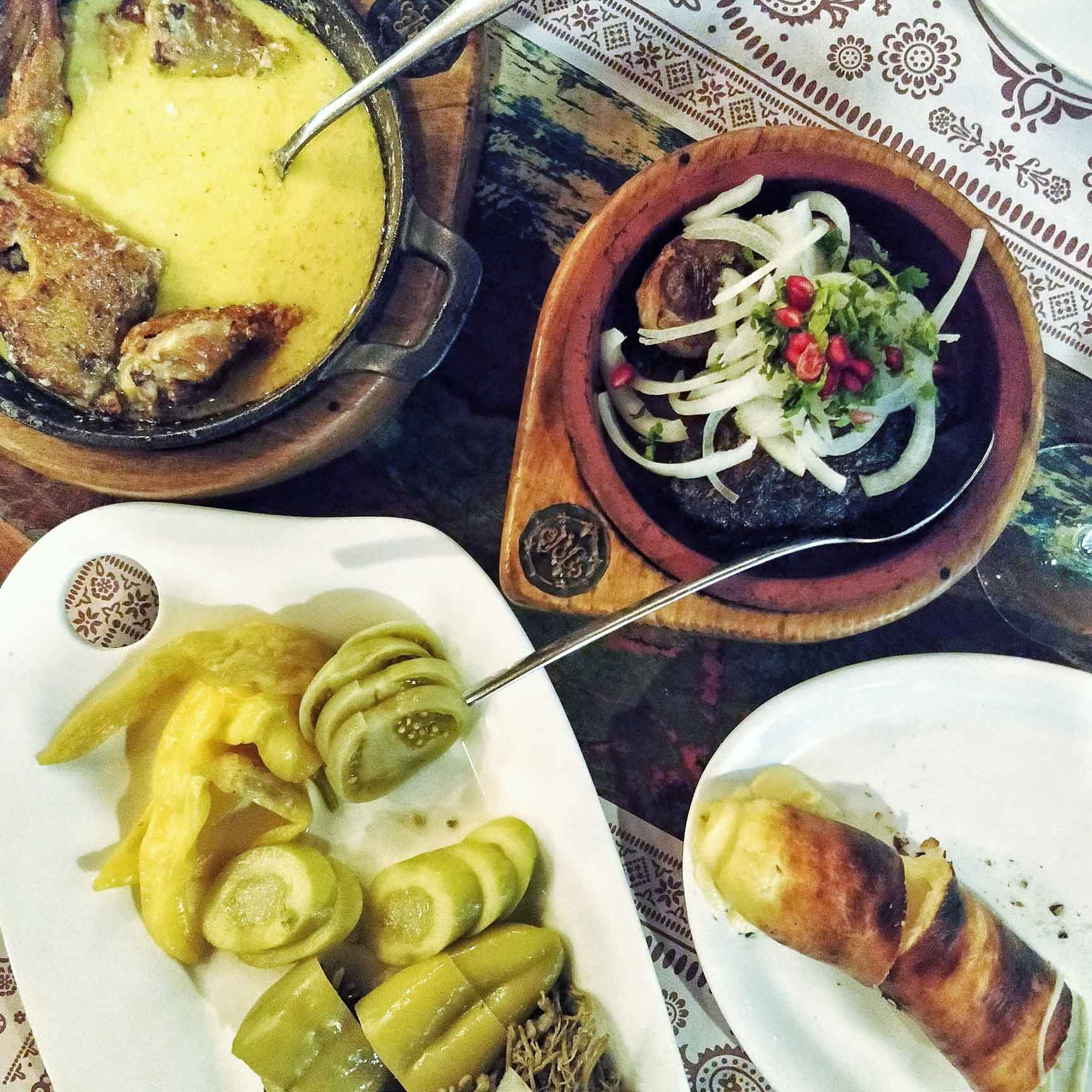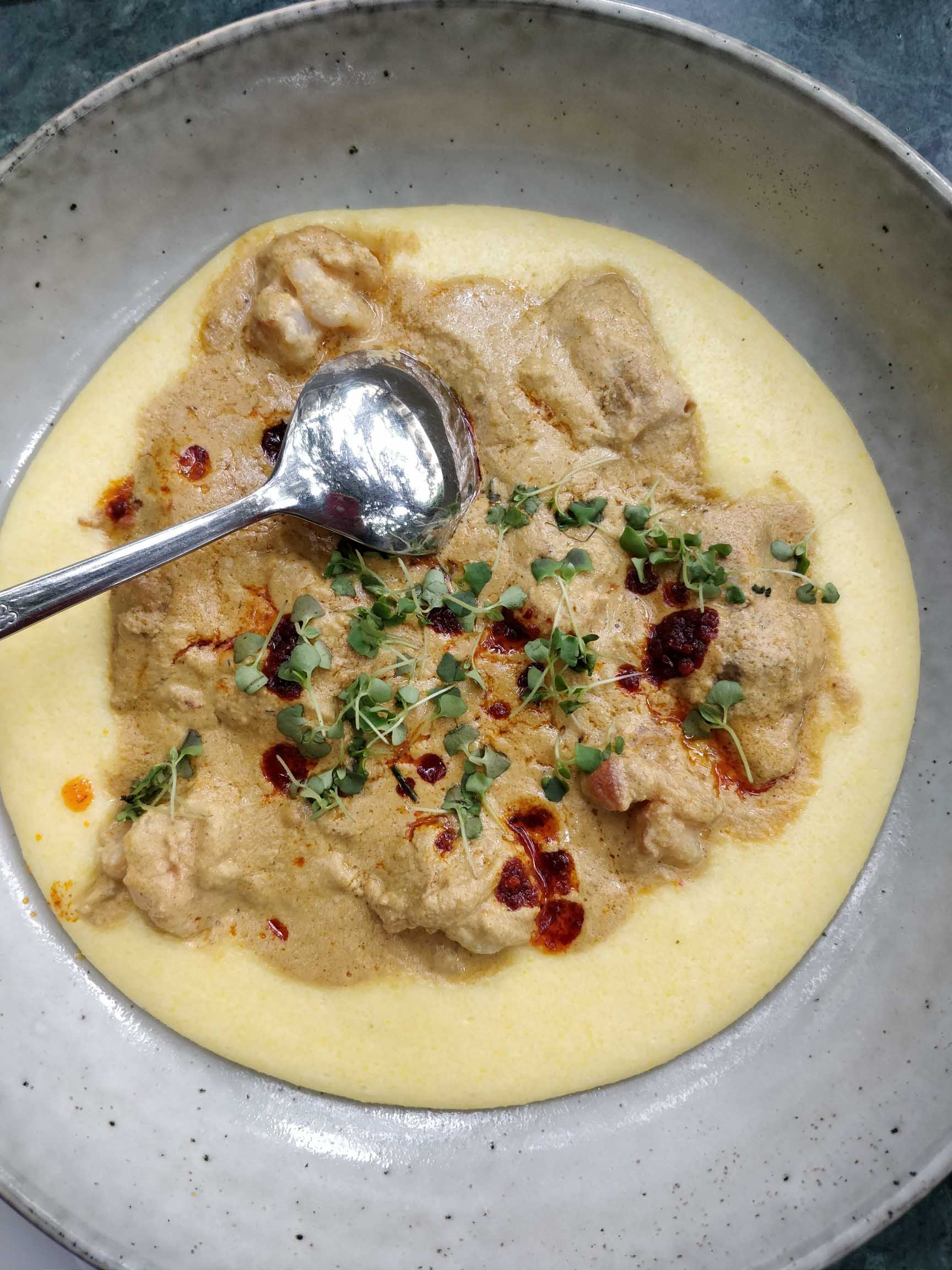 Chakhokhbili: stewed meat with tomatoes and fresh herbs.
Chashusuli: beef stew with tomato sauce and savoury.
Khinkali: Georgian soup dumplings. They can be filled with meat, cottage cheese, mushrooms or potato. The right way to eat them is to eat them with your hands; add a pinch of black pepper, bite into a khinkali, drink the soup, then eat the rest of the dumpling, leaving only the top (since it's just plain dough).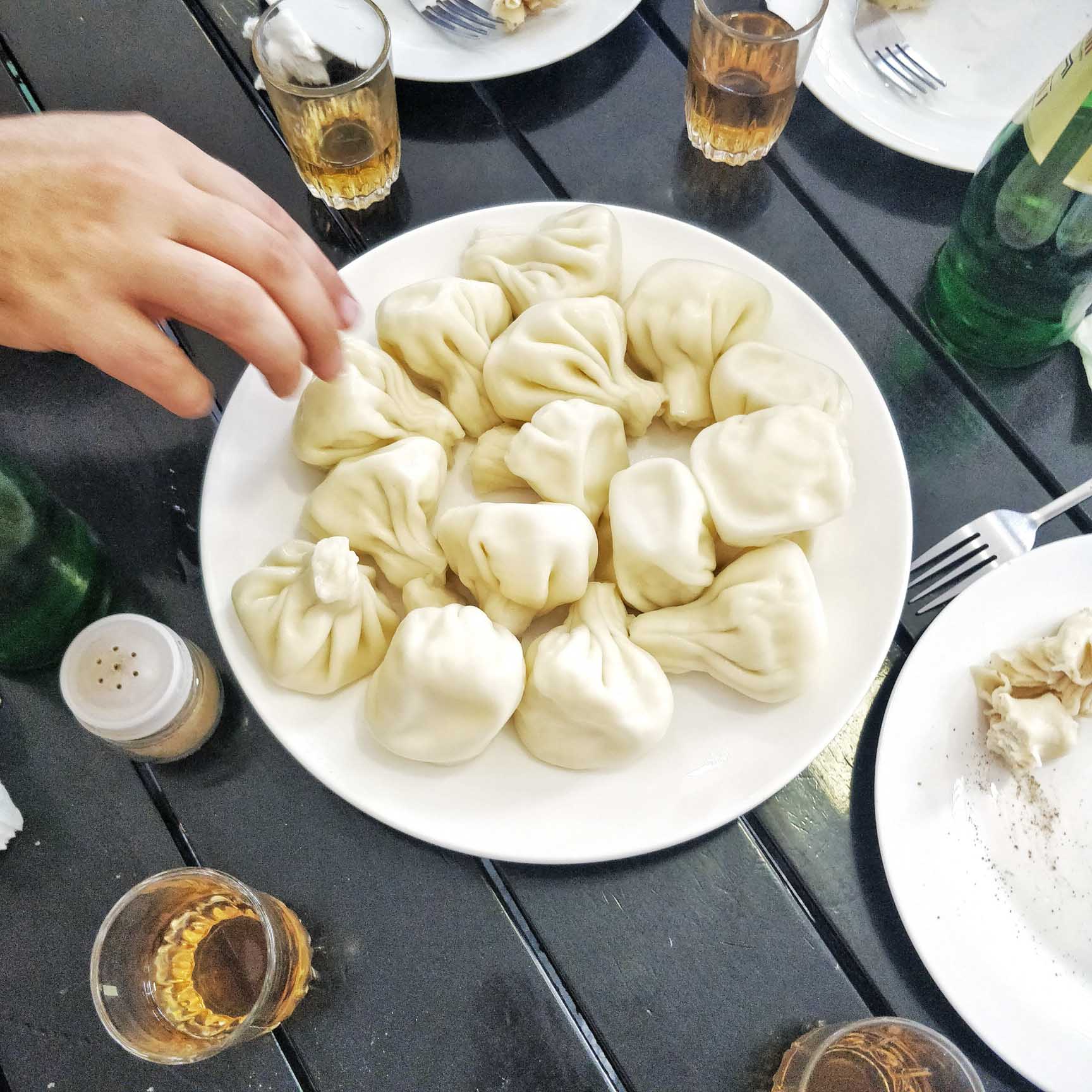 Ojakhuri: fried meat (usually pork) mixed with fried or roasted potatoes and sliced onions. It smells and tastes a lot better than it sounds.
Tolma: vine leaves, cabbage leaves or vegetables stuffed with meat and rice, served with garlicky matsoni (Georgian yogurt). The most common version are the stuffed vine leaves.
Chakapuli: veal or lamb stew with tarragon and wild sour plums.
Mtsvadi: the Georgian shashlik (skewered and grilled meat), often served with freshly squeezed pomegranate juice and sliced onions. The most popular mtsvadi is pork.
Khashlama: vegetable and meat stew with a clear broth.
Satsivi: meat cooked in a satsivi walnut sauce.
Khaurma: offal stew. It usually contains liver, spleen, kidneys, lungs and heart.
Georgian bread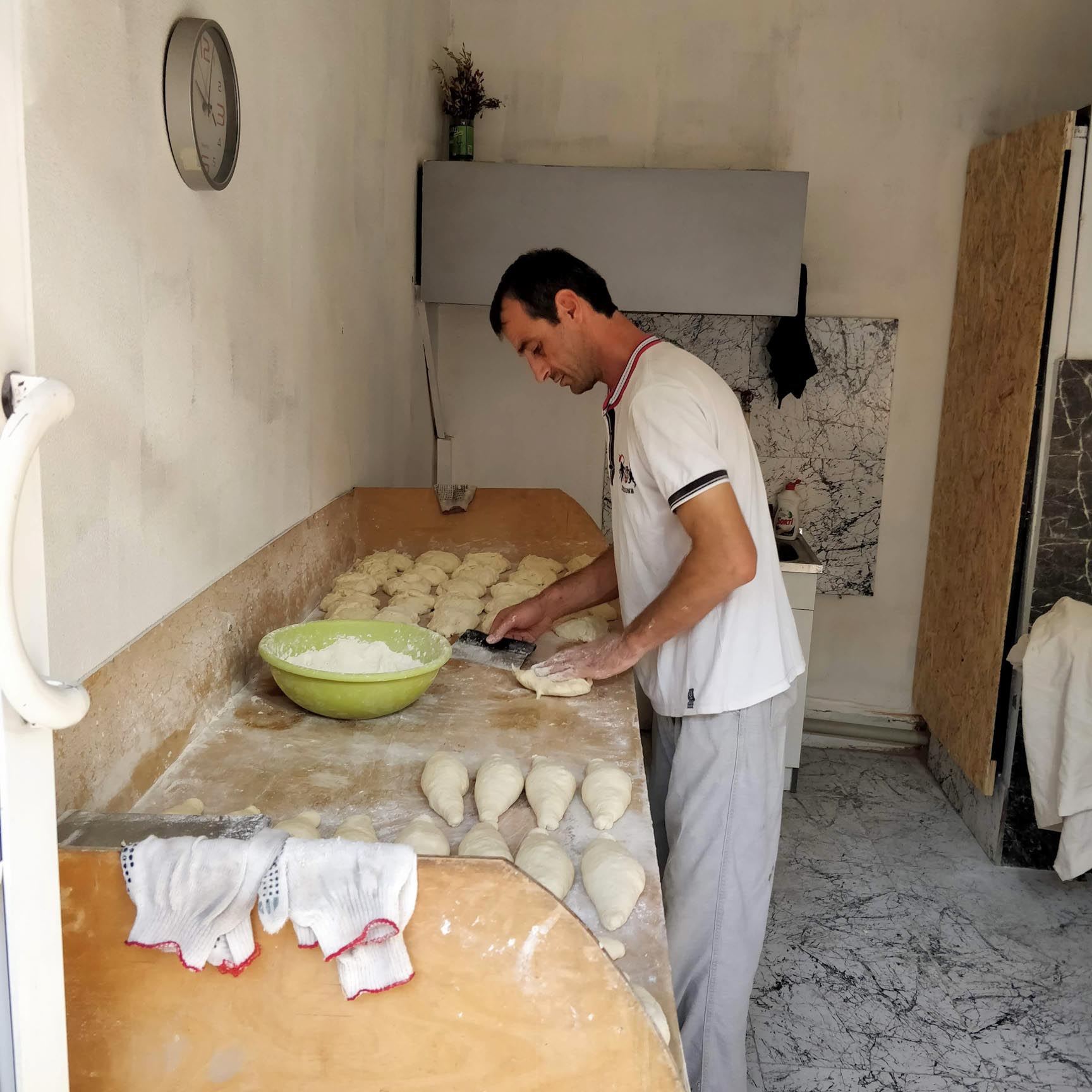 There is no Georgian meal without bread and no matter how much food there is on the table, there is always space for bread.
Puri: traditional Georgian bread cooked on the wall of a tone, the traditional bread making oven.
Imeruli Khachapuri: round flatbread filled with cheese.
Megruli Khachapuri: round flatbread filled and topped with cheese.
Adjaruli Khachapuri: boat shaped flatbread topped with cheese, egg and butter.
Lobiani: round flatbread filled with beans.
Guruli pie: bread stuffed with cheese and boiled eggs.
Georgian sweets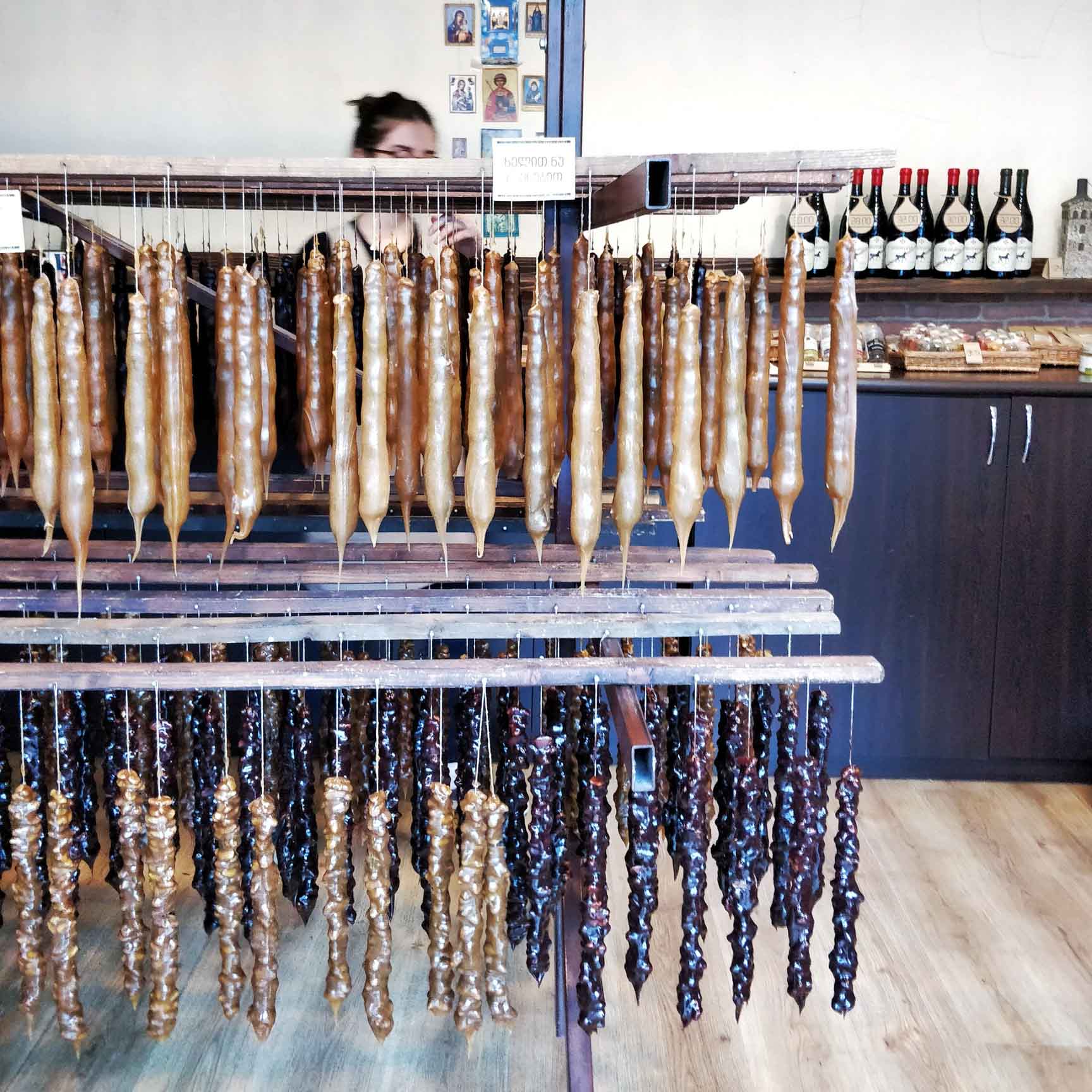 Churchkhela: sausage like sweet made with whole walnuts covered in unsweetened, pressed and thickened grape juice.
Tklapi: 'fruit leather'. Georgians make this by juicing, reducing then dehydrating various fruits.
Muraba: preserved fruits in a thick syrup. The whole-walnut muraba is the most common.
Pelamushi: pudding made with pressed grape juice.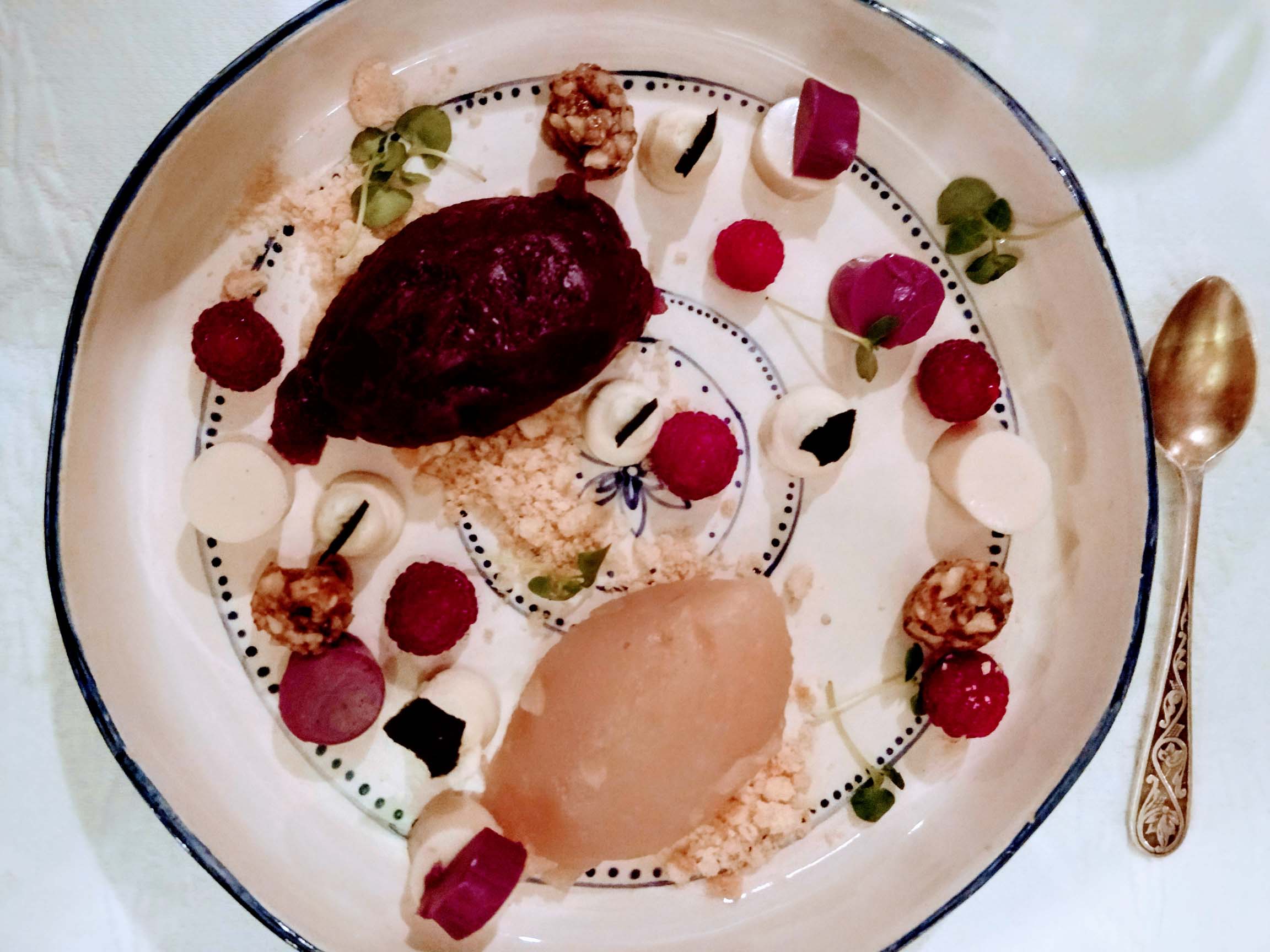 Why should you start embracing Georgian food?
I hope this introduction gave you a better idea of Georgian food as a whole, and served as a guide for the most popular dishes the charming country has to offer. These are dishes you will often find in restaurant menus while travelling throughout Georgia. So, why should you start loving Georgian food?
It is convenient
Firstly, Georgian dishes are easy to prepare and do not require many hard to find ingredients. As long as you bring savoury, blue fenugreek and marigold petals into your kitchen, you will be able to find everything else in your local farmers' market.
It celebrates the seasons
The dishes celebrate seasonal ingredients, meaning that you can cook more responsibly and support local farmers by buying their produce.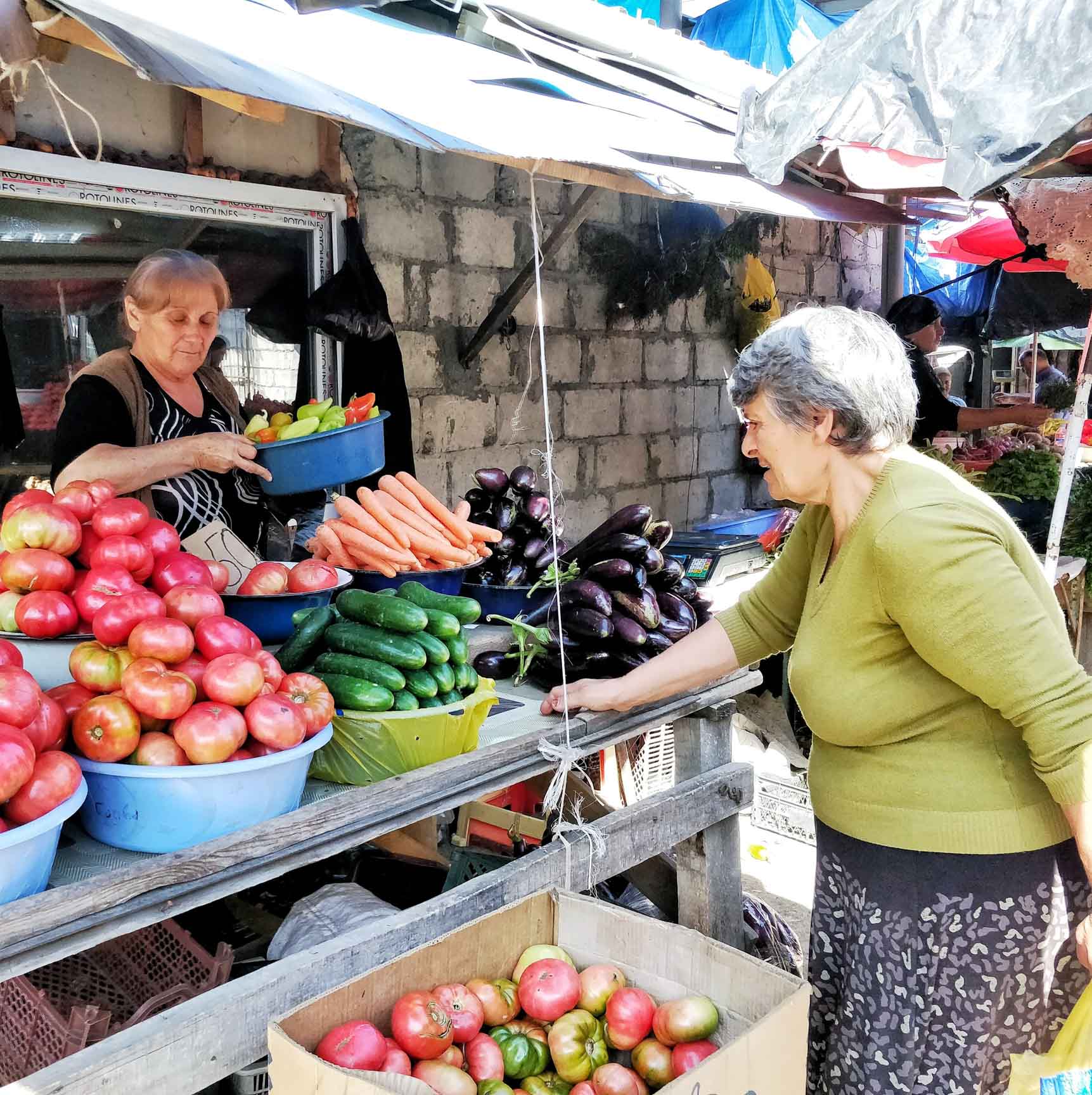 It is for everyone
Georgian food is so diverse it perfectly suits vegans, vegetarians as well as those who like meat.
It is affordable
Georgian food is cheap to prepare, since you can work with seasonal market produce. This way you can focus more on quality rather than sourcing expensive, exotic ingredients.
It is healthy
Finally, most Georgian dishes are packed with healthy fats (due to the common use of nuts), are low in sugar, and are relatively light. Ok, ok, I won't include khachapuri in this list, but trust me, once you will start trying Georgian dishes other than khachapuri, the latter will become such a bore!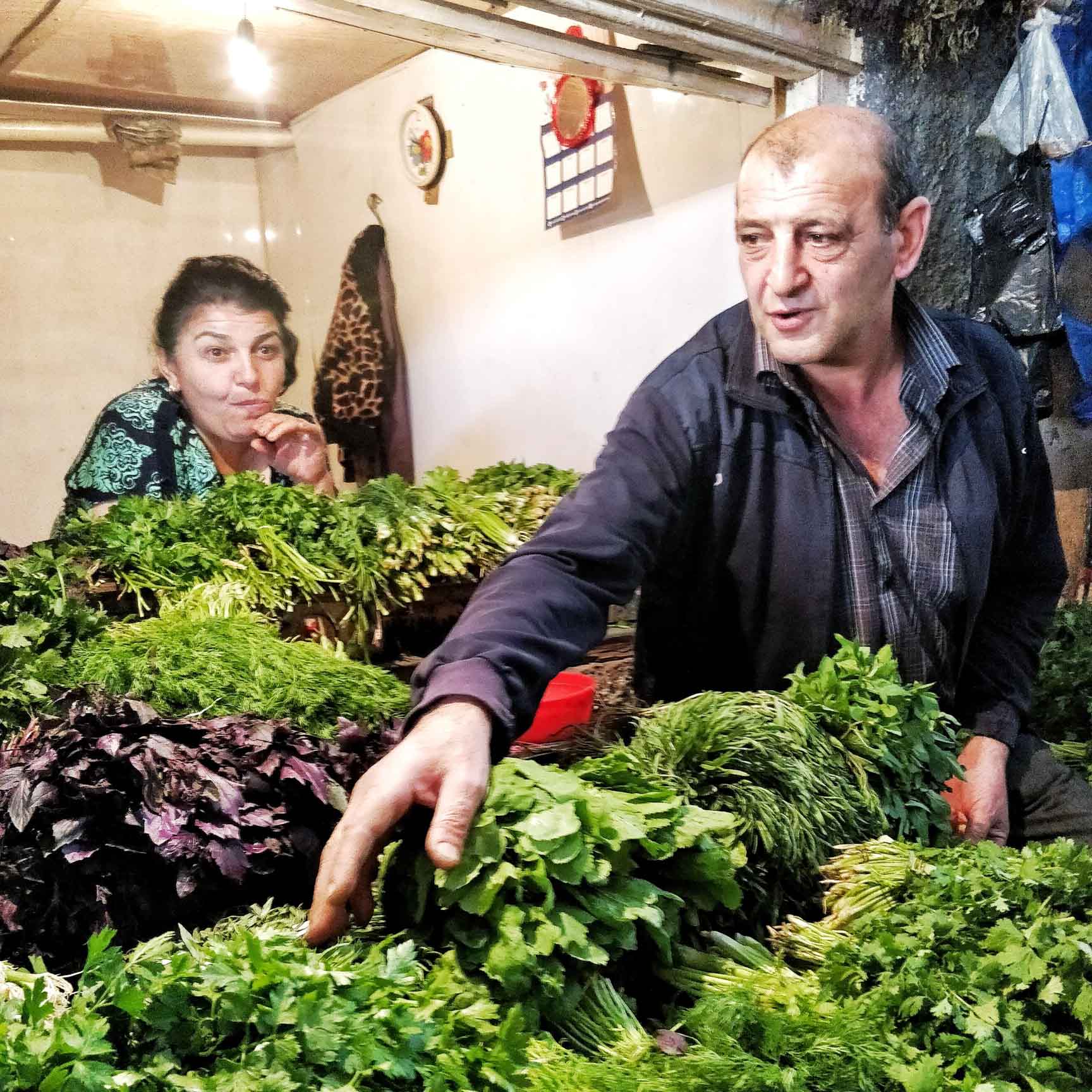 Georgia is becoming one of the most sought after holiday destinations. Between January and September 2018, Georgia has hosted 17.7% more tourists than in the same period in 2017 and the numbers have been growing yearly. With more people becoming aware of the country's culture and cuisine, the demand for it will also grow, creating exciting business opportunities. So, whether you own a restaurant and wish to diversify your menu, are planning on opening a restaurant or are an investor looking for opportunities, you should consider Georgian cuisine.