Food is becoming an art form more than ever before and presentation is almost as important as taste: we eat with our eyes first, don't we? This complete guide will provide you with everything you need to know to plate dishes worthy of a fine dining restaurant. You will find tips on how to bring the right elements together, choose the right plates and find your tone of voice and style of plating.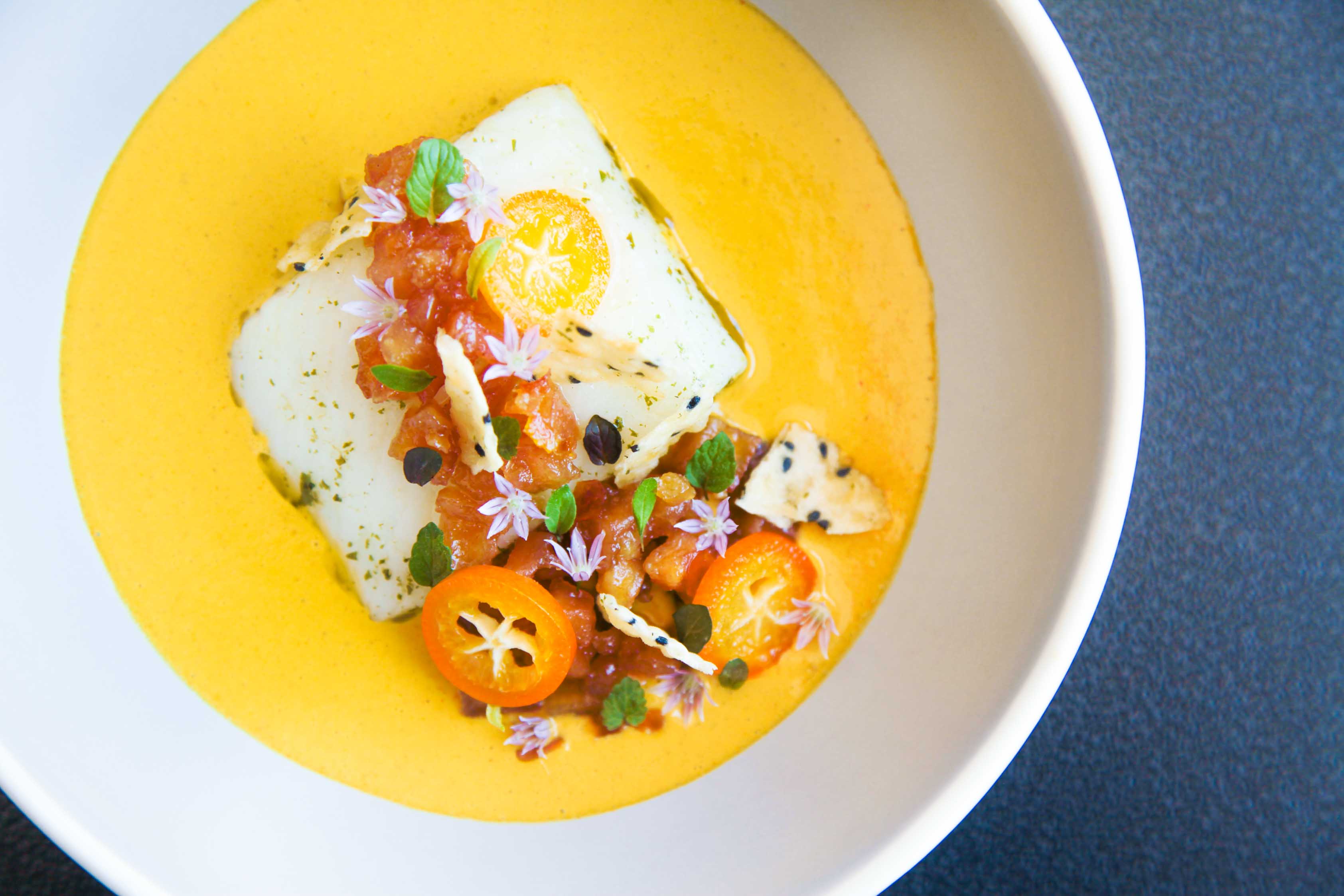 The elements on your plate: the 10 commandments of plating
I am a firm believer of the effectiveness of lists and rules. This list of basic dos and don'ts is my rulebook, and I recommend following it to take your plating skills to the next level.
1. Thou shalt never overcrowd the plate
White space (the space surrounding your various elements) is crucial to make your elements stand out. You can either use larger plates or smaller portions.
2. Thou shalt never add anything to the plate that should not be eaten
To be more precise, any garnish that you would move to the side of the plate and not eat should not sit on your guests' or customers' plate. This includes herb sprigs (rosemary, thyme, etc.), whole peppercorns and bay leaves. They are either hard, flaky, not really chewable or would otherwise overpower the flavours of your dish.
3. Honour your food with small(er) flavour bites
Studies show that smaller flavour bites have higher aroma intensities, so help those who taste your dish make the most of your culinary efforts. Consequently, this means no whole potatoes, no unsliced steak or whole fish sitting on the plate.
4. Thou shalt always combine various textures
If you've had meals in fine dining restaurants, you probably noticed the complexity of each dish. While not all dishes have to be so complex, you should try to include something creamy or soft, something crunchy and something acidic.
5. Thou shalt always show the sear and the cook of your protein of choice
Did you just cook some medium-rare steak? Slice it right before serving. Show that caramelised skin and the pink centre. There are few things uglier than a piece of meat bleeding onto the purée it sits on. Let your meat rest long enough to avoid that from happening. For most meats, 5 minutes is a good resting time. Never serve a dry, overcooked piece of meat. As a rule of thumb: steak, duck, venison, pigeon, kangaroo should be cooked medium-rare; pork tenderloin and chop should always be a little under (just slightly pink); as for chicken, make sure it is always cooked through, but not dry.
6. Thou shalt always cook your fish correctly
Have you got a salmon fillet with the skin on? The rule is simple: if you wish to keep it, make it crispy. If you don't want it to be eaten, remove it before you cook the fish. Instead of pan searing your fish, poach it, confit it or cook it sous vide. Learn how to avoid overcooking your fish and remember that most of it is best a little underdone. Cooking scallops? Only season them while they're cooking or they will release moisture, will dry up and won't sear properly. I don't have to add that you should never leave bones in, do I?
7. Though shalt never let your vegetables become soggy or make your purée too thick
This means that your asparagus, zucchini, carrots, kale or broccoli will be cooked but still crunchy; that your peas will stay bright green and not disintegrate; that your mushrooms will have a nice, golden sear and no more excess water. The secret to silky smooth purées is to use cream instead of milk. And if you want it silky smooth, just pass it through a fine sieve or muslin cloth. Potato purée? Don't ever blend it or the starch will make it feel and taste like glue.
8. Thou shalt make sure all ingredients work together in balance
Avoid using pungent flavours without balancing them out with milder flavours. The garnishes on your plate (herbs, edible flowers, microgreens) should be relevant to the dish. Therefore it is important to understand the flavour profile of the various elements that you bring together.
9. Thou shalt leave carved carrot slices, whole parsley stalks and lettuce leaves back in the 60s where they belong
Unless, of course, they make sense in your dish and are one of the plate's elements, like this salmon sashimi from Restaurant Tim Raue.
10. Thou shalt always clean the plate of unwanted marks or splashes.
You wouldn't want traces of paint from your fresh walls on your wooden floors, would you? Not everyone has the precision of a professional diamond cutter. Plus, during a busy service, you will be pressured to plate up your dishes quickly, and the inevitable yet accidental oil marks, drips and splashes will happen. Simply use a clean and slightly wet kitchen cloth to clean the plate.
Garnishes and decorations
As I've mentioned earlier, it is important to put together balanced dishes where ingredients compliment and complement each other. There are plenty of articles and books that you can buy to improve your understanding of flavour profiles and get some pairing inspiration. I particularly recommend The Flavour Thesaurus, which has been my cooking bible so far.
Just as with any other ingredients in the dish, don't just decorate a plate with flowers because they make it look more appealing. Give the dish a meaning through the garnishes you use. And remember the 2nd commandment: never leave anything that should not be eaten on the plate.
How to use edible flowers, microgreens and other garnishes intelligently
Here is a short guide of the flavour profiles of popular edible flowers, leaves, microgreens and other garnishes:
Nasturtiums (flowers/leaves): slightly acidic, peppery flavour. Recommendation: pair them with poached peaches and sorbet; or this pain perdu with lemon curd and pears.
Pansies: mild grassy flavour, slightly similar to winter greens. Recommendation: use them in salads.
Chamomile flowers: they are sweet and have notes of apple. Recommendation: use them in combination with anise vegetables, particularly fennel. Raisins and camomile flowers are another successful pairing.
Borage: acidic, similar to cucumber. Recommendation: use them to accompany summery fish dishes.
Pea shoots: fresh, salad like, slight flavour of peas. Recommendation: use them to accompany a pea purée, or other summer vegetables.
Cress or micro-radish: mustardy and acidic. Recommendation: garnish a plate of home cured fish with cress or micro-radish leaves. Remember that cress is more pungent than micro-radish.
Lemon verbena: Similar to lemongrass due to similar levels of citral, the compound that gives both their specific lemony flavour. Sweet notes. Recommendation: use a couple of lemon verbena leaves to decorate a Thai style curry, like this one. Or a vanilla ice-cream.
Lemon balm: Lemony, acidic. Due to similar levels of cintronellal, they are similar to kaffir lime leaves. Recommendation: use them as a garnish on a rich asparagus or pea soup.
Chive or wild garlic flowers: slightly sulphurous with acidic notes, similar to onions and garlic. Recommendation: use them with some pork tenderloin and spring vegetables.
Get inspired
Plating, just like any art form, requires creative inspiration. Here is how you can use social media, art and nature as a source of inspiration to help you plate dishes worthy of a fine dining restaurant.
Social media
Do you want to plate outstanding dishes? Surround yourself with beautiful food. When I log into Instagram or Facebook my entire feed is full of beautifully plated photos. On Instagram you may have to tidy up your 'Following' list and prioritise those that truly inspire you. On Facebook, you can customise your feed by selecting 'see first' on the pages you're most interested in.
Instagram can be one of the greatest sources of plating inspiration, and it is the platform that has helped me develop my plating skills. Here are a couple of finely plated food Instagram profiles you should follow:
If you're a Pinterest user, you can have a look at my 'Beautiful plating' boards, which I organised by colour and update regularly.
Finally, don't just look at the beautiful photos, but analyse them like a piece of art: look at their components, understand the dish (especially when they come with a description), pay attention to the look and feel, the colour contrasts, the proportions of ingredients, white space, colour of the plate, textures, height. If you do this constantly, I can guarantee that your skills will improve in no time!
Art
As I mentioned earlier, art can be a great source of inspiration and a constant dose of it can help you improve your plating skills. It doesn't matter if it's classical or postmodernist art. Look at colours, textures, shadows, lines. Think about how you could turn that piece of art into a dish. What kind of plate would you use? Which colour contrasts? What garnishes?
To help you see the connection between art and finely plated food, here are a couple of plated dishes versus art examples.
Irises, by Vincent Van Gogh
Bold, complementary colours, reminiscent of summer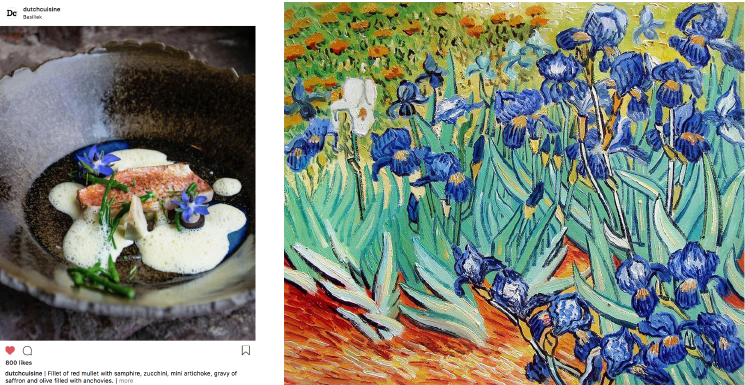 The Kiss, by Gustav Klimt
Strong contrasts, small elements around and above the central ones: the pasta and the egg yolk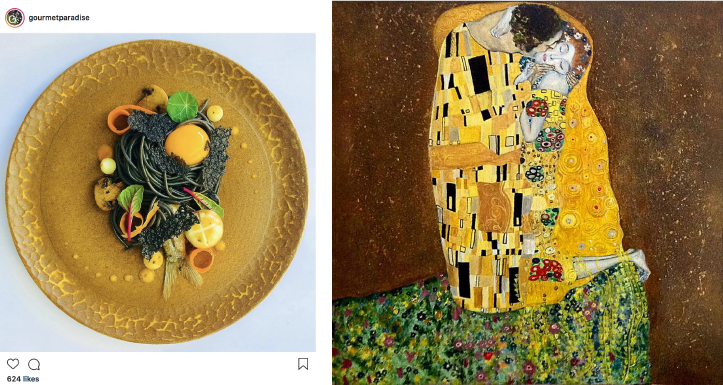 The Japanese Bridge, by Claude Monet
Mild contrasts, bright pastel colours, irregular shapes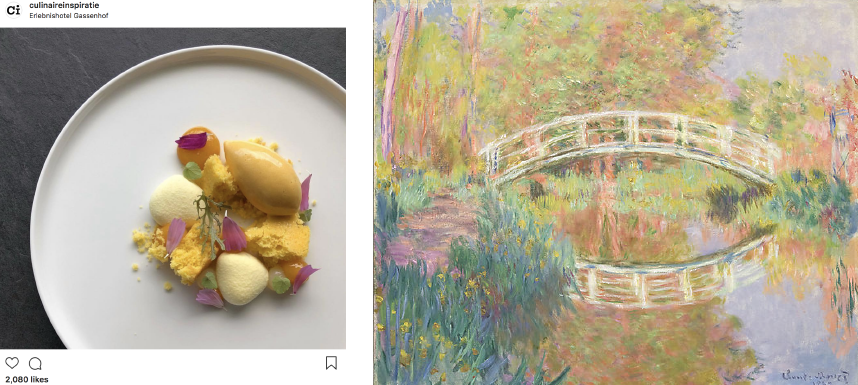 View of the Arco Valley, by Albrecht Dürer
Dark elements and height on a bright plate

Circles in a Circle, by Wassily Kandinsky
Round shapes and lines, reminiscent of a Kandinsky painting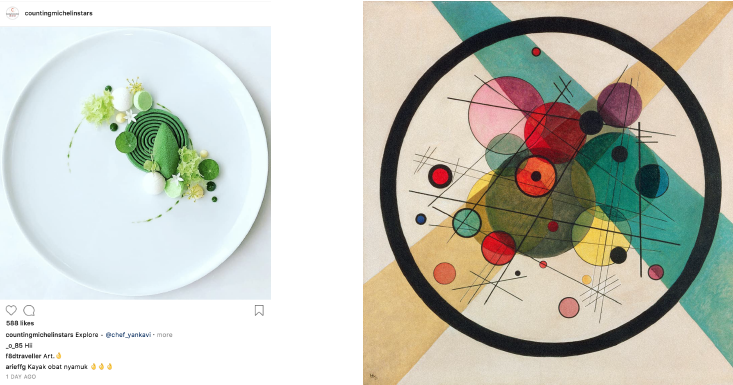 Still life of flowers and fruit with a river landscape in the distance, by Severin Roesen
Bold contrasts and strong colours, multiple elements distributed across the plate

Nature
Sometimes inspiration comes from the purest of sources. Look around you, pay attention to colours, to textures, to the way elements sit together to create beautiful sceneries. Connect the elements or theme of your dish to a scenery from nature. Here are a couple of my own examples:
'The octopus is hiding at the bottom of the sea'
When I developed this dish, I thought of how octopi hide in the sand, at the bottom of the sea. I looked for elements that could resemble corals, like the red coral lettuce, or the squid ink tuile de pain. The bone marrow and herb foam represent sea foam. I garnished the plate with sea salt flakes, not only because they added a bit more saltiness to the dish, but also because they represented the salty sea. Finally, I picked a plate that looked like the sand with reflections from the sun.
'Scottish Highlands Green and a Quail Egg'
The green of the pea velouté represents the soft, bright green grass, so typical of the Scottish highlands.
'Pork belly in an exotic garden'
I designed this dish wishing to combine mostly fruits and a delicious 24h sous vide pork belly. I thought of the pork belly as a little hut in the middle of an exotic garden, where every colourful dot of avocado, pineapple or papaya habanero purée is a patch of flowers. Then, to enhance that (and the flavour), I decorated the plate with coriander leaves and pansies.
Colour and composition
It is important that you think about the look and feel of your plate as soon as you start cooking the dish. Every single plate of food will have a specific visual tone of voice. Just like with a piece of art, think about the message you are trying to communicate through the dish. Think about the colour contrasts (and remember you can always bring a bit more colour with some herbs, microgreens or edible flowers, as long as they make sense). Use art or nature as a source of inspiration. Do you want your dish to look like a small scene in the woods? Like the sea? Do you want your dish to have bold colours like Andy Warhol's paintings, or milder, more delicate tones, like Monet? Jackson Pollock or Kandinsky? Order or disorder?
Understand basic rules of composition. Here are some useful tips.
Sketches are often a great way to visualise your plate before putting it together. You don't have to be an artist to do it, just try to keep the proportions right and use geometric shapes to represent your various elements. This will not only give you an idea of how the plate will look, but also help you in the act of plating.
Choosing the right plate
Once you know the tone of voice of your dish, colour contrasts and the emotions you wish to communicate, choose a plate that will complement the various elements. Don't only think about the colour of the plate, but its shape, its texture, and what it brings to the edible elements. Remember: big is better than crowded, so don't be afraid to use a large plate for a small amount of food, and never, never overcrowd your plate.
In my kitchen studio, I've collected over thirty different plates. I always buy new ones when I go shopping or travel. In my experience so far, I've come to prefer darker, matte plates over white or colourful ones, but that's just a matter of personal taste. I find that they look bolder in photos and make my usually colourful dishes pop by creating intense contrasts. It's up to you to find your tone of voice, but remember: not all dishes will work on the same plate!
How chefs around the world pick their plate
For a little inspiration and critique, I collected a couple of examples of various plating styles using various plates:
The dark grey plate makes the various elements pop and makes the white foam stand out, which wouldn't have happened on a lightly coloured plate. The plating is delicate and uses bright colours further enhanced by the matte texture of the plate.
The earthenware, with unpolished looks makes the dish more rustic. The contrast between the plate and the food is strong, but everything is brought together like a beautiful framed picture by the dark brown contour of the plate, with a similar colour to the blueberry sauce in the dish.
The rough, white bowl creates both a contrast with the smooth textures of the food and enhances the delicate, symmetrical, bright colours reminiscent of a spring meadow and represented with mathematical accuracy.
With so many elements on the plate, as well as such strong contrasts of bright and dark colours, the simple white plate gives the dish a luxurious feel as well as a blank canvas for the elements to shine
Never underestimate the power of a simple glass. You can plate up fabulous desserts, and what's better is that once plated, you can store them in the fridge and have them ready for service. This is a great tip for a busy service or a full house.
The rustic earthenware bowl gives the dish a moody, autumn-like feel.
This dish inspires luxury through the classic colours as well as the glossy aspect of the plate, the gravy and the squeeze bottle purée.
This plate is an example of combining order and disorder: splashes, rough textures, uneven shapes, versus perfectly arranged food, perfectly sliced radishes and carefully placed sorrel leaves. The simple, white colour of the plate helps the brightly coloured elements stand out.
Classic plating techniques
Quenelles, round moulds, swooshes, splashes, etc. are all terms you may have heard on cooking shows or read about in cookbooks. I'm not going to write too much about plating techniques, but instead, I thought it would be more useful to provide you with some resources that will help you use all these classic plating techniques:
Never say never
Even the 'ugliest' food can be presented nicely. Yes, looking right at you, stew, curry, porridge and brown sauce. You can improve the looks of any dish by using colourful, contrasting elements, by not overcrowding the plate, and by adding some garnishes here and there. Here are a couple of examples that make the seemingly impossible possible:
3 final pro tips
I've also gathered a couple of pro tips that will help you go over the edge as well as create a more exciting dining experience:
If you are serving a dish with a sauce and don't want it to move around the plate while carrying it to the table, simply use a sauce boat or another recipient to pour it in front of your customer, like in the picture below.
To give your plate more visual appeal and make it look more interesting, deconstruct your dish into multiple elements that your customer or guest can mix together later. But please, don't call it 'deconstructed' – think of this word like Justin Bieber: lame and overrated.
Lastly, become a food hacker. Plate on the rim of your dish. Forage herbs when you're out on a nature walk. I recently bought this great book on foraging. And finally, never underestimate the power of otherwise wasted ingredients. I'm a great supporter of reducing waste in the kitchen, perhaps you've seen that already on the blog. You can char your leeks or onion stems in the oven and turn them into a beautiful powder that will not only give your dish a slight smoky flavour, but also make it look even better. You can use your pumpkin skin and roast it to give your dish a little more crunch and make it look more rustic. Here are 5 tips on how to turn kitchen scraps into modern dishes.
It's time to plate up
As much as I would like you to go back to your kitchen and plate up the most wonderful dish in the world, remember that just like with art, your skills will develop with practice. Don't give up after the first unsuccessful try. Be critical with your work. Always, always look for inspiration, whether that translates into a nature walk, a dive, a walk in the park, a visit to a museum or just a scroll through Instagram. Finally, I hope this guide will help you plate dishes worthy of a fine dining restaurant!