This deliciously simple orange and cranberry pork roast, marinated overnight with star anise, fennel seeds and sage and slow cooked in white wine is a great option for a dinner with family or friends.
Catching up on Christmas traditions
If you've met any Romanians, you may know that pork is one of the core ingredients of our cuisine! As a matter of fact, before Christmas, family and friends get together for the slaughter of the pig. And while I may not fully agree with it, since I find it cruel, I've lived my whole life having pork for Christmas. In Romania you use every part of it. You heat up the skin and eat it with bread and red onions, you eat the fat with raw garlic and sometimes even fry it! You have sausages of all sorts, you make sarmale (pickled cabbage rolls filled with pork mince and rice) and, of course, some roast.
I've already told you in a previous article that I spent this Christmas eating mainly seafood and actually had no pork, but my Romanian Christmas nostalgia didn't take long until it settled in, which meant that I had to cook a roast, at least.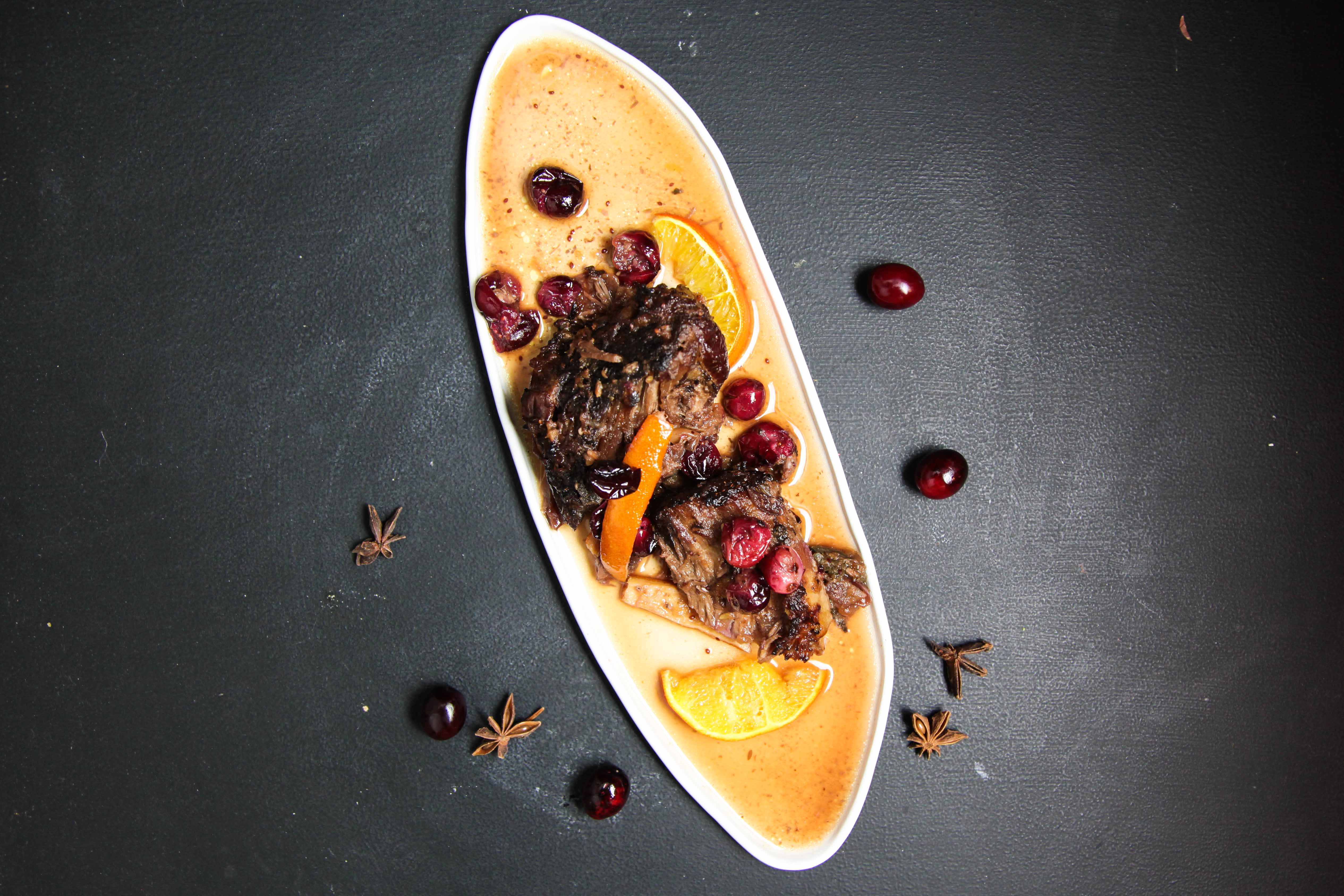 A roast is to share
Perhaps because I've lived my whole life only having roast when having guests, there was no way I was going to cook this for me and my boyfriend only, despite the fact that I could have bought a small piece of pork shoulder just for the two of us. Now, in the style of 'which came first, the egg or the chicken?', I can't help but wonder why we associate some foods with large groups of people.
Of course, it's a lovely tradition to bring people together, and all is even better when there's food to share… But you can always buy a smaller piece of pork, or a smaller turkey, at the end of the day, so I doubt it's all about the size. And to be honest, it may take long to prepare a roast, because you need to cook it for a long time and be very patient, but in terms of effort, it's just as easy and quick as putting together some pasta. I guess I many never get a proper answer to my question, and to some extent it's all part of the traditions we've grown up with and that have developed for years and years.
Orange and cranberry pork roast
I've made this dish many times and tried all sorts of different ingredients and spices, from soy sauce and Asian flavours to apples and fennel, but none of them reached the same level of greatness as this orange and cranberry pork roast. It feels light and easy; it's got a super crunchy crackling (which is so tasty it can become a friendship breaker) and the sauce is so good you'll really want to prepare tons of it!
Here's the recipe
FOR THE MARINADE
1.5kg pork shoulder
1 tbsp salt
1 tbsp pepper
3 star anise, ground
1 tbsp fennel seends, ground
6-7 garlic cloves, crushed with a knife
10 sage leaves
1 handful of whole cloves
1 orange, sliced
FOR THE SAUCE
2 pints of water
500ml white wine
500g fresh cranberries
100ml cointreau (optional)
1/2 cups of sugar
3 star anise, whole
INSTRUCTIONS
Start by scoring the pork skin into strips about 1-2cm apart. Pierce the fat from the skin with the cloves (about 3-4cm apart).
Prepare the spice and herb marinade and rub the pork shoulder with it. With a knife pinch some holes into the meat, enough to fill them with garlic cloves and sage. Finally, lay the pork on top of the orange slices and refrigerate overnight.
Preheat the oven at 220ºC. Transfer the pork skin side up (together with the oranges) to an ovenproof dish and roast for about 20-25 minutes, until the crackling is crispy.
Turn the heat down to 140ºC. Add one pint of water to the pork (avoiding to wet the crackling) and let cook for four hours, basting the meat every hour to keep it moist. Again, it's important not to wet the crackling, as it will no longer be crunchy! Half-way through add 250ml of white wine .
After four hours the pork should be soft and delicious. Yet, not all is ready! Now it's time to prepare the cranberry sauce. Don't worry, that's also simple! Add the pork juices to a pot, add the cranberries, sugar, star anise, cointreau and remaining water and wine. Bring to boil and let cook for about 5 minutes, stirring often.
Return the sauce to the pork (again, don't let any liquids onto the crackling). You can serve it immediately or reheat it. When reheating add a bit of water to make up for the liquid that evaporates in the process. I usually add half a glass of water every time I reheat the meat.