There is something magical about the start of a dinner party. The moment all the guests have arrived, and slowly find their way to their seat, ready to be delighted by the feast you have prepared with so much heart. I feel that way every time I organise one of my dinner parties. In my usual 'fine dining at home' adventures, most of my tasting menu banquets start with bread and butter.
Through the way I present the food, I try my best to enable interaction amongst the guests, and that always starts with a bread basket, or, when I attempt to enhance the interaction even more, with a loaf of bread from which every guest rips out their piece and one or two receptacles with some flavoured butter creation. The idea is for my guests to pass these on from one another, again and again, until the next course is ready to arrive.
I have prepared a multitude of flavoured butters so far, some from recipe books, others improvised based on what I had available in the fridge, pantry and terrace. This recipe is the latter and it all started with a handful of dried strawberries that remained after I used some in a dessert. The creative process was based on pure improvisation – I did not even touch my usual food pairing resources, a rather rare occurrence for a risk averse but punk-wannabe cook that I am. I went ahead and added a few ingredients I seem to be constantly obsessed with (preserved lemons taking the highest place in my obsession ranking). I tried to add colour and create a rocky-road inspired butter, with none of the nougat, chocolate and marshmallow of an actual rocky road.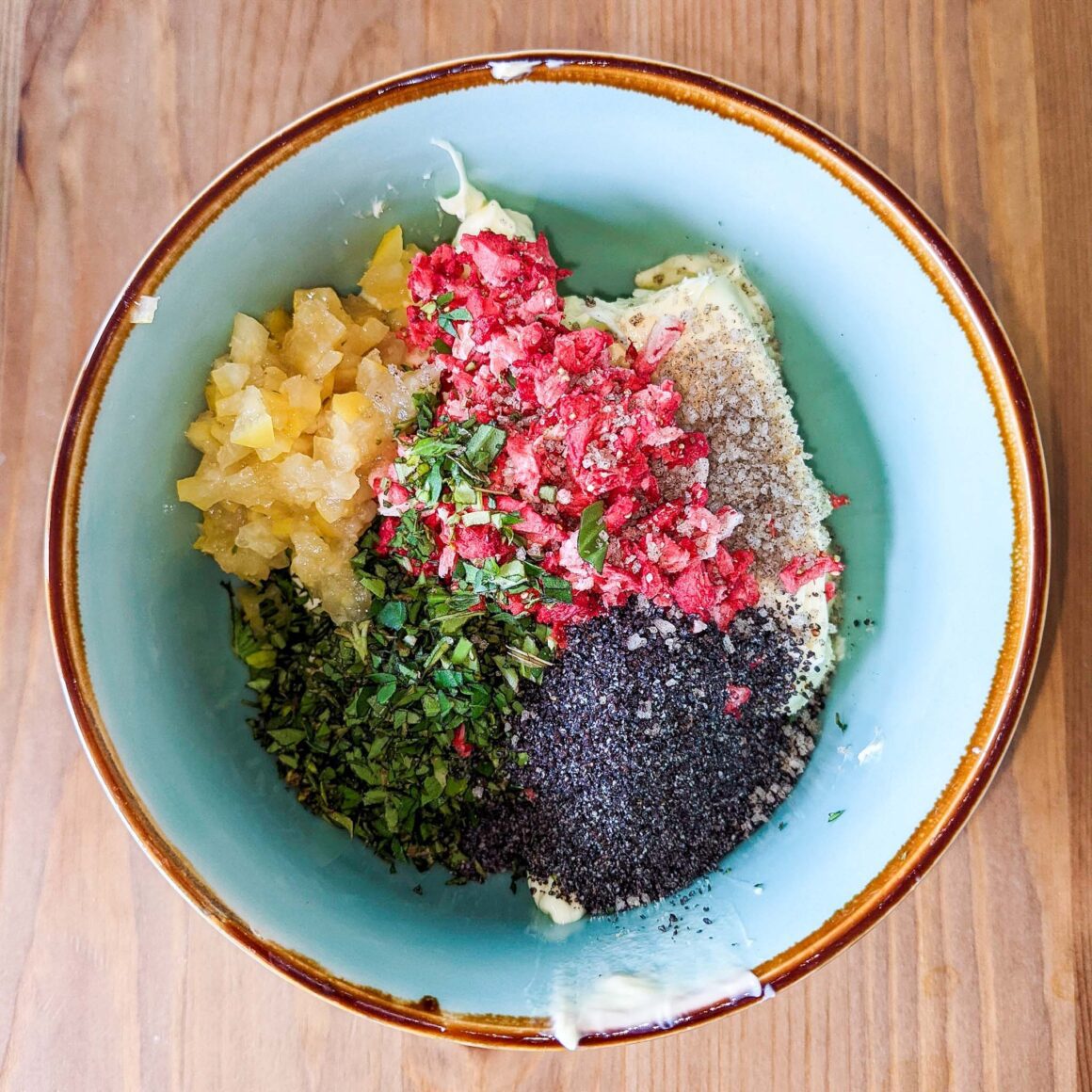 The recipe for the flavoured butter
🔪 What you'll need
250 g of butter at room temperature
2 tbsp double cream
Small handful of dried strawberries, chopped finely
2 tbsp preserved lemon (flesh and skin), chopped finely
1/2 tbsp poppy seeds
Small handful of fresh basil, chopped finely
Fleur de sel
Optional: a teeny-tiny quantity of vanilla (I mean, like maximum a cm of a vanilla bean's seeds)
🧑‍🍳 How to do it
In a bowl, mix the butter and the cream with a fork. Add all the other ingredients and mix thoroughly.
The final step – plating it. There are many ways to present your butter. Here are a few ideas:
You can store it inside the fridge for a little over a month (or freeze it, if you wish to keep it even longer).
So far, I have only had it with dark bread – a fabulous pairing, but something deep down inside tells me that it would go well with white fish, prawns or scallops.