I have heard of Aizle, and read its name in all sorts of Edinburgh must-go-to lists and guides. Many times, in fact. The only limiting factor to experiencing this so-promised-gem of a restaurant were my poor long term planning skills. That is because Aizle is, most of the time, fully booked. Eventually, for my boyfriend's birthday I managed to find a table available.
An excellent experience, down to the smallest of details
Due to a recent disappointment in the Edinburgh tasting menus area, I went to Aizle with particularly high expectations. To my delight, every bite from every one of the five courses surpassed them. So did the homemade sourdough with homemade butter and onion salt we started with and the artisanal jelly that ended our meal, both on the house; or the cloth bathroom towels, the subtle yet pleasant air diffuser oils and tartan blankets that make sure you will feel comfortable and cared for.

April's harvest: a celebration of local, high quality, seasonal produce
The enthusiasm and passion of chef Stuart Ralston and his wife Krystal (both owners of Aizle) are translated throughout the entire experience, whether that is through giving their loafs of bread names (we tasted Roger), to a constant element of surprise as well as exciting combinations of ingredients and cooking techniques. And while all the five courses in the April tasting menu enchanted my constant desire for great food, one dish in particular was outstanding: the beef tartare with kewpie mayonnaise, rolled in feuille de brick. I could easily have had some more of it for dessert!
The snacks
The memorable beef tartare, served as a snack, was accompanied by fried polenta with black garlic, lemon and beetroot, as well as herb lavosh topped with goats curd and pickled crudités. The snacks awoke the Romanian inside of me, as a polenta, curd cheese and pickle lover, but delighted me with Scottish charm.
The starter
As a passionate photographer before an epicure, Lomo stood, to me, for Lomography, a hipster analogue camera that was particularly trending about ten years ago. In the meantime I found out that lomo is also a Spanish delicacy. At Aizle, they dry age it for 18 months covered in pimiento. The result is a scrumptious, soft meat, just perfect on top of crunchy asparagus, with nori and hollandaise.
The fish course
The crispy side up Loch Awe sea trout convinced me that cabbage can be part of an elegant haute cuisine dish. The cabbage puree on top of which sat the fish tasted so good I could have had it as a course on its own and so did the crunchy cabbage leaf that enhanced the crispiness of the perfectly cooked trout. To support the restaurants' constant talent to surprise, under the fish, what looked like parmesan shavings were shavings of delicious crab, to really take you on a journey to the Scottish seaside.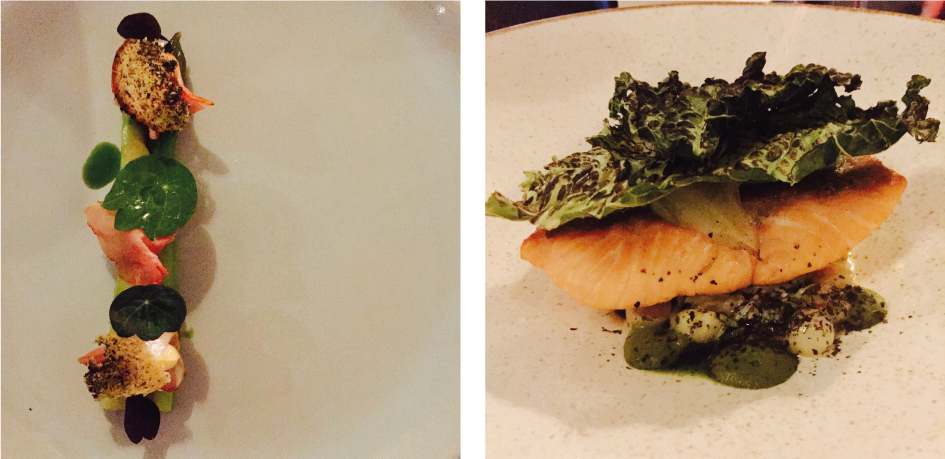 The meat course
I can't even begin to describe this dish without dreaming to have more of it: spicy, sweet, tangy, crunchy, an explosion of flavours that work so well together you know they would live happily ever after as a perfect family. The duck breast was pink and soft. The confit, by far one of the best I have ever had. The sesame seeds together with the spicy and tangy chicory kimchi, the pear puree and orange zest made the duck shine and my stomach smile. I would have more of it anytime!

The dessert
The ricotta dessert with blood orange, a tasty pistachio sponge and Szechuan pepper closely competed with the snacks for the most beautiful presentation. Not only was it delicious, but it also proved that a dish can bring together Italian, Middle Eastern and Chinese ingredients to create a combination that entertains all your senses.
Aizle Rhymes with Hazel
Aizle opened its doors exactly three years ago, when chef Ralston returned to Edinburgh, after years of experience in top restaurants in New York and Barbados. The stylish restaurant is his way to celebrate his Scottish roots and international experience using high quality, locally sourced ingredients. But most of all the food is honest and rustic, transforming simple, traditional ingredients into exquisite dishes cooked skilfully, that will stay in your memory until you book a table again and start all over.
The concept is intelligent and makes life easy for the visitors as well as for the staff. Every month a new list of ingredients is released ('this month's harvest'). Because the menu is not structured by dishes but by ingredients, the element of surprise is kept until the dish arrives in front of you. And to make sure you remember what you ate, Aizle will hand you the actual menu at the end of your meal.
Their tasting menu costs £45 per person, with a £35 wine pairing option – an affordable deal for excellent quality. Visit their website if you wish to find out more about the current month's harvest or book a table. Finally, you can follow Aizle on Facebook, Twitter or Instagram or chef Ralston on Twitter or Instagram.
p.s.: Happy 3rd birthday, Aizle!
Love, happyholism and nom-nom,
Ioana