A couple of weeks ago I was in San Diego, California. Needless to say I was told that California is a foodie's paradise, and so my expectations grew higher than my budget could afford. And despite saving all my money for dinner in town, by trading a potentially delicious, maple syrup covered, fluffy American pancake with supermarket bought hummus and bread for breakfast and lunch, my expectations were not entirely met. Until the last evening.
I'm not sure if that's just a universal trend nowadays, but I have been developing a growing passion for Japan, its culture and its food. Luckily I had heard from various sources before even arriving there, that California is known for its very good Japanese food.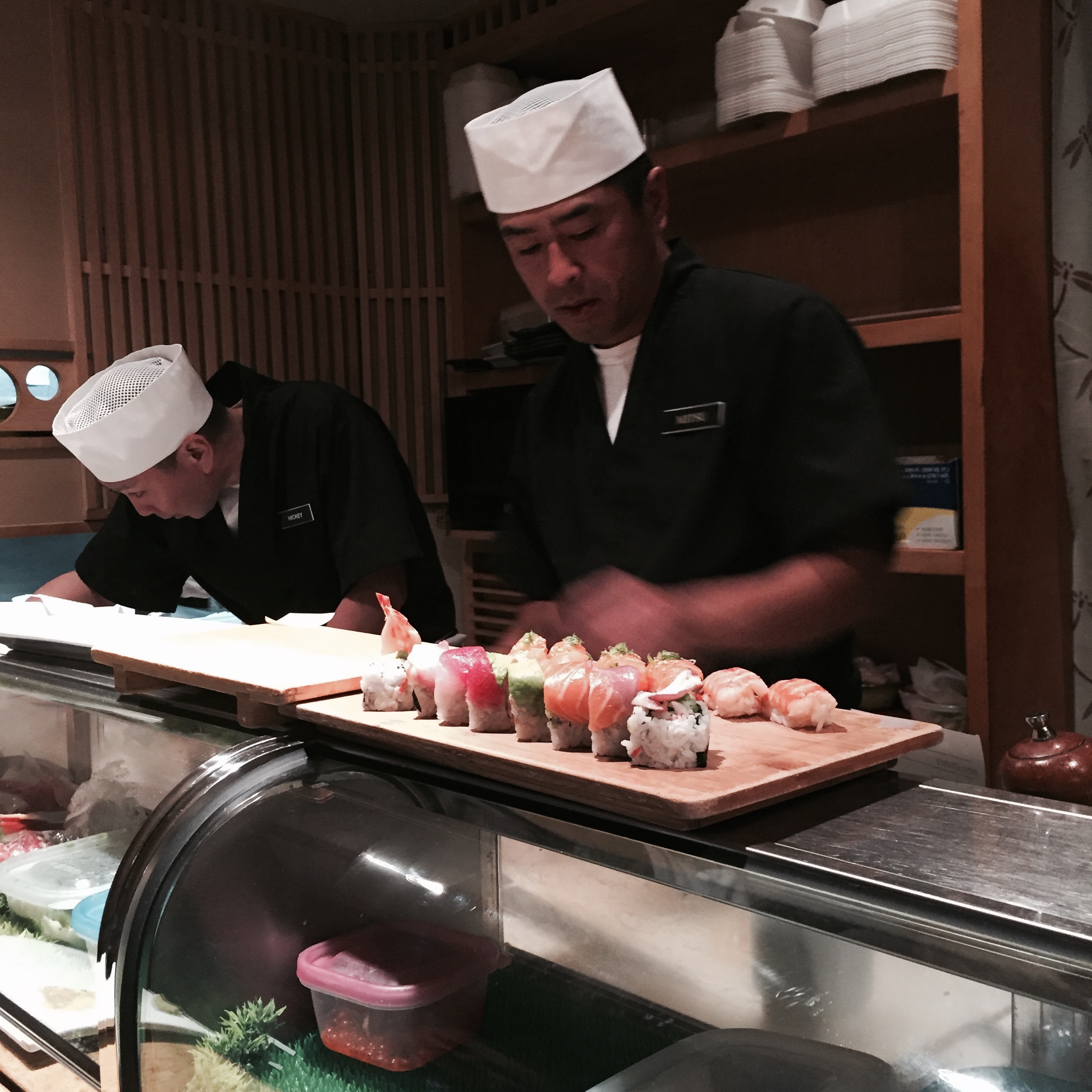 San Diego, queuing for exceptional sushi
My boyfriend and I chose Sushi Ota mainly because it's in the top 5 restaurants in San Diego, and the highest rated Japanese one in the city. Inspired, I called a couple of hours before to make a reservation. Arriving at the venue just under 45 minutes before closing time proved my reservation right: a massive queue of a dozen people were still waiting to be seated. The traffic (of waiters and guests) was one I had never before experienced in any restaurant I have ever been to, no matter how popular or highly rated, yet, it was efficient, and both the staff and the guests looked happy. The staff, all of them Japanese and conversing in Japanese between each other, greeted us friendlily, and it did not take long until we were seated.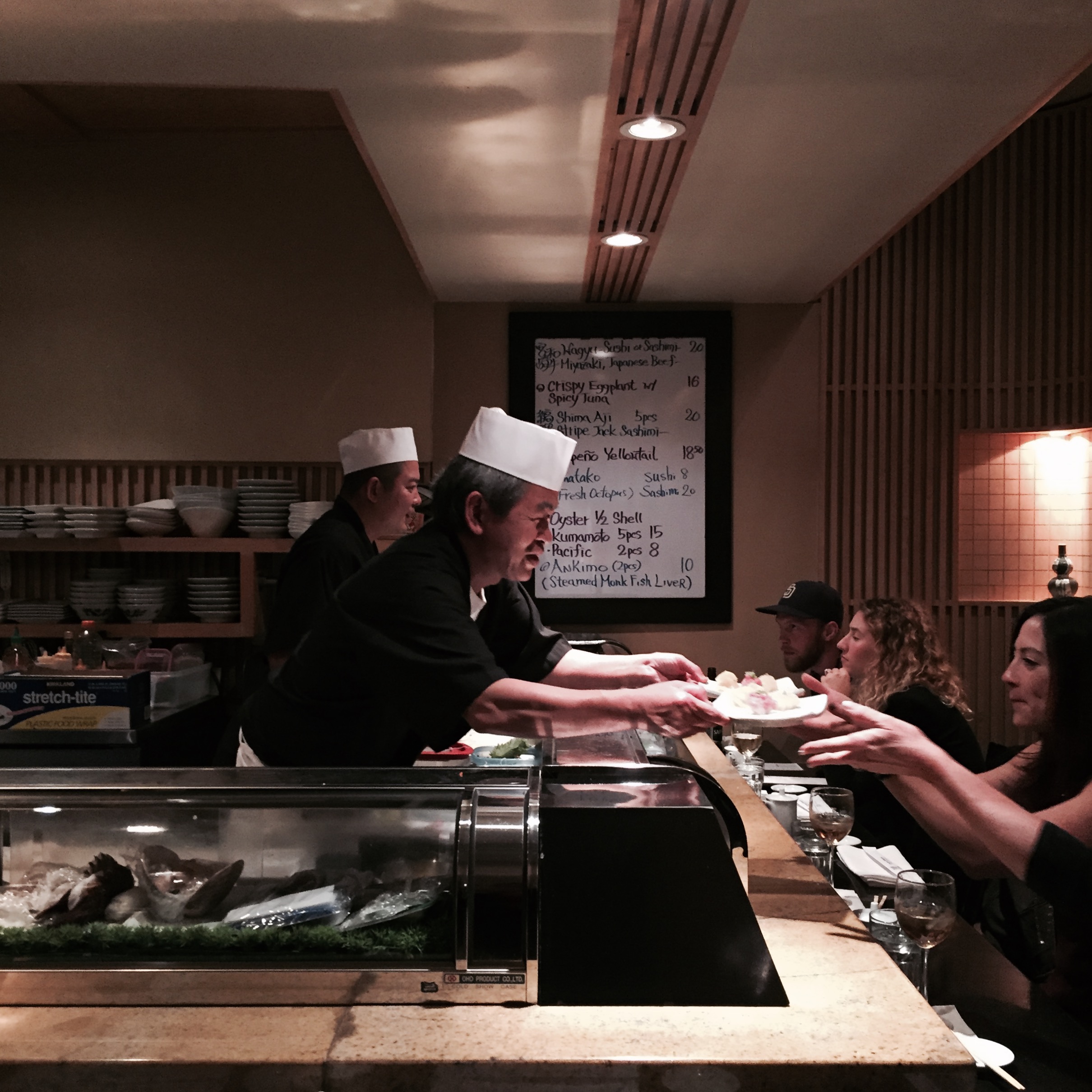 From the chef, onto your plate
When you go to a proper sushi bar, don't choose the table! Instead, trade some of the extra space you would have had at a normal table for an unforgettable experience. There are multiple reasons why I'm saying that. You won't have to wait for the waiter to pick up your dish and bring it to you. As soon as a sushi is ready, the chef will place it straight onto your plate. You'll be able to talk to the chef and, if you're a curious person, find out about sushi, ask questions about the different fish and seafood. Talking to the chef will also mean having higher chances of getting to try out his recommendations, which may, like in our case, surprise you.
Behind the bar
We got our sushi prepared by Shige (the executive chef) and Kaz, both friendly and happy to start a conversation or tell us everything about sushi. It had been 9 years since Kaz moved from a town close to Hiroshima to California, and spent 6 of those years back-office, in the kitchen, until he got his sushi chef training from, pointing towards an older man – the only one behind the sushi bar without a name tag: 'the great master'. While the younger chefs were frantically preparing all sorts of sushi, maki and sashimi, the great master carefully assembled platters of seafood, in which some creatures were still moving. I later found out that the restaurant itself was the great master's name tag, and read on the website that Chef Yukito Ota had prepared sushi in Kobe, Tokyo and Osaka before moving to California, compelled by the taste of sea urchin.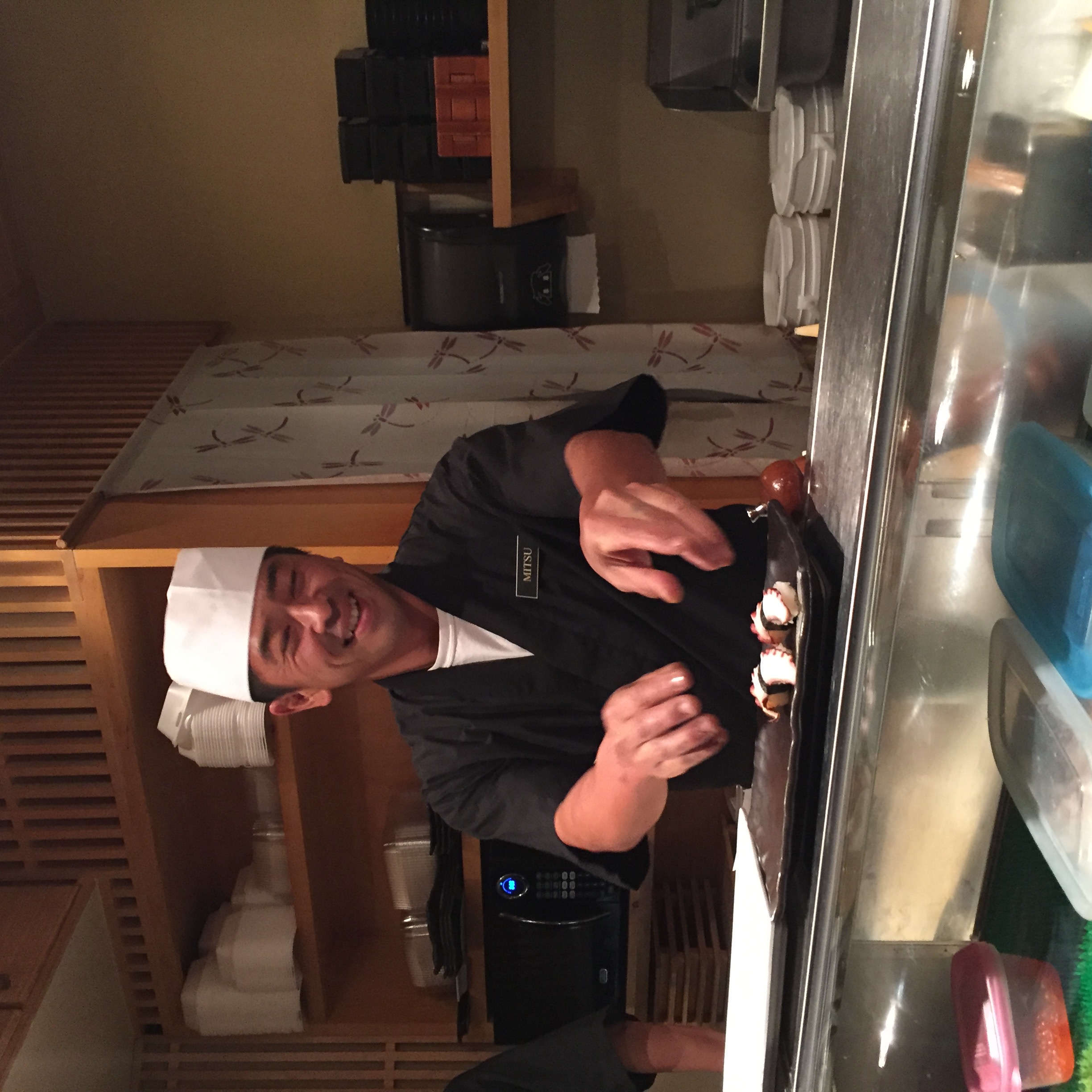 [twocol_one]
[/twocol_one] [twocol_one_last][/twocol_one_last]
A feast of sushi
We did not order everything in one go, but rather a sushi at a time. We started with scallop and octopus, and slowly built our way up, to finally finish the evening with black pepper scallop maki (Chef Shige's creation and artwork). And despite my disappointment when finding out they had run out of sea urchin (which I've never tried), we got to enjoy some of the most appetising and tasty sushi I have ever had!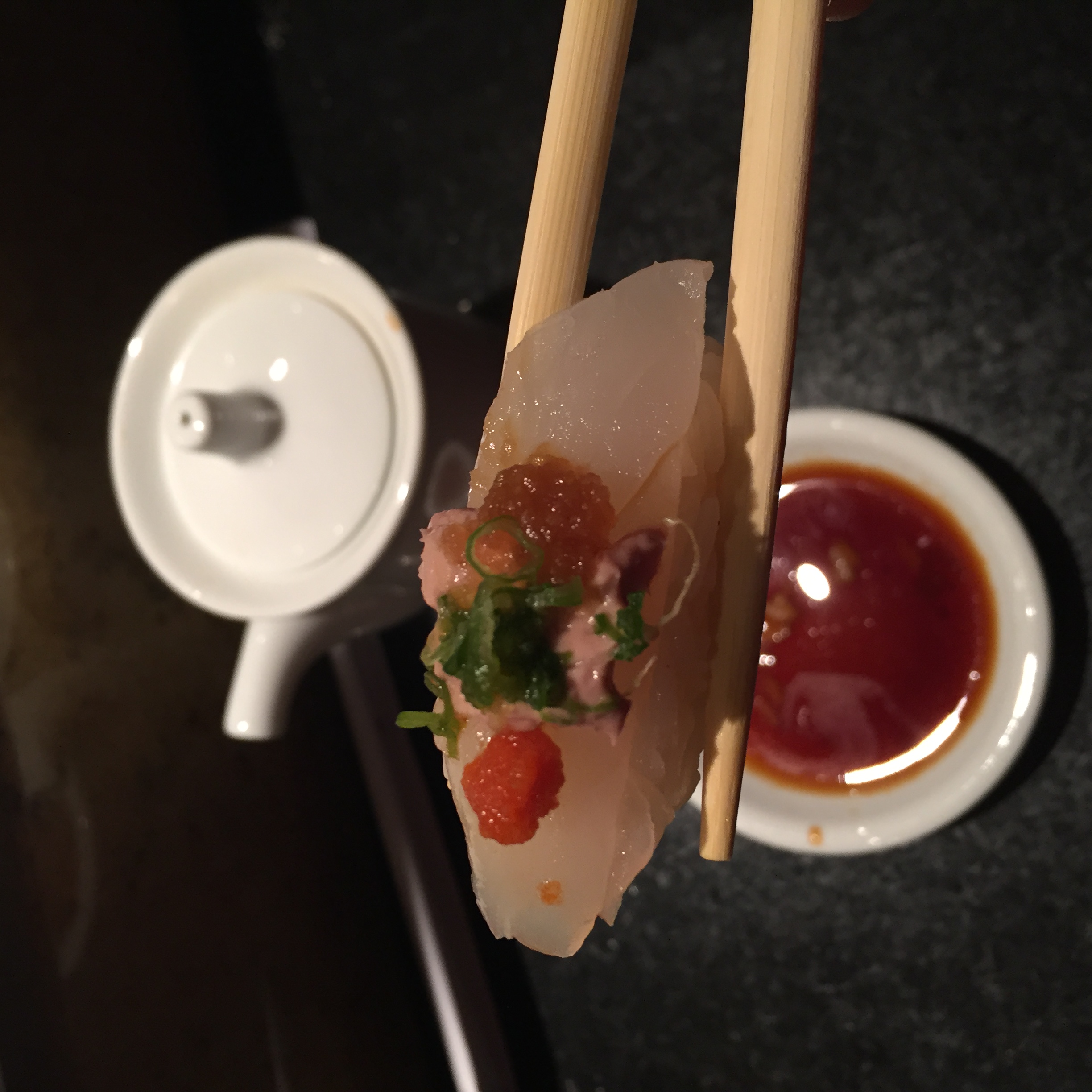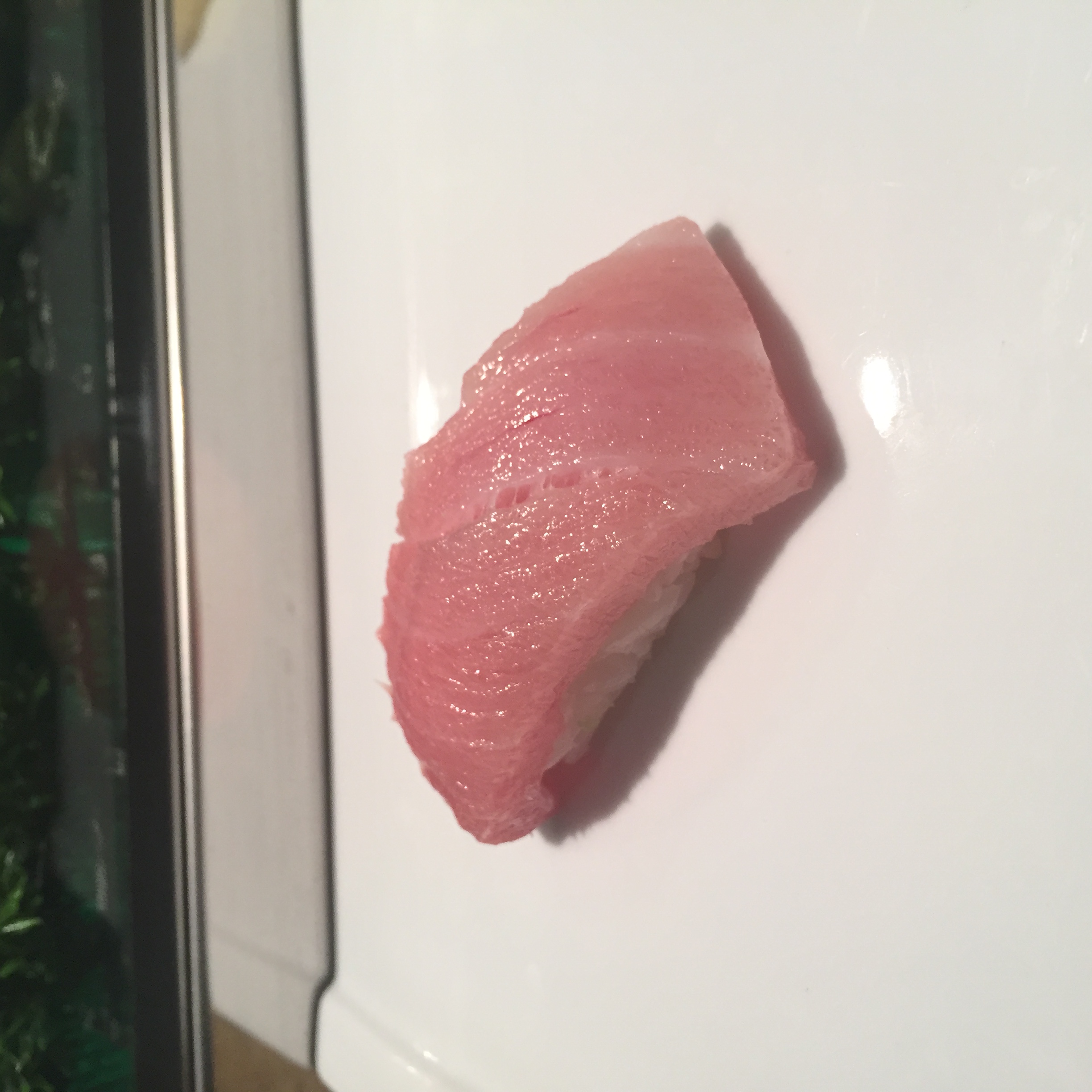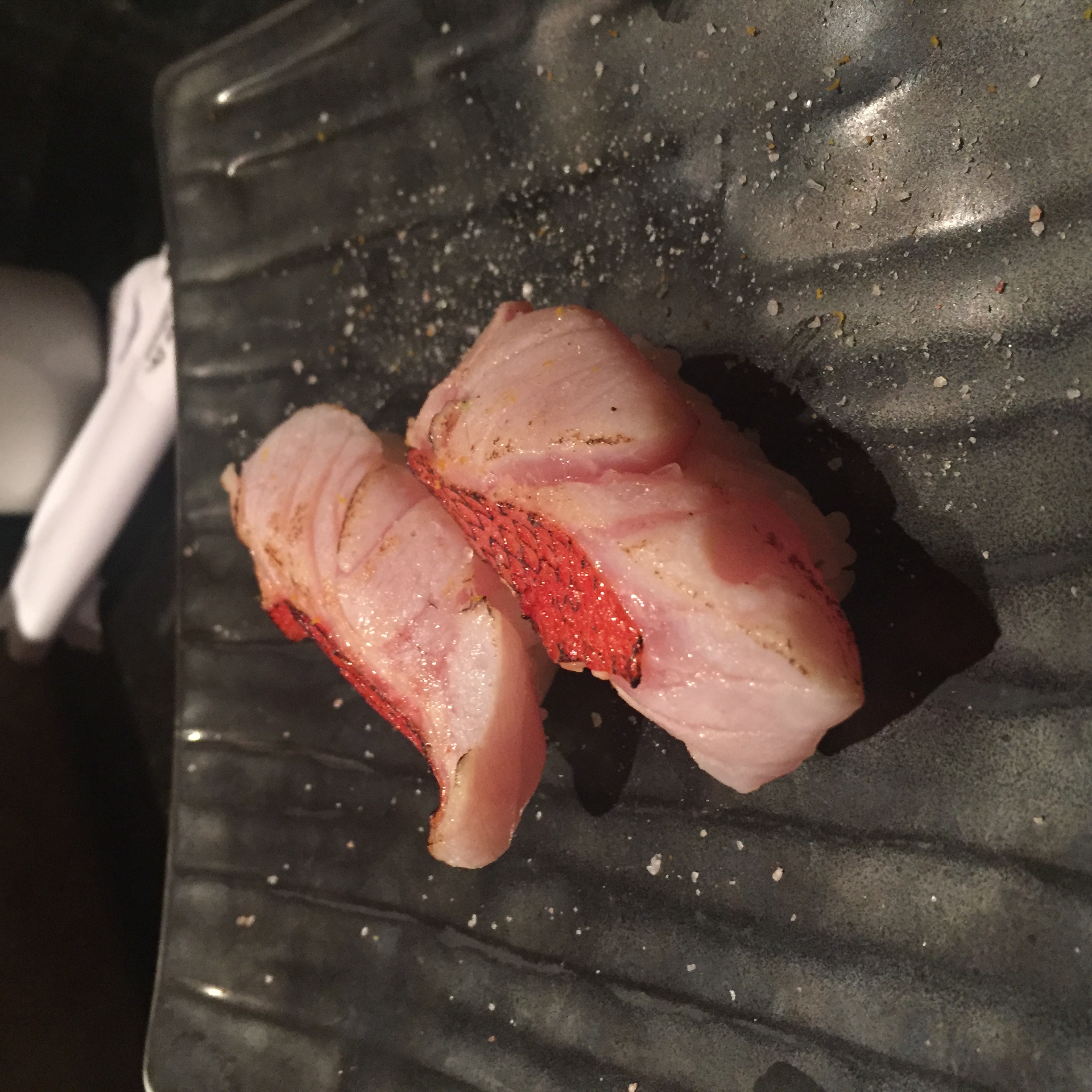 We discovered chutoro, the slightly fattier and softer part of a tuna's belly – it's soft, easy to chew and very enjoyable! And while otoro is considered to be the ultimate piece from a tuna, chutoro was the one a regular customer particularly recommended. We also got to try Chef Shige's custom made kawahagi (filefish) sushi, golden eye snapper, which was just shortly put on the grill for a couple of seconds, enough to make the small piece of skin crunchy, keta caviar and finally Japanese squid (served on a perilla leaf and, of course rice), which differs entirely from the squid I'm normally used to having – it was, overall, not as rubbery. The squid was Chef Kaz's recommendation.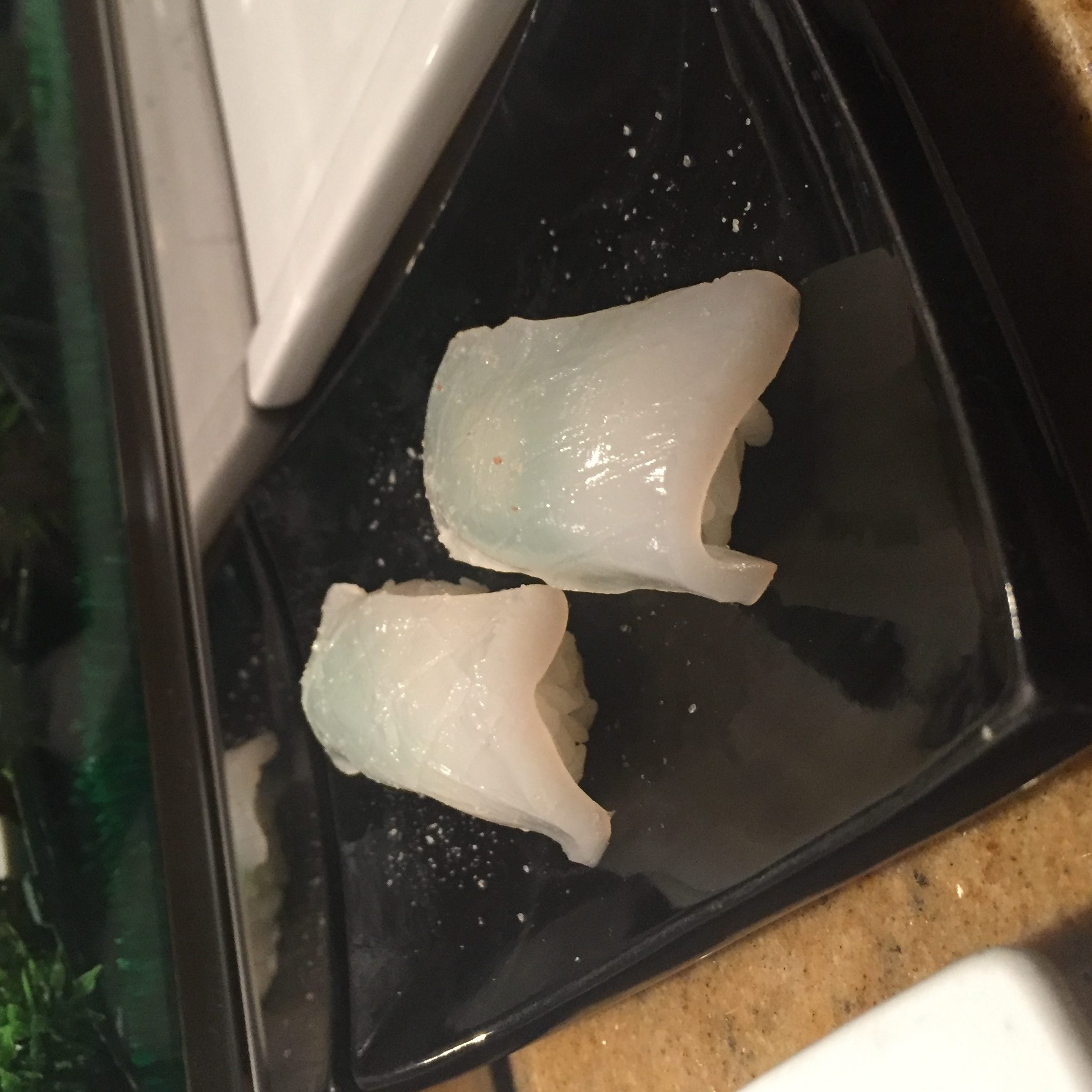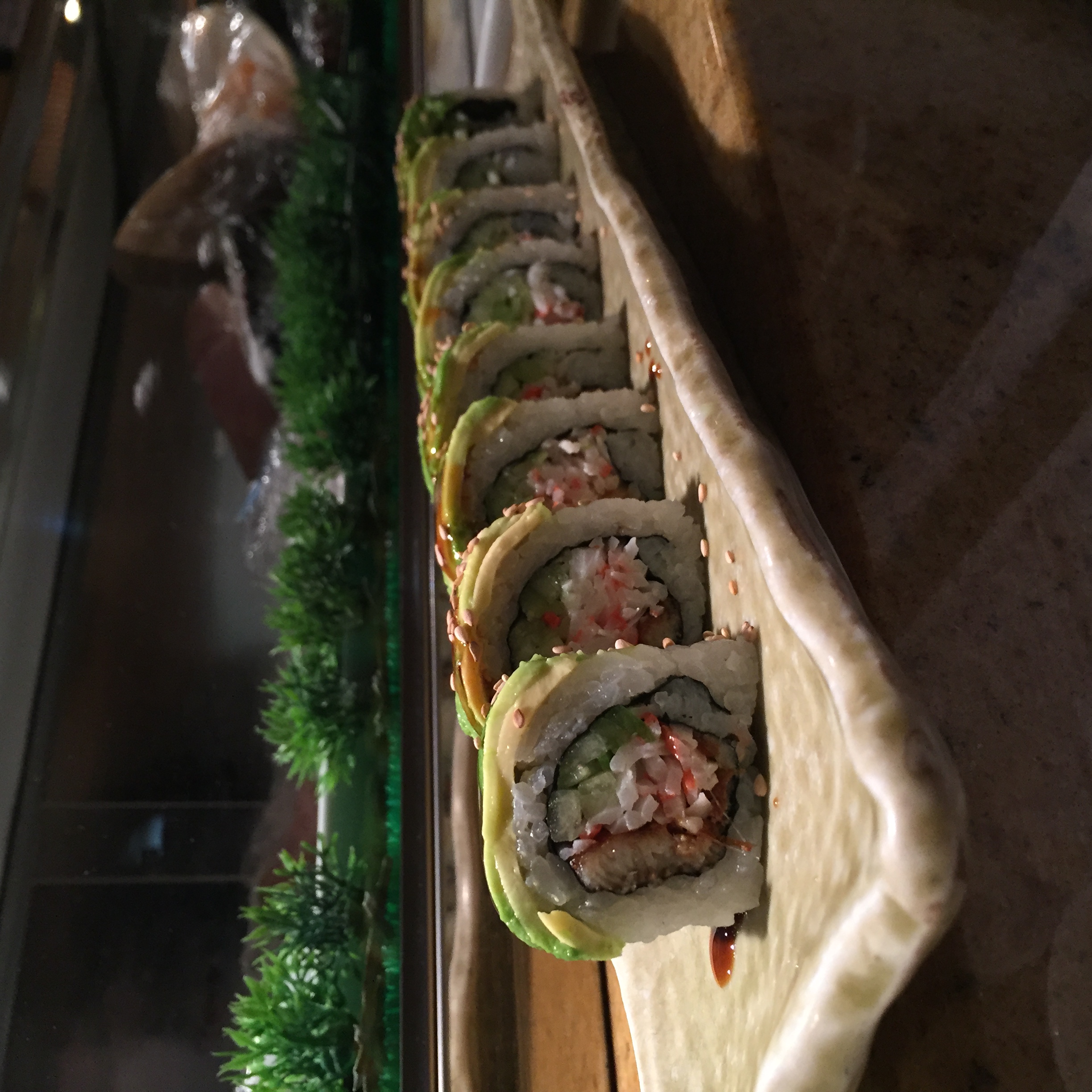 A decadent ending to a perfect meal
To end in style and because our eyes had been captivated by its preparation, we ordered a black pepper scallop maki, which, as you can imagine (and see below), contained a lot more than just rice, scallop and black pepper. The maki was filled with avocado, shrimp and tuna. The scallop was elegantly placed on top of the roll, and crowned with a slice of chilli and caramelised Japanese mayonnaise. Totally decadent and totally worth the $26 we paid for it!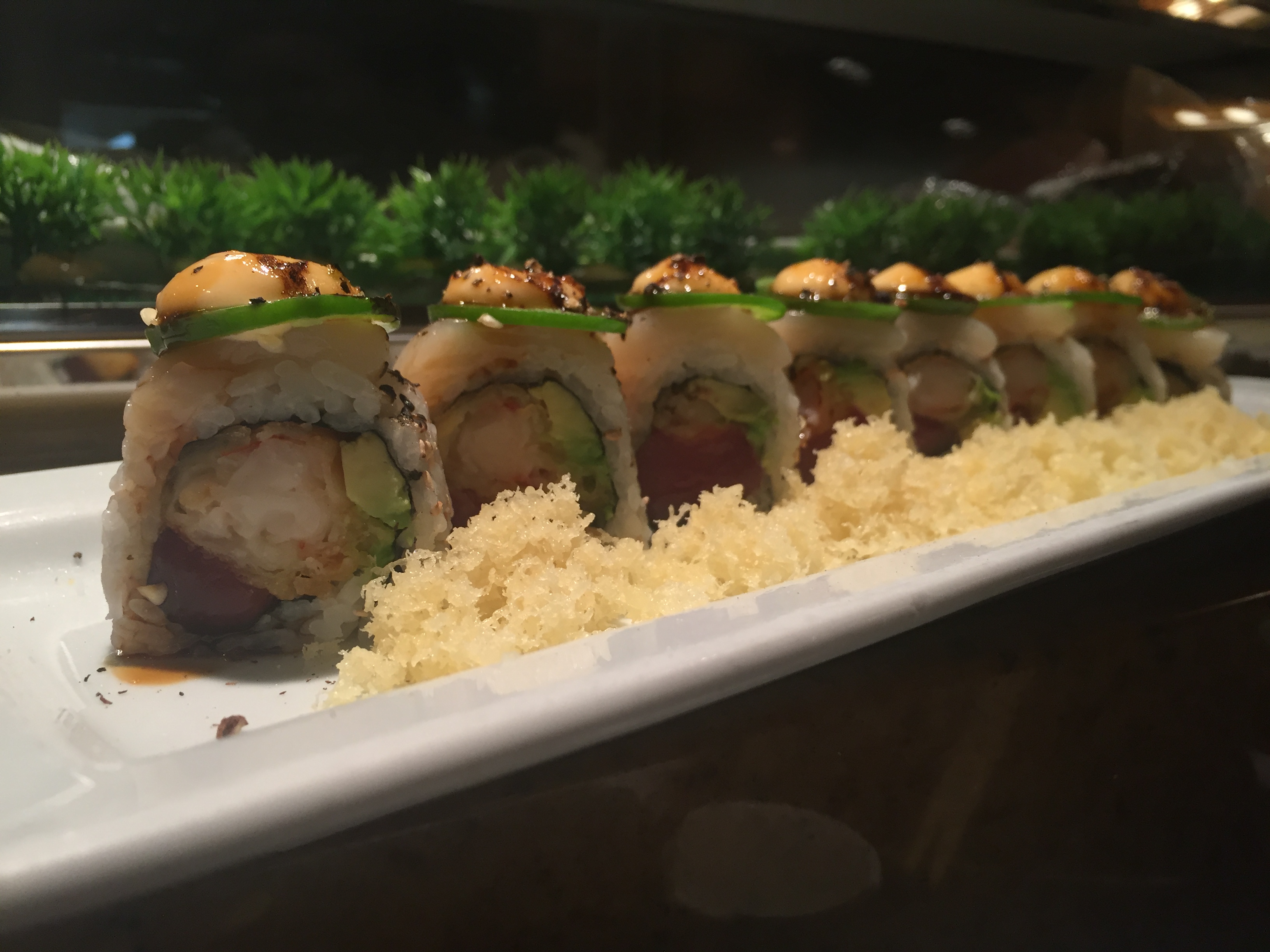 We did all of this while sipping sake and hoping we'd find a way to make more space for all that delicious sushi. My boyfriend and I were so pleased with the meal that we wanted to make a reservation for the next day. Unfortunately they were opening when we had to be at the airport to fly back to Europe. Today, as I am writing this, I am still salivating and hoping I'd find a way to experience Sushi Ota again. ­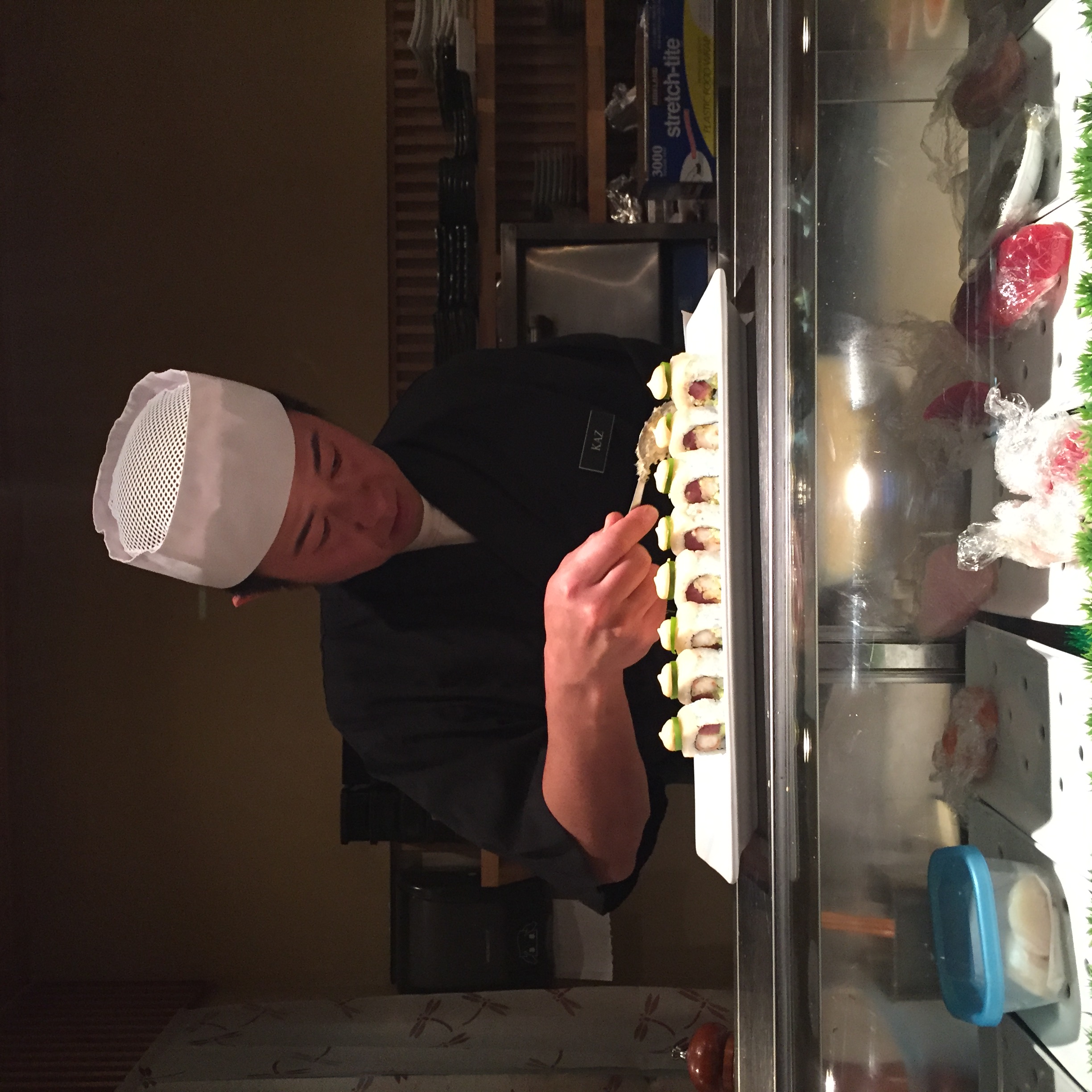 Sushi Ota is currently on fifth place in the restaurants section on TripAdvisor, and the first in the Japanese category. It is listed as one of the best Japanese restaurants across the US by Zagat, and the best in San Diego by WeLoveJapaneseFood.com. You can also check out Sushi Ota's website, or simply make a reservation at this number: +1 858-270-5670.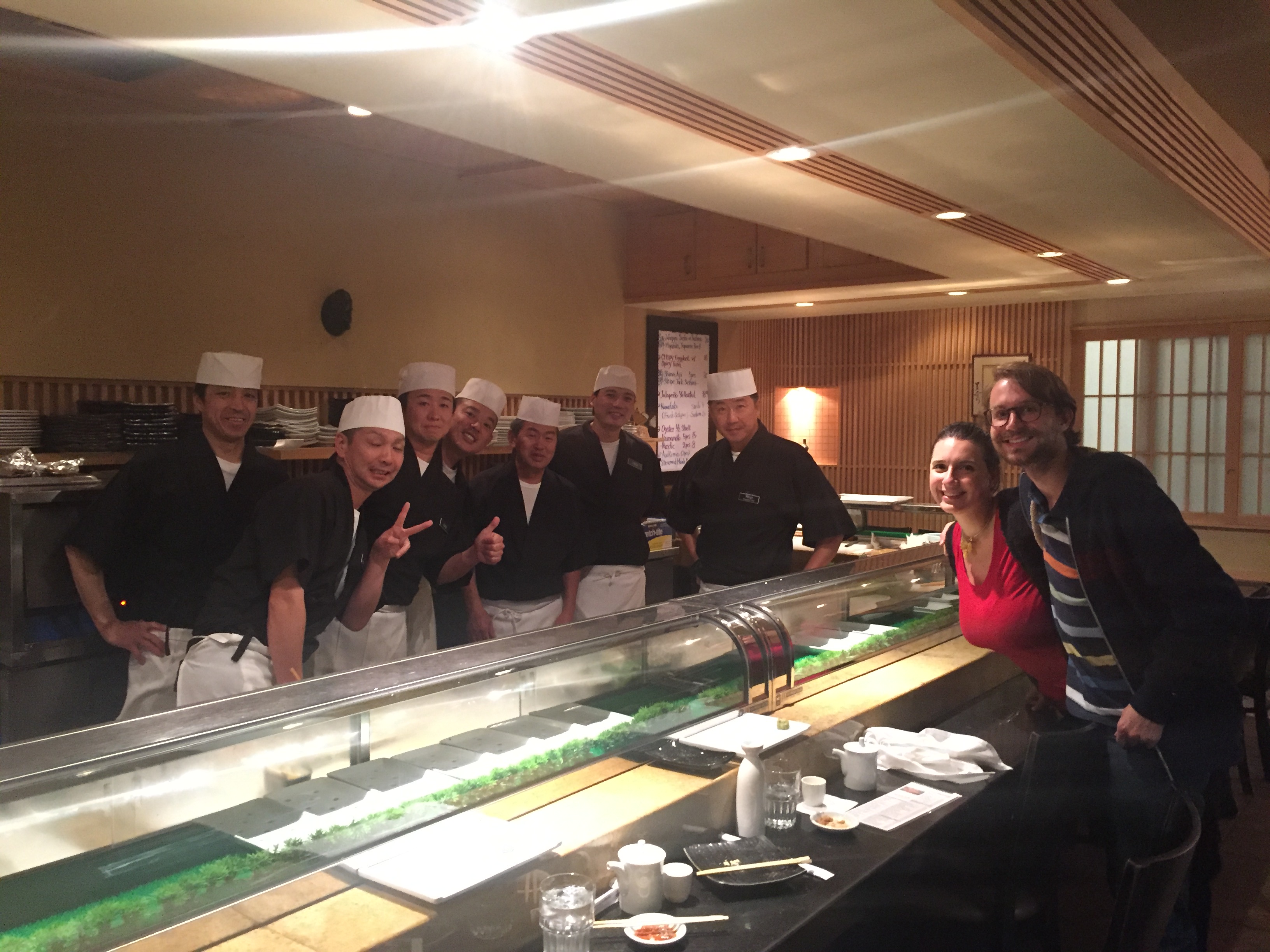 Until next time,
Ioana