Happy new year, everyone! I don't know about you, but I am both nostalgic and glad now that the winter holidays have come to an end. My month of December was one of the busiest this year, and I felt that despite sleeping less to get more done, the days had shrunk.
In case you're dealing with the usual detox January and have some weird gourmet cravings, I've decided to tell you all about the gourmet dishes I made over the holidays.
A Christmas of firsts
This past December was a month of firsts: first time celebrating Christmas away from home and with my boyfriend, first time taking time off without actually going anywhere, first time I prepared (and opened) oysters on my own, first time painting my own Christmas decorations, first time cooking sweetbreads and first time not eating any pork.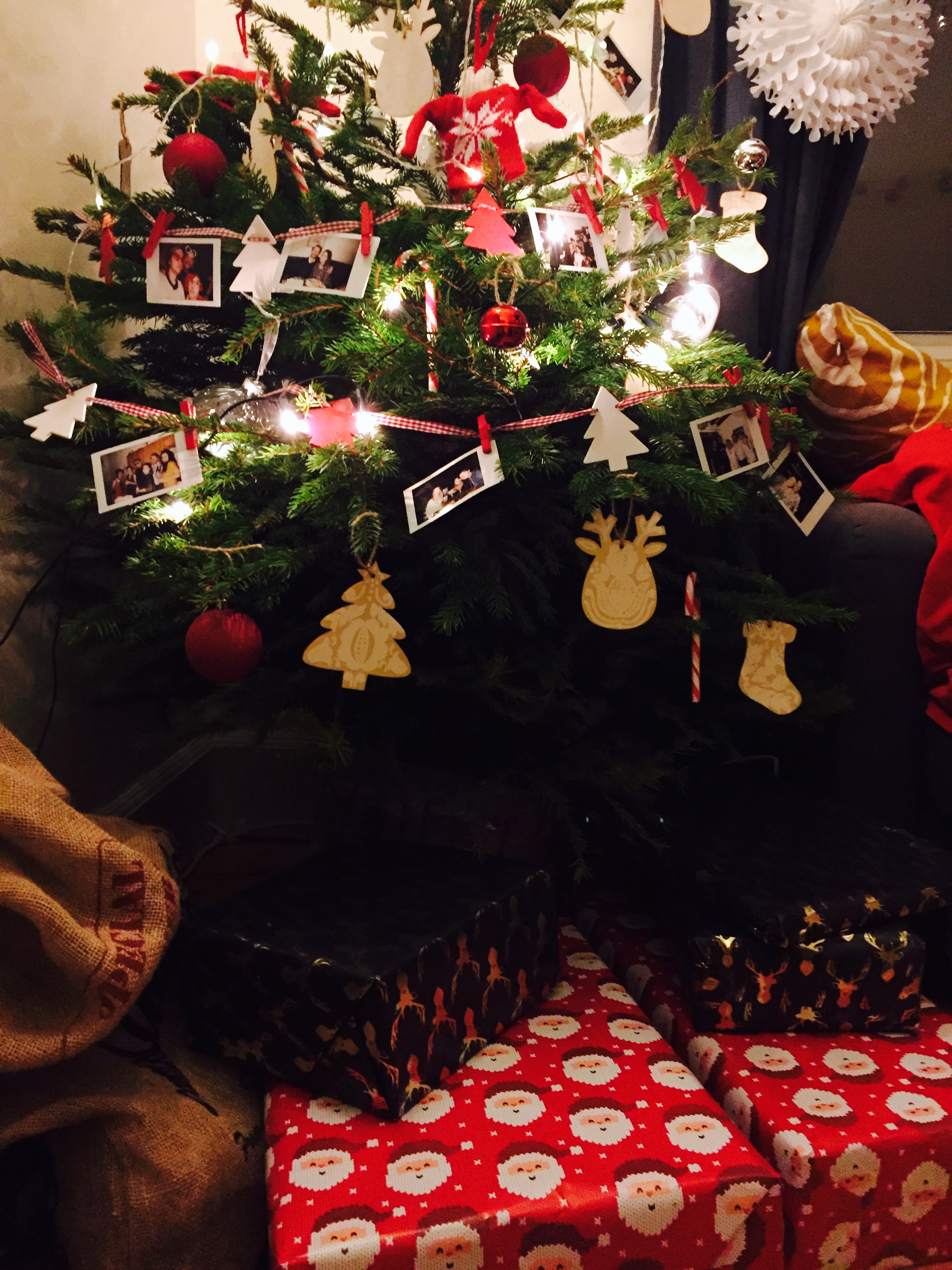 On the 23rd and 24th of December I barely had time to breathe in between running to the fishmonger to get my reserved order, to the butcher hoping I'd still find some venison steak (I didn't), to Waitrose to get Sherry and Saké (which we didn't even find time to open), wrapping gifts (and running out of paper) and cooking until pretty much 11pm on Christmas Eve. I think it was close to midnight when Max and I finally found a window to open our presents.
[twocol_one]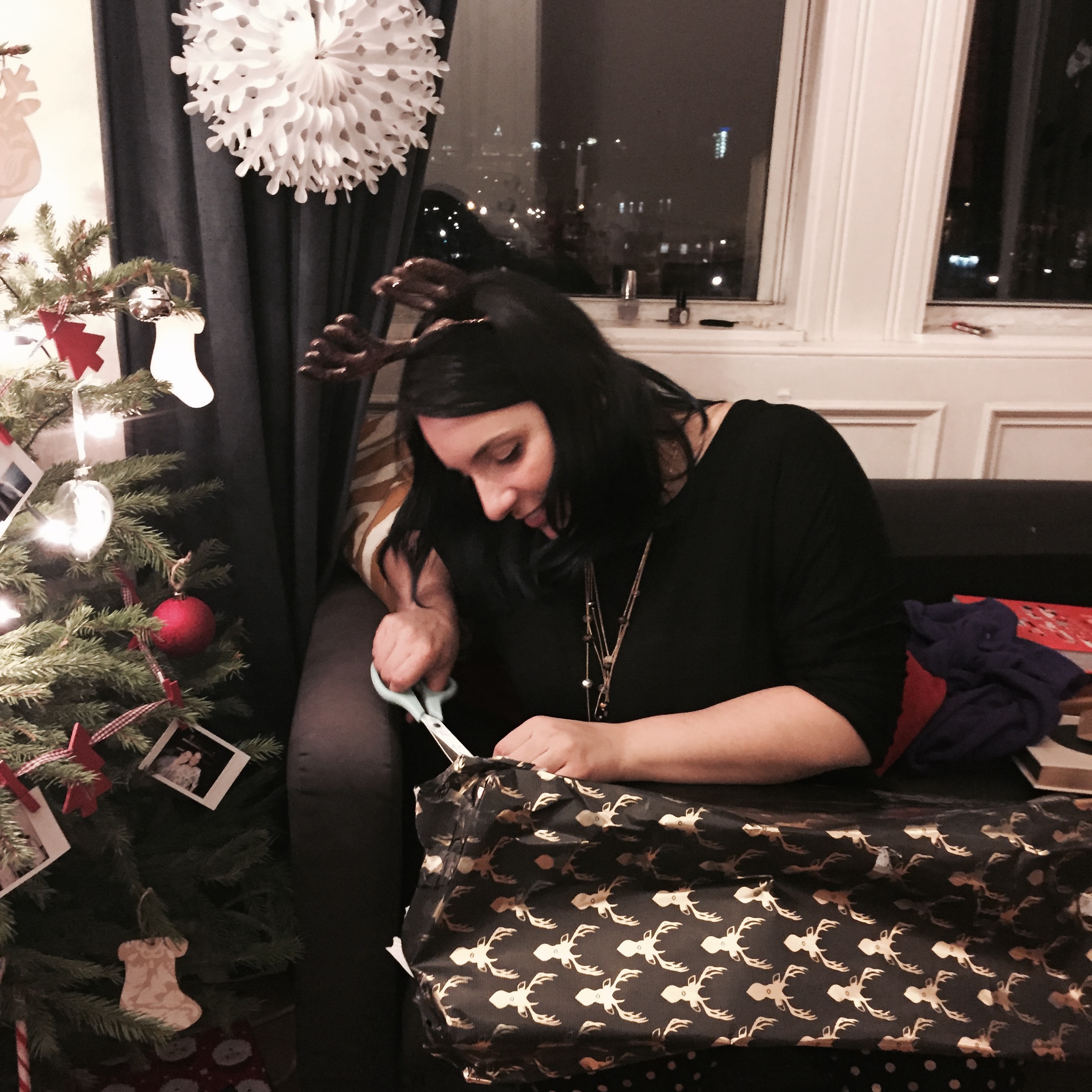 [/twocol_one] [twocol_one_last]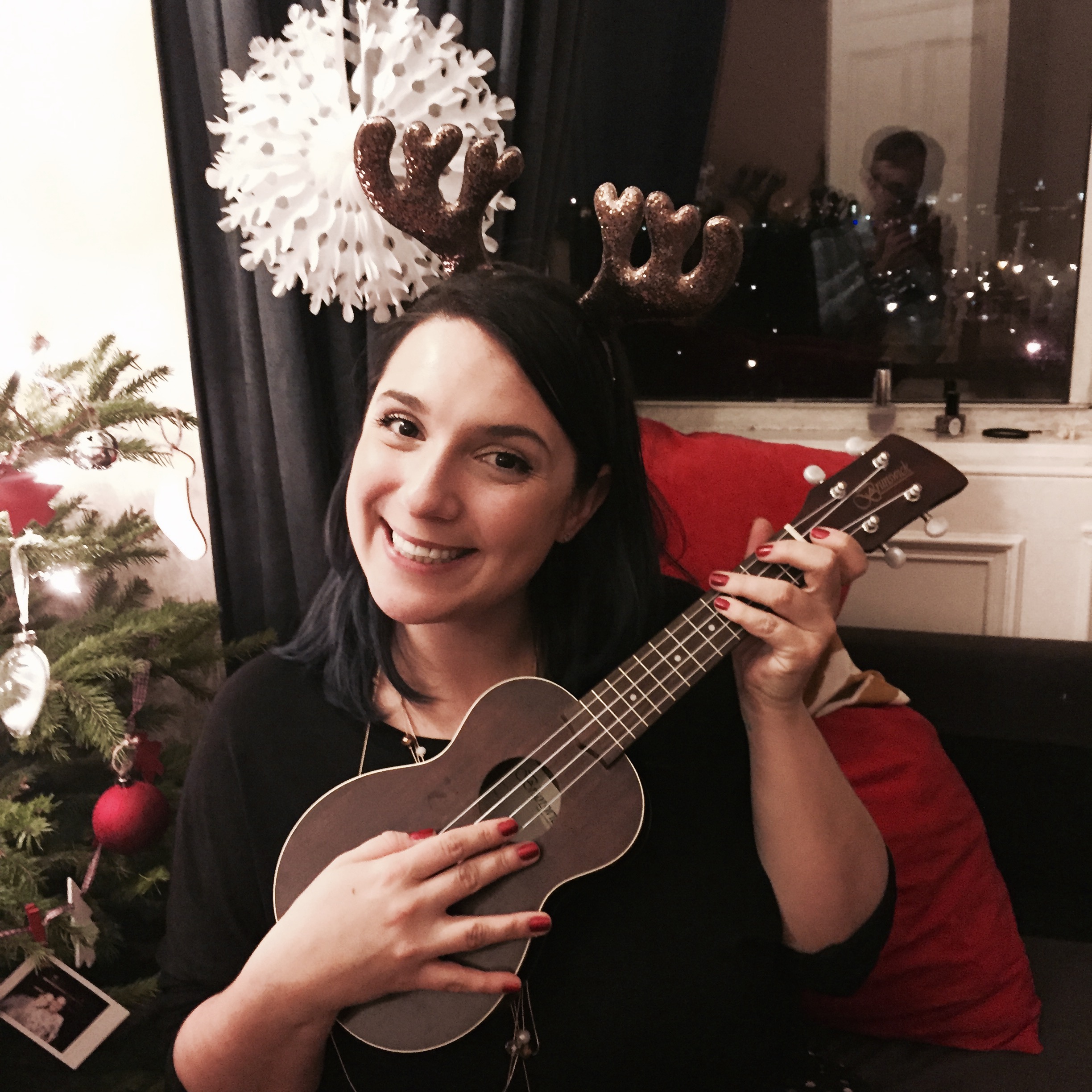 [/twocol_one_last]
Planning
A Japanese-Peruvian Christmas Eve
I recently bought a Japanese-Peruvian cookbook that I started cooking from Nikkei Cuisine: Japanese Food the South American Way
(which is currently one of my favourite sources of inspiration). For Christmas Eve I chose to make Luiz Hara's oysters with ponzu jelly and orange zest for starters and lobster rice (a risotto type of dish with miso paste and other delicious flavours). Because I like to plan things ahead and really dislike uncertainty, I pre-booked 8 oysters and two live lobsters at my favourite fishmonger. Unfortunately though, because of a storm on the 23rd, the fishermen didn't go out, so there were no lobsters.

To be honest, I felt both disappointment and relief. I've never cooked live lobster before, and I disliked the idea of killing those poor creatures myself. At the same time, I've also never cooked nor had lobster (just tasted a bit at some point a long time ago) and I feel like my cooking experience has to include that as well. To avoid the panic and struggle of choosing a new recipe and figuring out that we don't have everything we need, we simply replaced the two lobsters with four giant tiger prawns. Finally, for dessert I decided to make mini pavlovas with tropical fruits and yuzu – my very first pavlovas!
An Ottolenghi Christmas
Because just having seafood for the entirety of Christmas would have destroyed every single tradition I have grown up with, I decided to pick my other favourite source of inspiration for Christmas day: Ottolenghi's NOPI: The Cookbook
, a cookbook that I adore and always praise. I decided to make his sweetbreads with pea purée and miso dressing and his venison with blackberries, date labneh and peanut crumble. Things didn't go so well on the venison front as it was completely sold out, but I adapted the recipe to work with duck breasts (cooked medium rare) and replaced the blackberry sauce with a cherry-saké one.
Cooking and eating
The oysters menace
Because everything took so long on the 24th, I am really grateful I chose such an easy starter that needed so little effort. I'm even more grateful I gave oysters a second chance, because right now they are one of my favourite types of food! The figuring-out-how-the-hell-to-open-an-oyster part was the most difficult one, but in the end, thanks to a screwdriver and a hammer, we managed to open all 8 oysters without breaking their shell. Should I add that I even chewed two of them? Killed my fear of oysters, I have!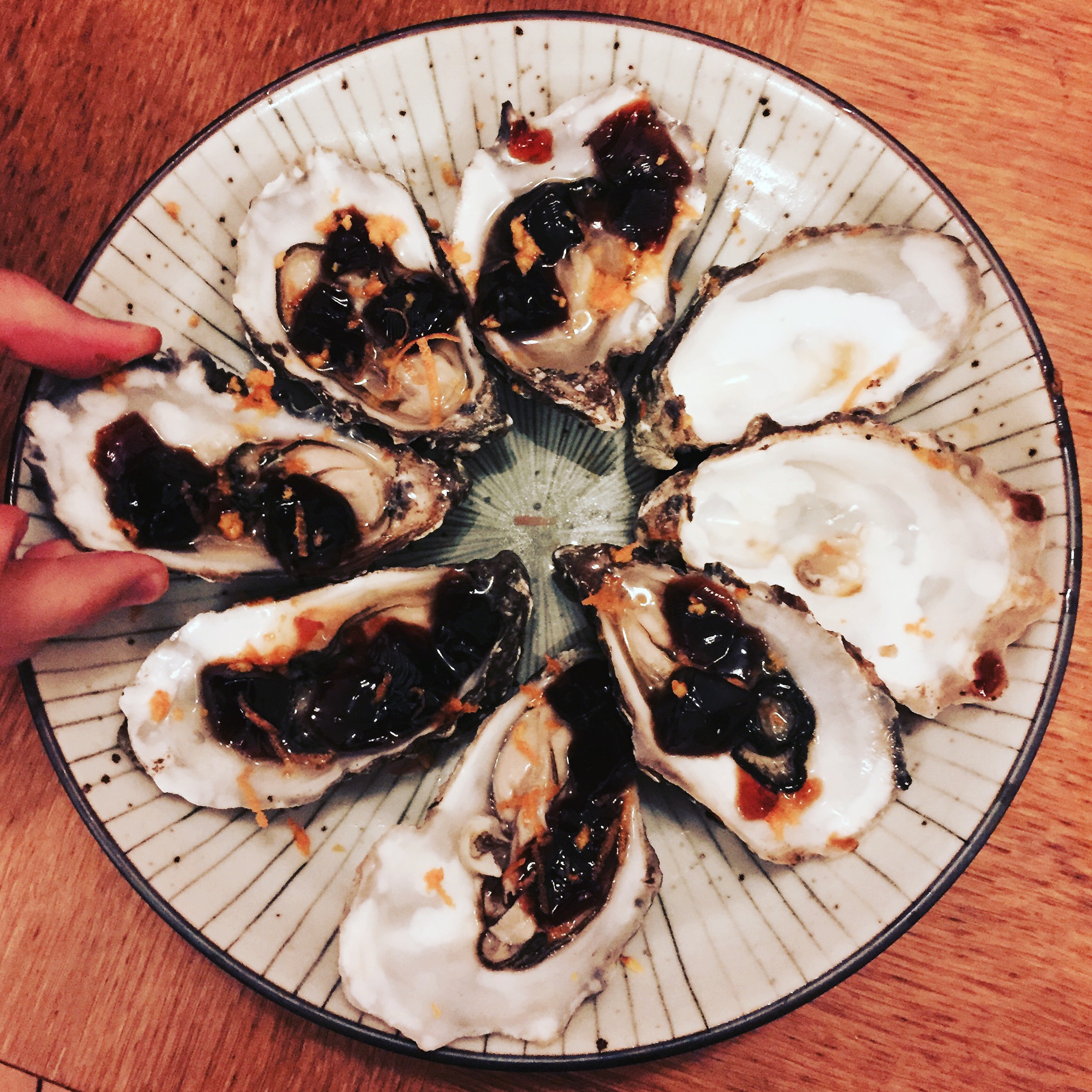 [twocol_one]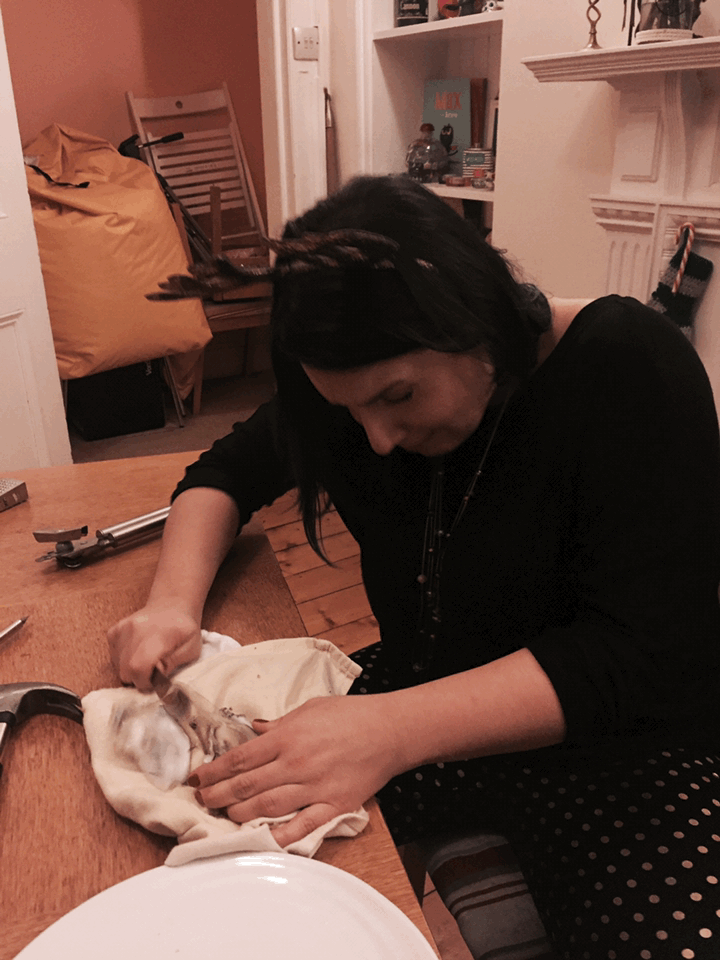 [/twocol_one] [twocol_one_last]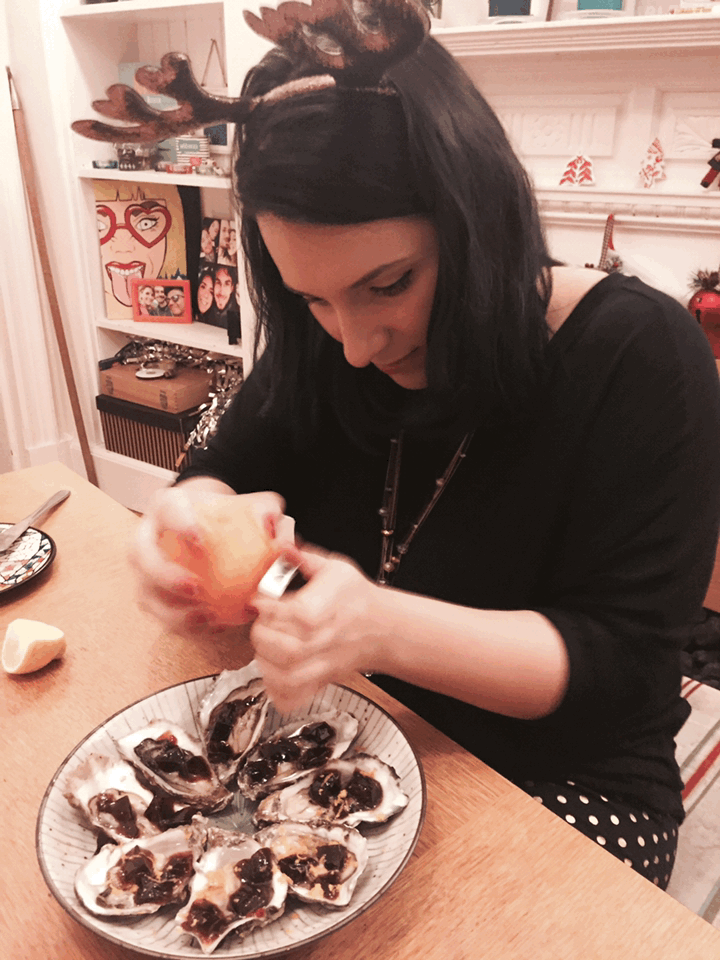 [/twocol_one_last]
Sweetbreads and more sweetbreads
It took me long to finally find a butcher that sells sweetbreads, but once I did, there was no turning back. And despite the fact that I only had them once in my life, I had to challenge myself and cook these delicious things. For those of you who aren't very familiar with these, no, they're not dessert now bread. They're either the thymus gland (behind the sternum) or the pancreas.
If you google sweetbreads, you'll find a long list of articles praising this delicacy. They're soft, sweet and full of flavour. The best way to prepare them is to blanch (boil them for a couple of minutes then add them to an ice bowl to stop them from cooking) and then fry them. We ended up eating all the sweetbreads we had and decided to turn that into our only meal of the day – that's how tasty Ottolenghi's dish was!
Two days of éclairs
The Christmas week passed by and despite having a week off, I didn't relax for a second, as I wanted to do some work for the blog. I haven't posted much lately because of my trip to California and Costa Rica and the Christmas craze.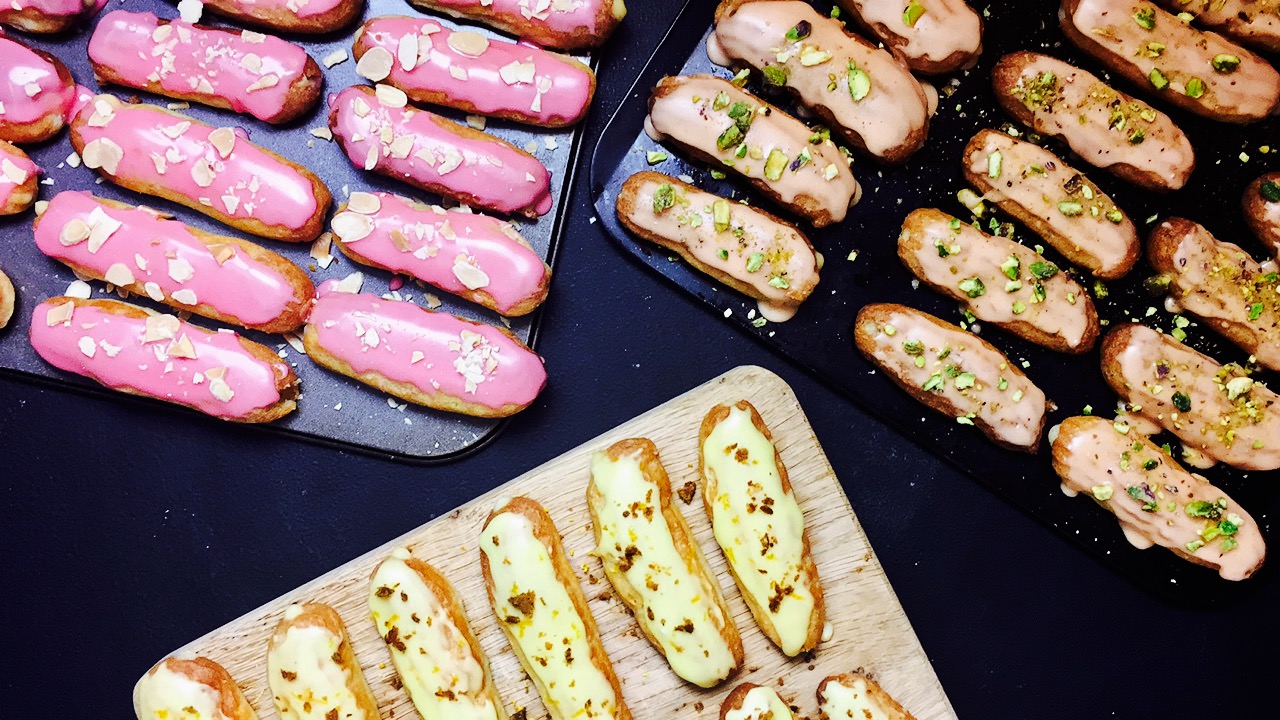 I made éclairs twice before: once for Max to try out and once for my birthday. The batch I made for my birthday was so popular among my guests it was completely gone after the first 15 minutes. Somehow this complicated and timely dessert became my signature. Therefore, when I started planning our New Year's Eve party, I had to add éclairs to the list. I didn't quite realise that it would take me two days to make about 100 of them, especially because I was unable to find two recipes that were the same, so I had to experiment and learn (again).
[twocol_one]
[/twocol_one] [twocol_one_last]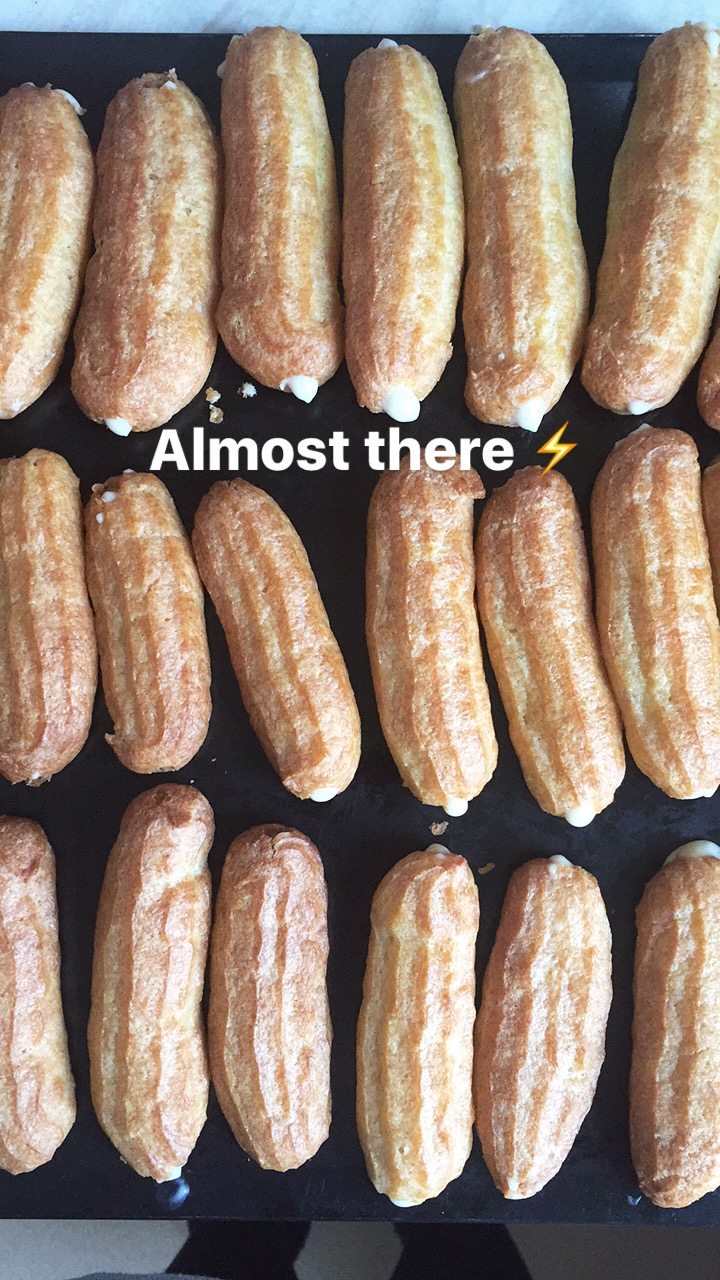 [/twocol_one_last]
Yet, after almost two days of experimenting, of seven different batches of choux pastry (four successful and three failed) and three different types of crème patissière, about 100 éclairs were waiting for our guests to devour them!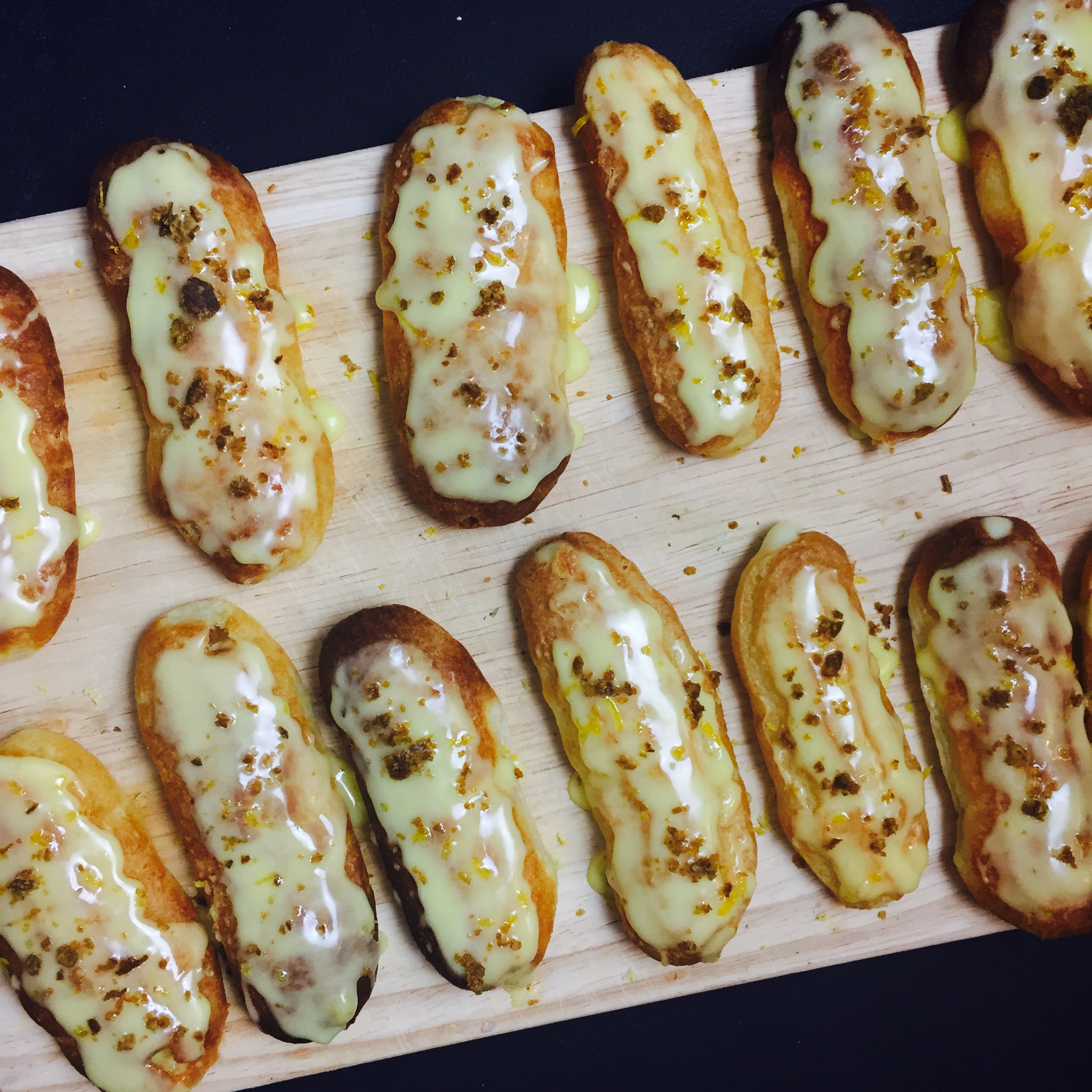 I made three different fillings/toppings: orange blossom and pistachios (the most popular at my birthday), strawberry and Amaretto and finally, the ones that I'm particularly proud of: deconstructed Vodka Martini ones. Yup, I even made green olive powder to sprinkle on top, and my, were they delicious!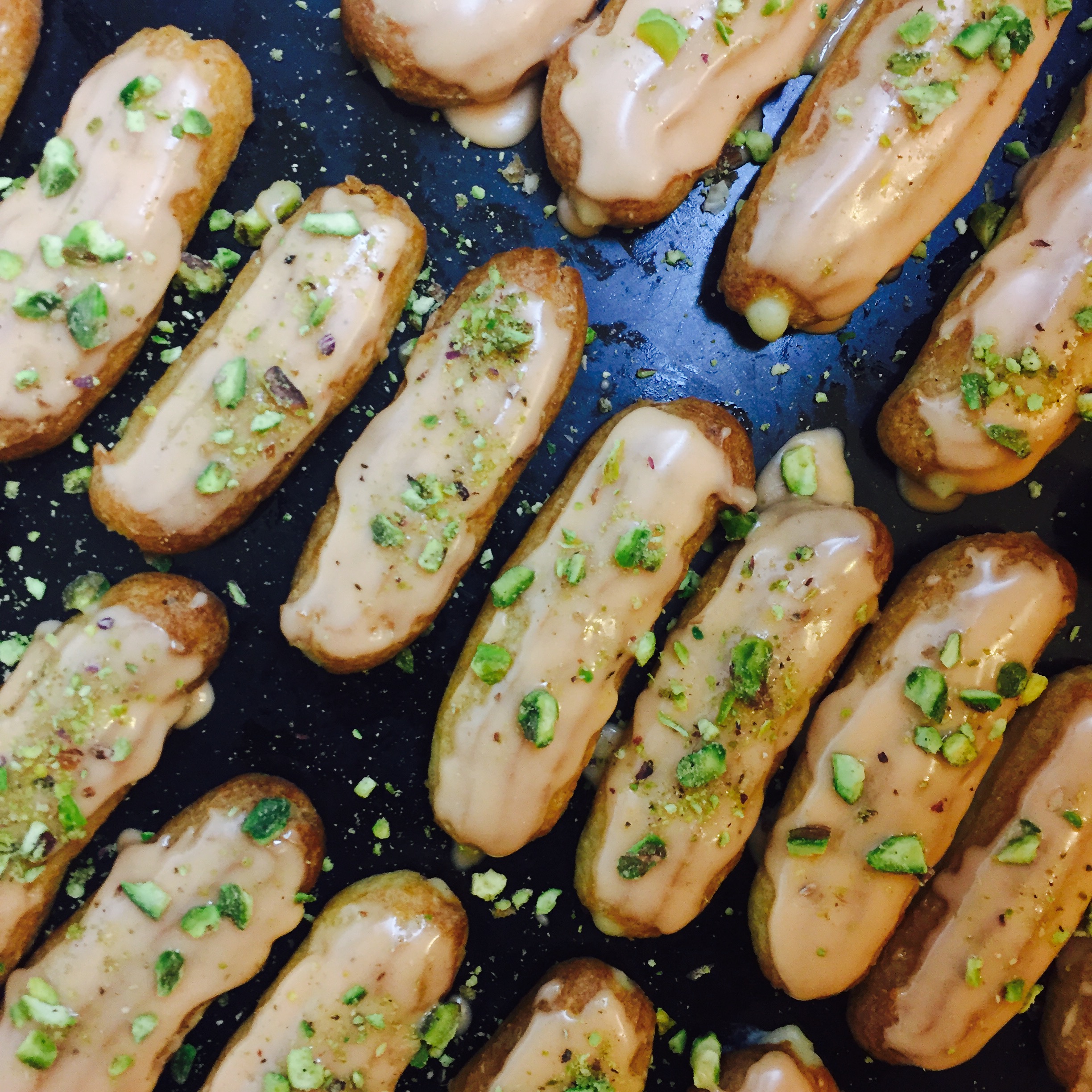 After all that crazy time spent cooking, I spent my first day of the new year in bed, watching movies and eating Indian take-away. But, who cooks on the 1st anyway?
Love, happyholism and nom-nom,
Ioana