I recently went to the Edinburgh Indoor Market at the Biscuit Factory, on a quest to discover what's new in the Scottish foodies' world and shop my day away for next couple of days' gourmet feasts. As part of their social enterprise, The Edinburgh Larder organise this market every now and then at the Biscuit Factory, in Leith.
The market itself is divided in two – the arts and crafts side and the food side. I have to admit that I was not particularly interested in the crafts side. Instead I roamed around the food court incessantly, constantly bumping into people because my eyes – wide open – were on the beautiful produce at every stall.
Please note: none of the producers below sponsored me for this post. I based this list purely on my personal experience.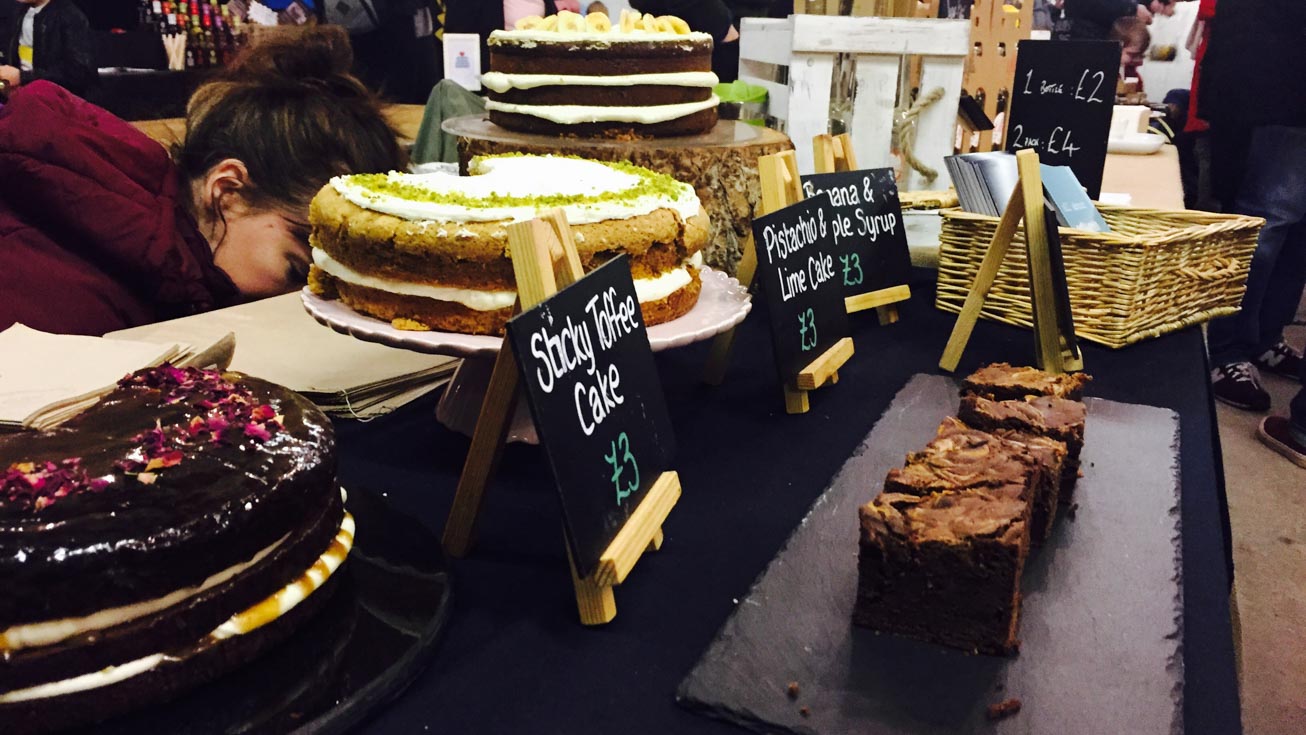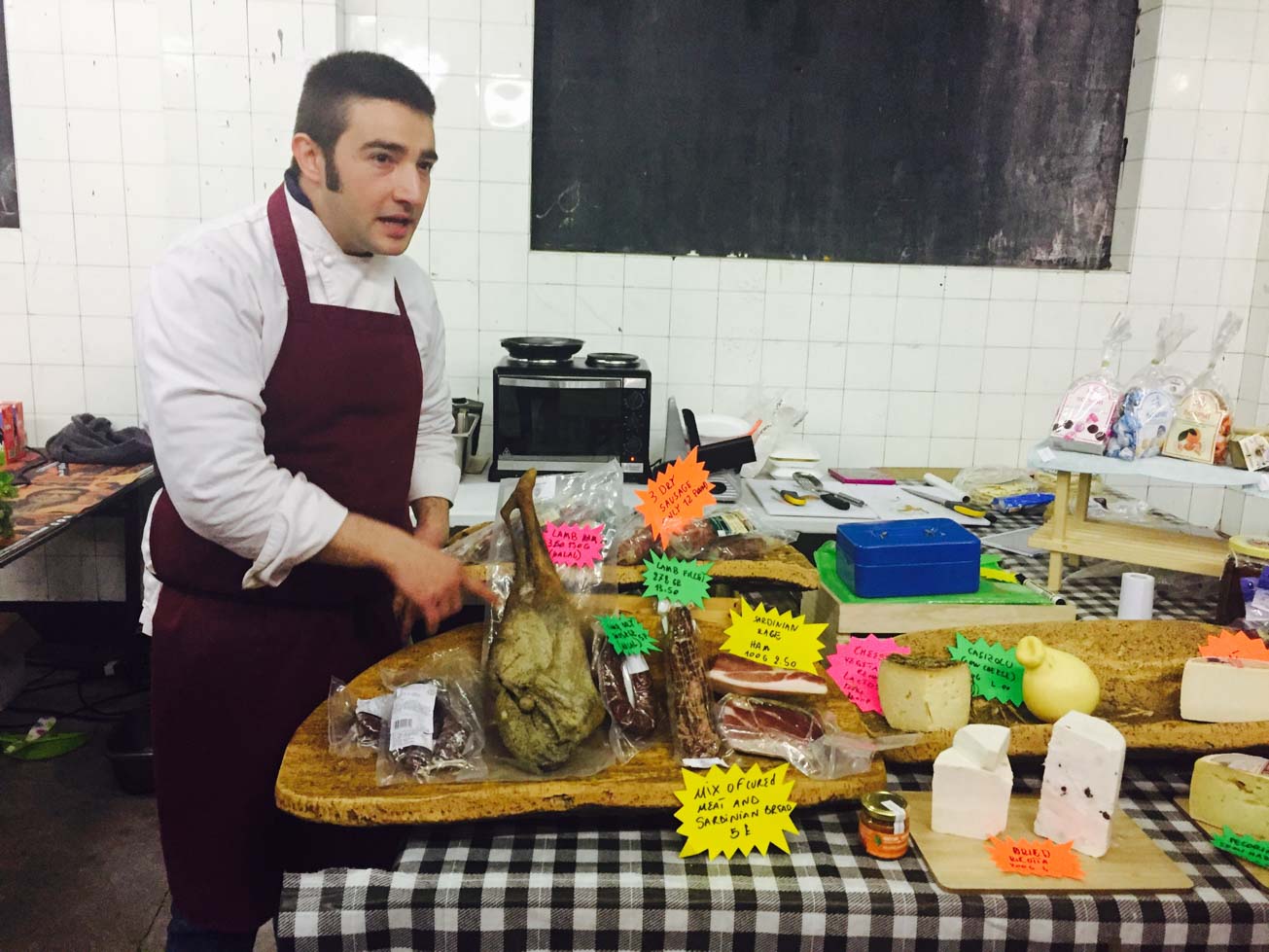 Stylish rhubarb juice from Bon Accord Soft Drinks
As an easy to overwhelm foodie, I started my gourmet adventure examining the market and building an imaginary list of stalls that I absolutely had to stop at. As I was about to finish my exploration I was stopped by a man offering me some samples of sparkly juice. Both my friends and I liked the rhubarb juice so much we each bought a bottle. This was the kind of snap decision I could have made using my designer senses without even trying out the juice. I finished my drink a long time ago, yet the bottle is now sitting on one of my kitchen shelves, with its neat, eye-catching label and nice typography waving at me whenever I walk past.
Bon Accord only started making their juices last year, but judging by the number of people queuing at their stall to try out their samples (and by the immediate purchase my friends and I made after tasting them), they surely are becoming popular. Currently producing tonic water, old-school-always-cool cloudy lemonade and rhubarb juice, Bon Accord uses natural sweeteners to flavour their drink.
Scrumptious tattie scones from Food Scoffs
I arrived there with an empty stomach and ready to try anything that made my imaginary taste buds smile. My first stop was to try the 'famous tattie scones' from Food Scoffs, where a friendly and smiley woman was preparing fragrant wraps for a queue of people that had taken over almost an entire aisle of the market.
Since Mr Murphy tends to be right more often than not, when my turn to order finally came, the friendly and smiley woman making the wraps informed me that the pulled pork (prepared in a slow-cooker, if I'm not mistaken) needed a bit more time. I moved to the side and tried to make peace with my stomach which was growling angrily, only to discover some appetising Sardinian specialities, including dried ricotta and some delicious salamis. I had previously bought some beer cheese and finocchiona from them at the Foodie's Festival in August, so I knew their stall and products.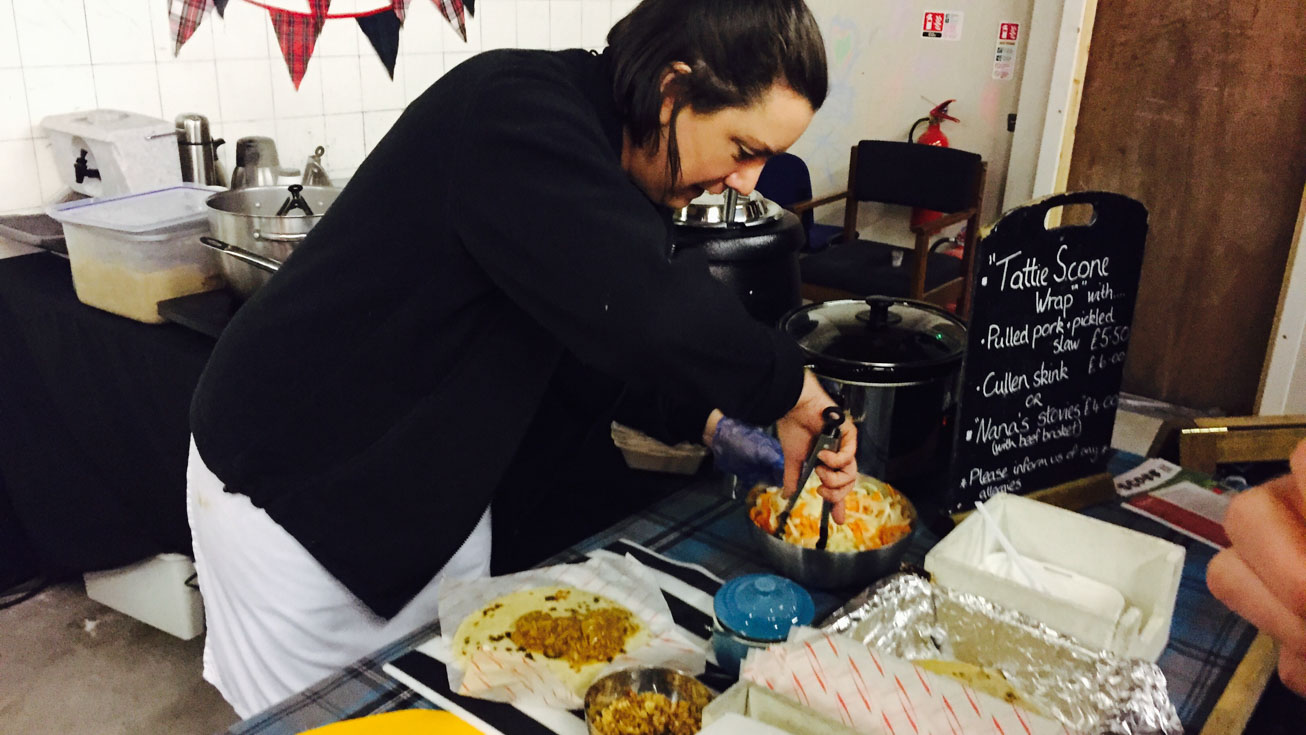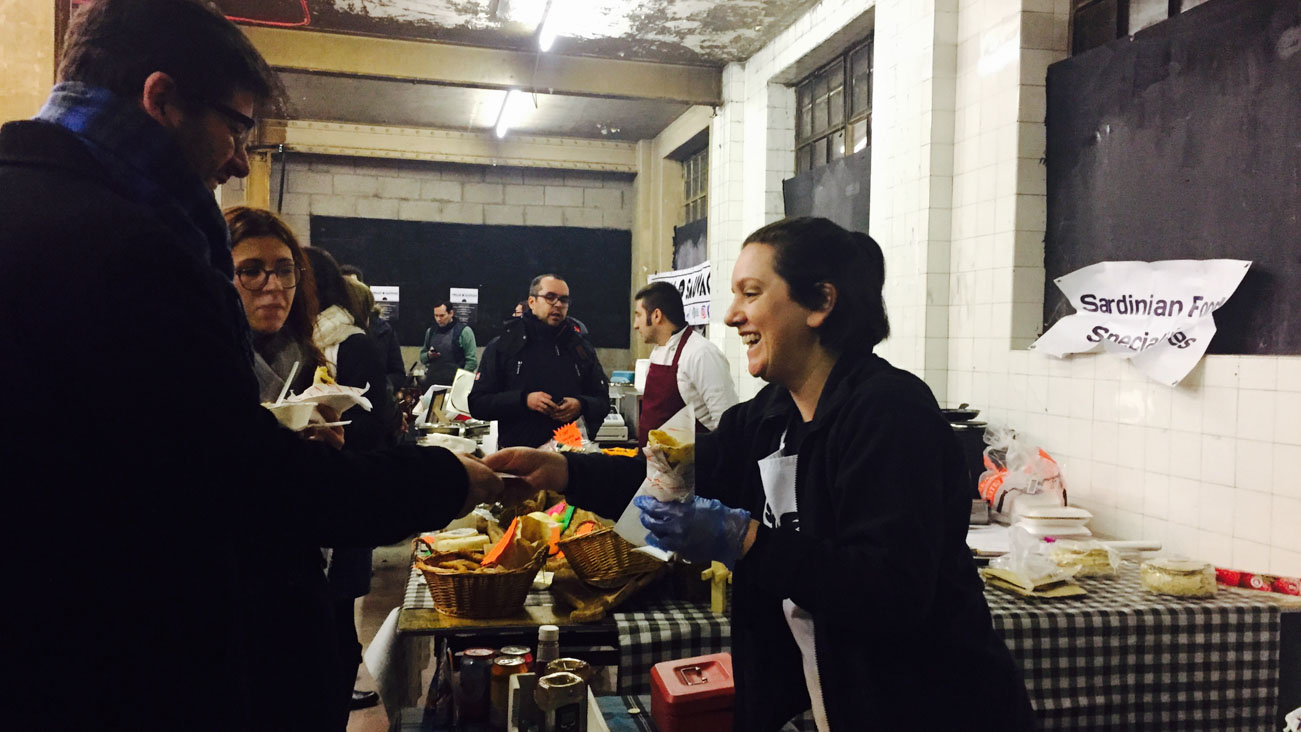 A bit later, when the smiley woman handed me the delectable wrap I had ordered, I imagined my stomach staring at it with adorable puppy eyes. As I took the first bite I felt not only the satisfaction of finally fulfilling one of the most basic human needs, but a collective joy from every taste bud that the flavours from the juicy pulled pork and the crepe like potato scone touched. The delicious simplicity of the tattie scone overran my usual tendency to prefer complexity (of flavour, ingredients and cooking techniques). Would I want another pulled pork tattie scone if I find the stall again? Definitely! As a matter of fact they're often present at various markets around Edinburgh, and on Sundays you can find them at the Stockbridge Farmers' Market.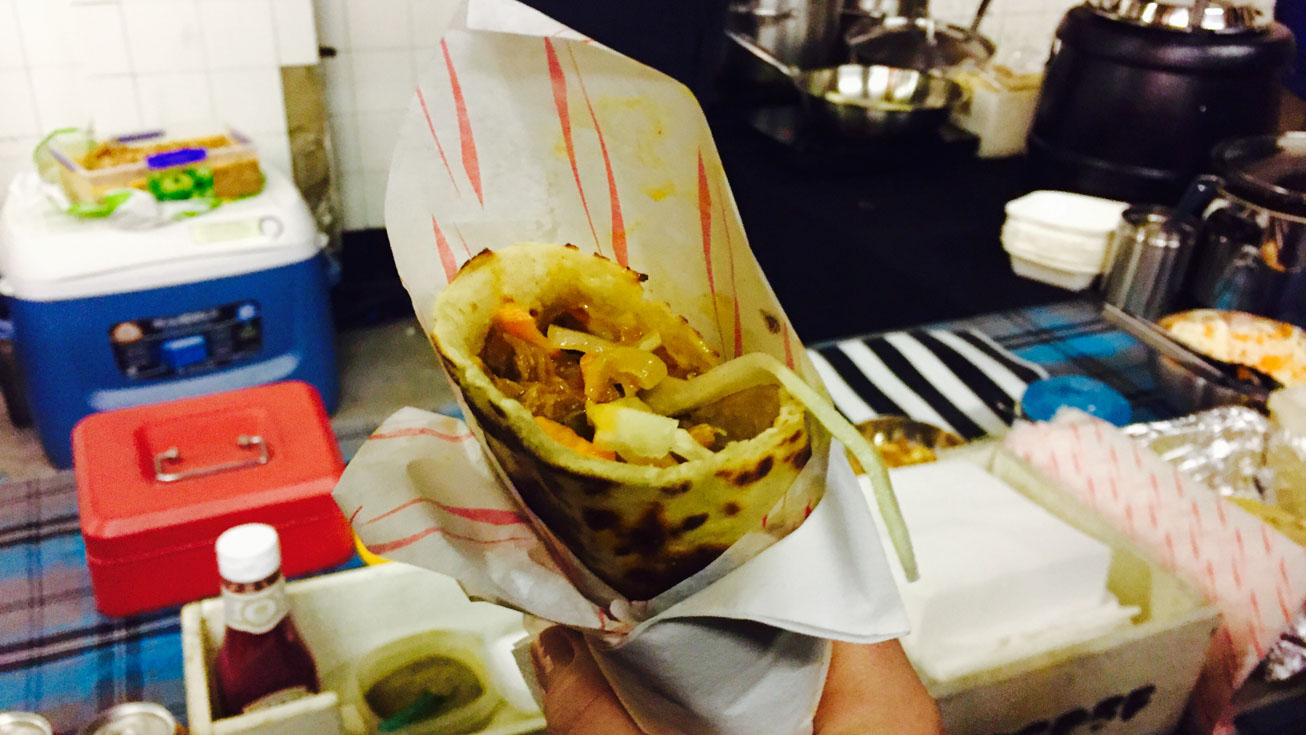 Venison + haggis = love
In my overexcited state that was making my mind dizzy and my eyes move, hectically, in all directions, I spotted 'venison haggis'. Scotland made me fall in love with many products and dishes and haggis is one of them. I've learnt how to prepare it form my favourite local butcher and have tried it many times from many different places. I've recently been looking for the venison version of this Scottish delight in order to make one of the recipes in Relish Scotland, a fine dining cookbook that I very recently bought.Walking straight to the stall and getting my hands on those beautiful pieces of goodness was, obviously, a must. At the end of the day, I don't come across venison haggis within a foot away from me too often…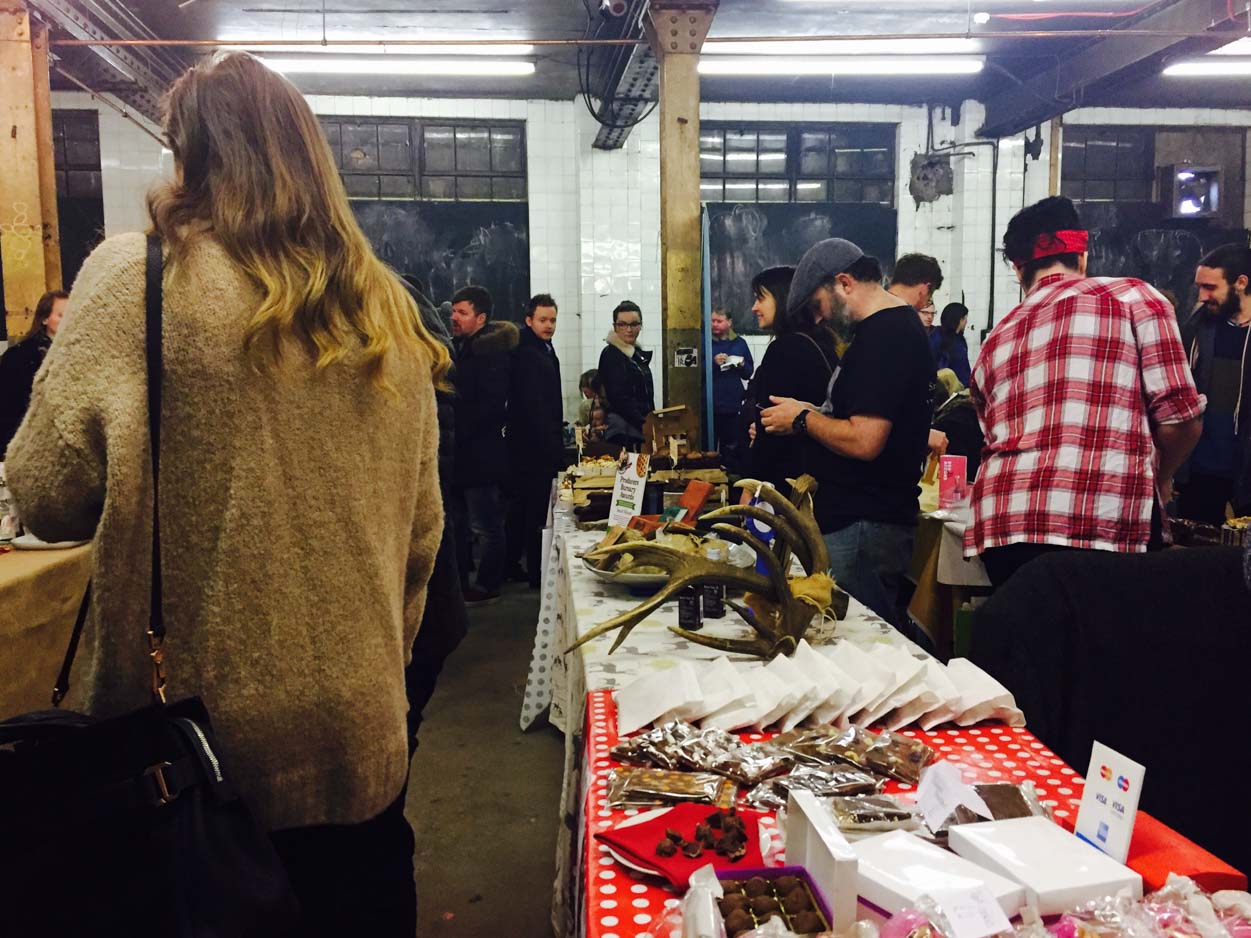 I arrived at the Servus Haggis stall with no thought of just looking, then going away. A happy (probably regular) customer just about to leave strengthened my confidence. He looked at me smiling and said 'awesome haggis, you have to buy some!'. He was too rushed to give me the time to proceed to a full analysis based on the bags he had collected, or any other bizarre behaviours that would have helped me elucidate whether or not he was a real foodie. Amused and excited, I grabbed the largest piece of haggis, paid for it, took a picture of the stall for myself and for Matthew, the owner, and continued my adventure.

Not just haggis…
The haggis is not just beautifully packaged in vacuum with a rustic handmade label decorated with a piece of Harris tweed, but promises a lot more. In my Twitter message exchange with Matthew, I learned that venison haggis is healthier than the traditional one because the meat contains less fat and the animals are healthier than sheep (thus not needing antibiotic treatments).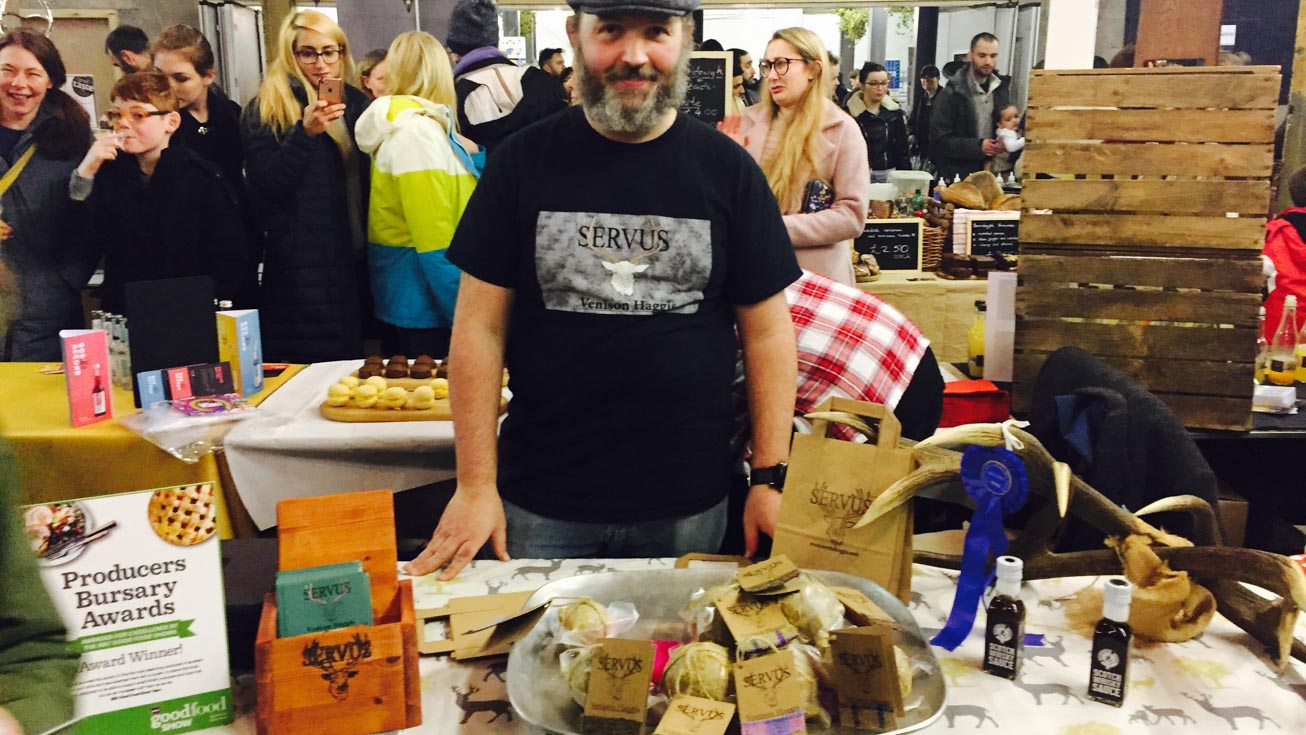 Aside from making sure every raw ingredient is high quality, carefully handcrafting every piece and testing every batch of their haggis production, I also learned that they have a strong focus on the greater good. "Our ethos leans heavily towards sustainability. All of our raw ingredients are sourced from Scotland (except the paprika; for some reason nobody seems to grow that here) to help reduce food miles. Obviously, the offal we use would otherwise have ended up in landfill. Venison farming is more sustainable than higher intensity methods used for sheep and cattle, and the animals have far more space. This obviously means better welfare standards and happier animals.", said Matthew.
Matthew has been running this business for a bit less than a year, with help from his fiancée and their haggis hound, Oscar. If you wish to try their delicious haggis, check out their Facebook page for more details on when and where you can find them.
Here and there, everywhere
While on my way to Whisky & Sauce and all things nice stall, which my friends recommended, I stopped and admired the beautifully baked sourdough bread from Khleb and let my eyes linger at All About Patisserie's beautiful vegan cakes.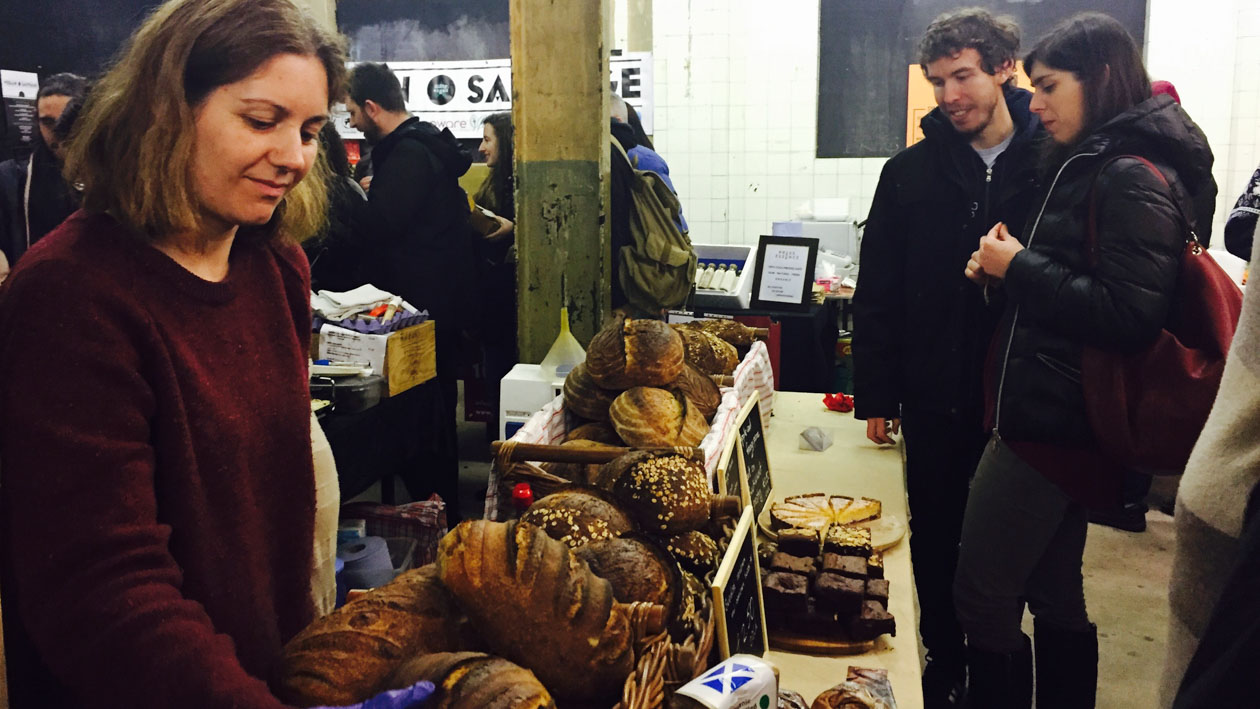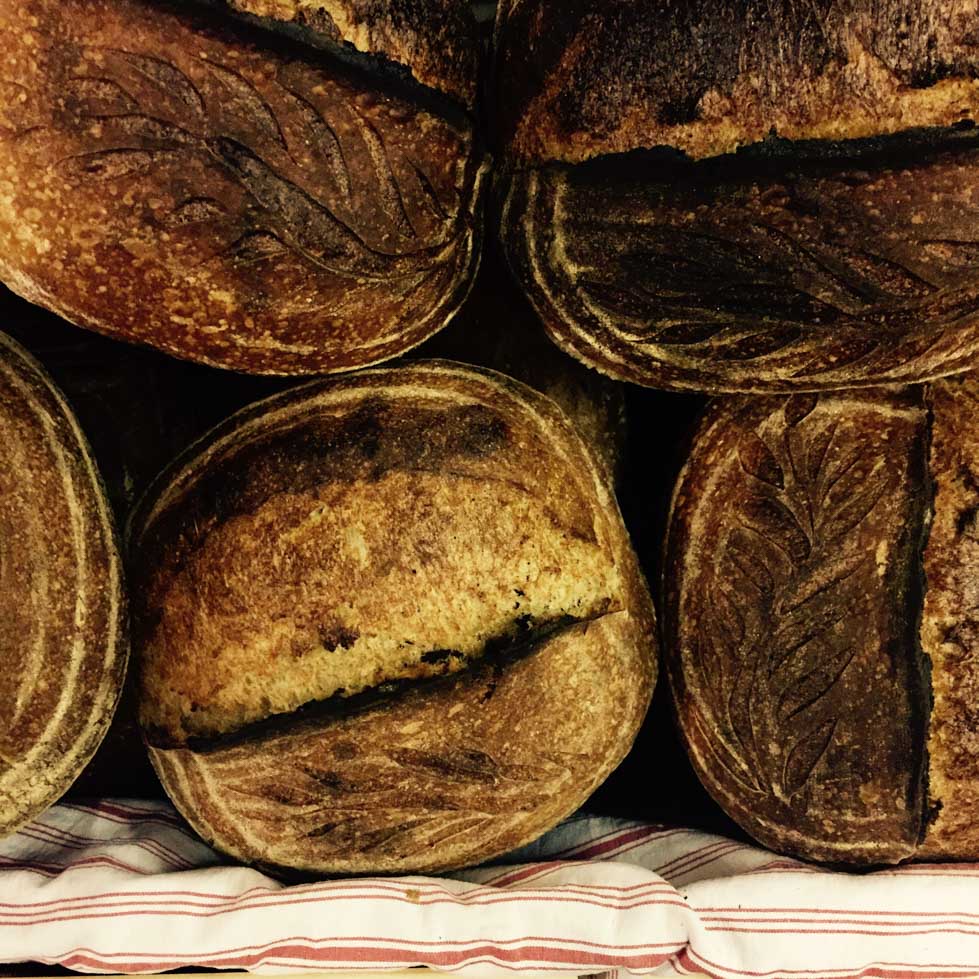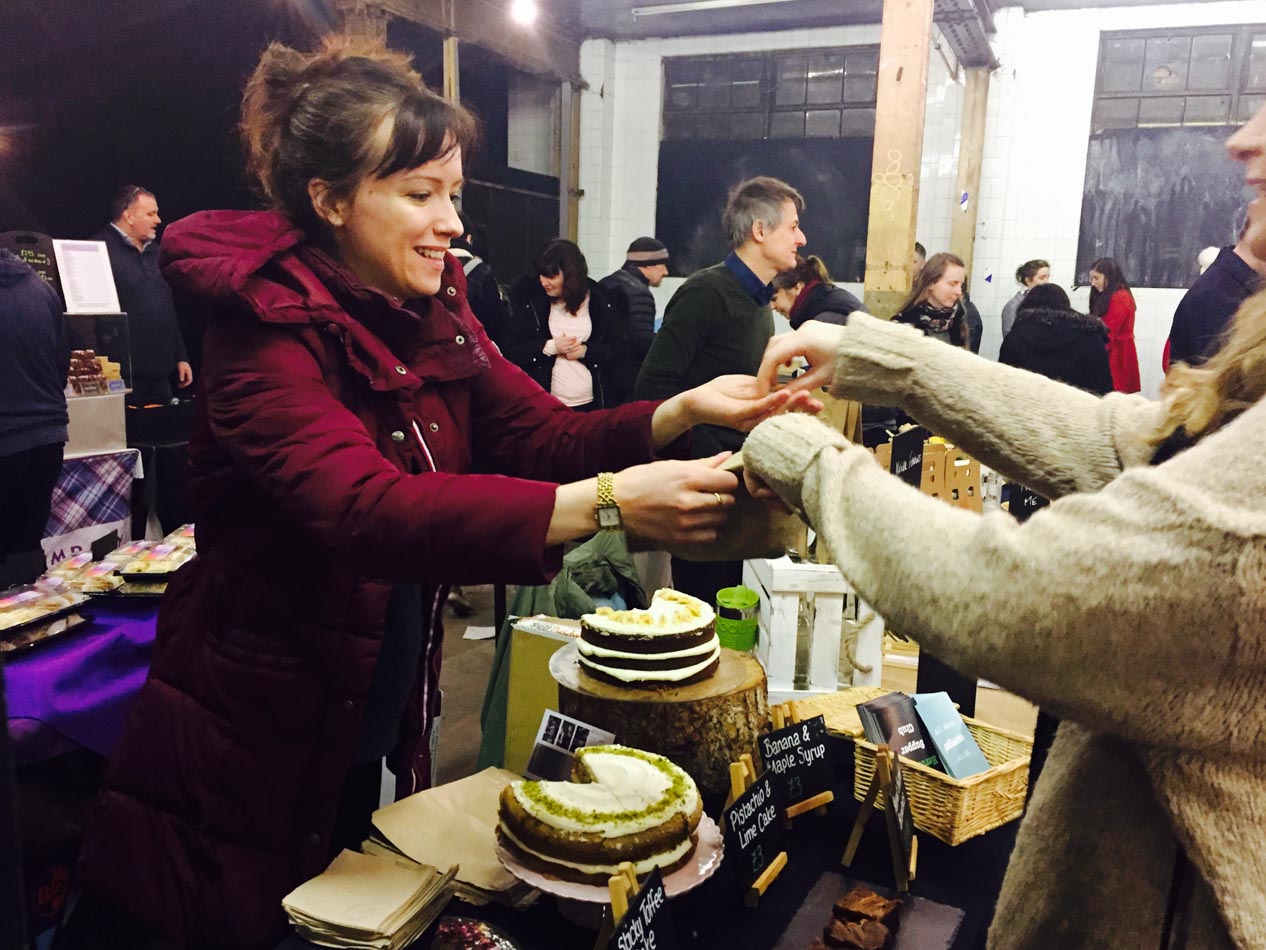 I stopped at Meg's Home Kitchen where I tried all of their jams and chutneys and had a hard time deciding on which jar to buy – I went with the spiced apple chutney, which I thought would go nicely with some haggis bon-bons. The whisky sauces at Whisky & Sauce and all things nice were so tasty they became a direct competitor to the chutney, as an accompaniment to my newly purchased venison haggis. My visit ended with a Scotch Bonnet Spicy Sauce and a Chocolate Whisky Sauce straight in my boyfriend's backpack, together with everything else we had bought.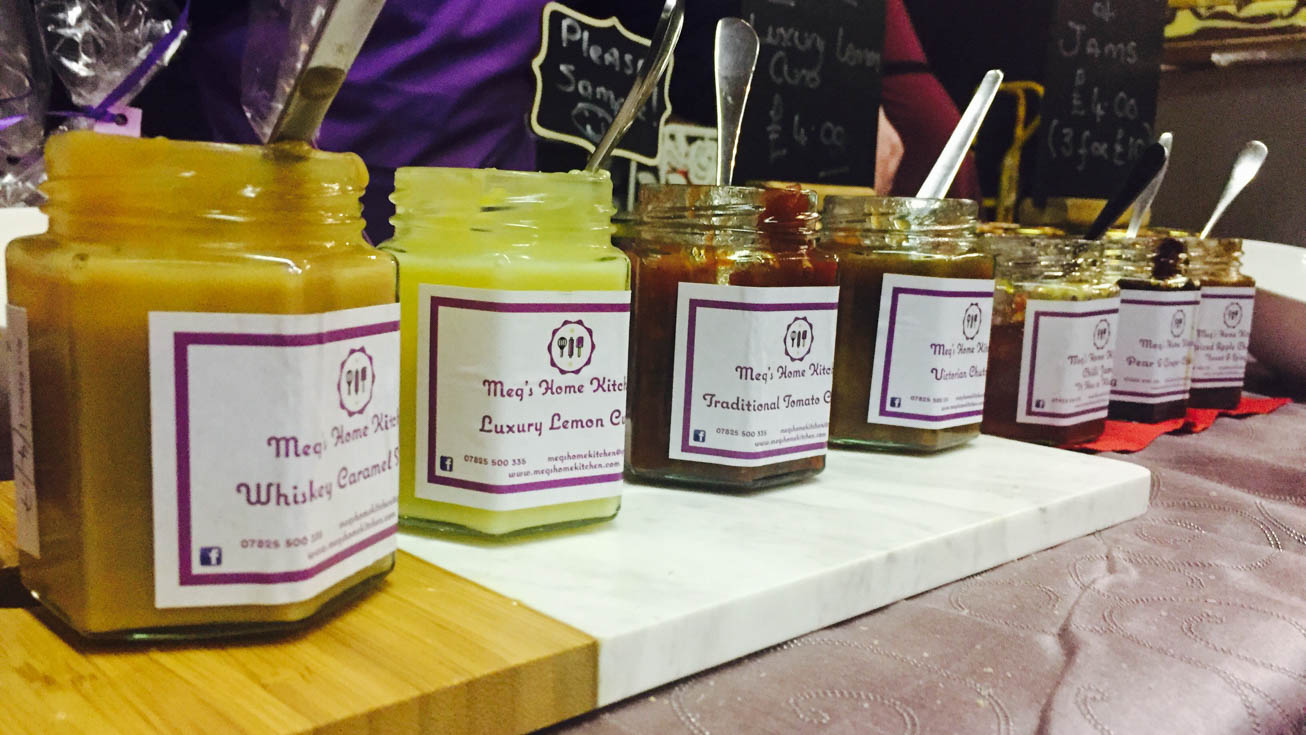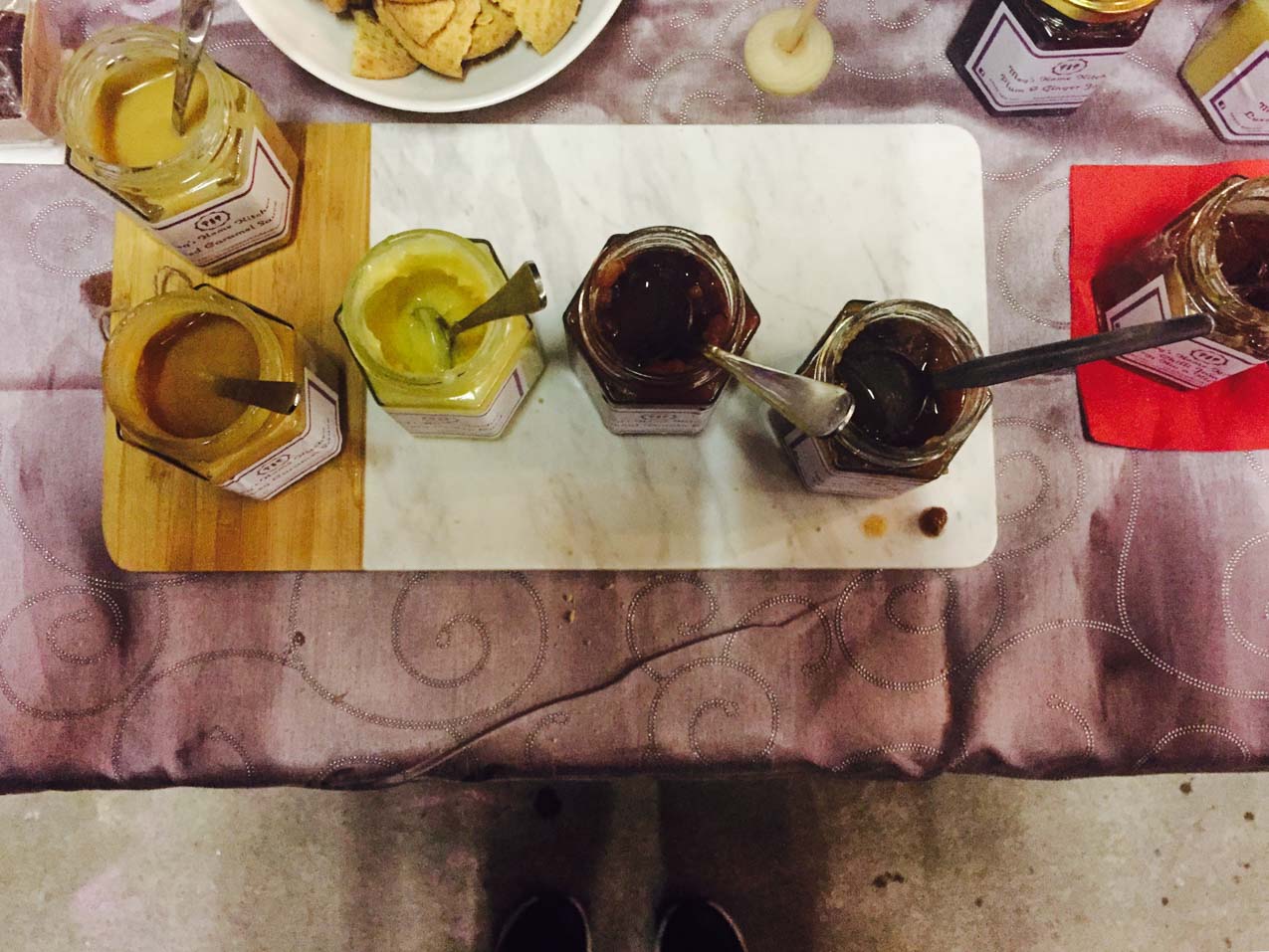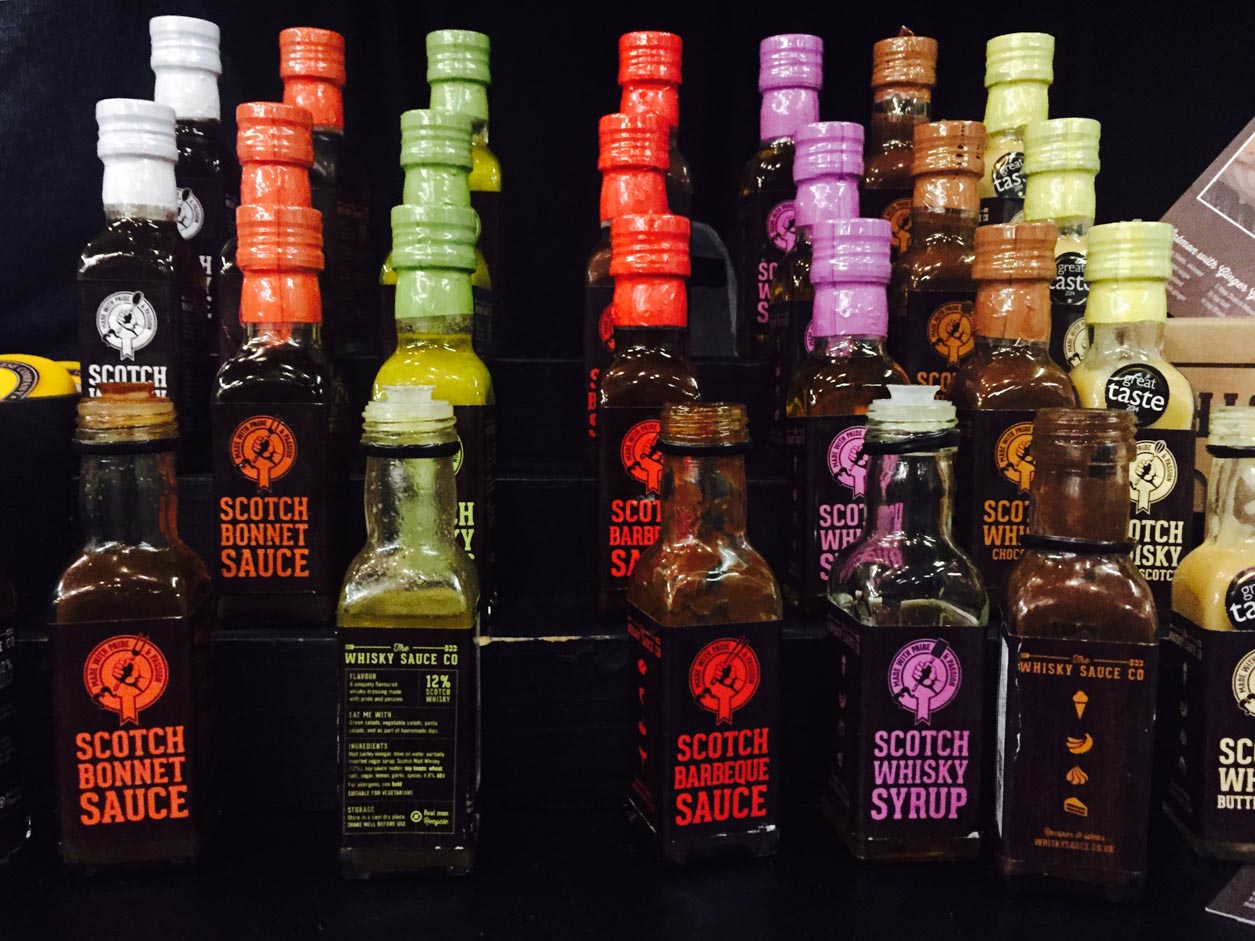 Finally, I tried some delicious pulled venison from Seriously Good Venison. Since the small sample was more of a teaser than anything else, I indulged in a pulled venison wrap from their truck on my way out. Seasoned and spiced beautifully, the meat melted in your mouth just like ice cream on a hot summer day. As I was taking my last bite, my mind moved from the market to my desire to make pulled venison in the coming week. I was ready to go and fully satisfied!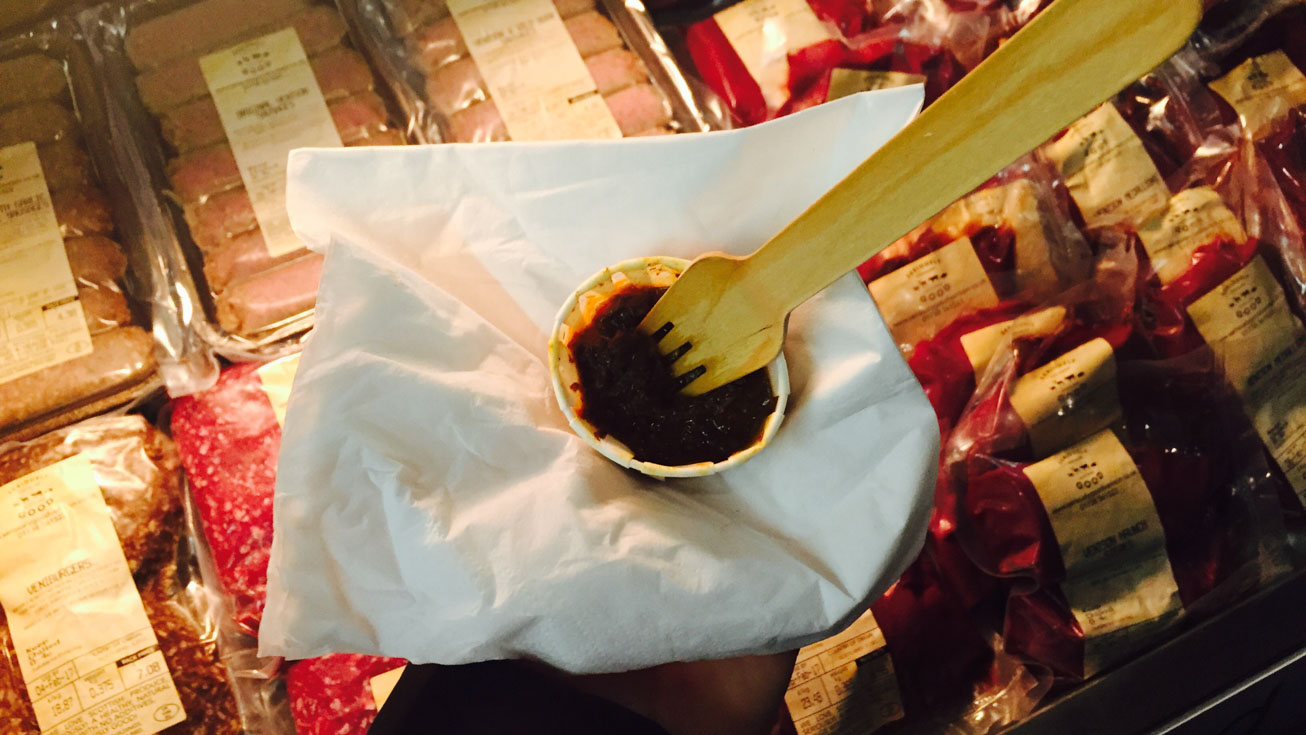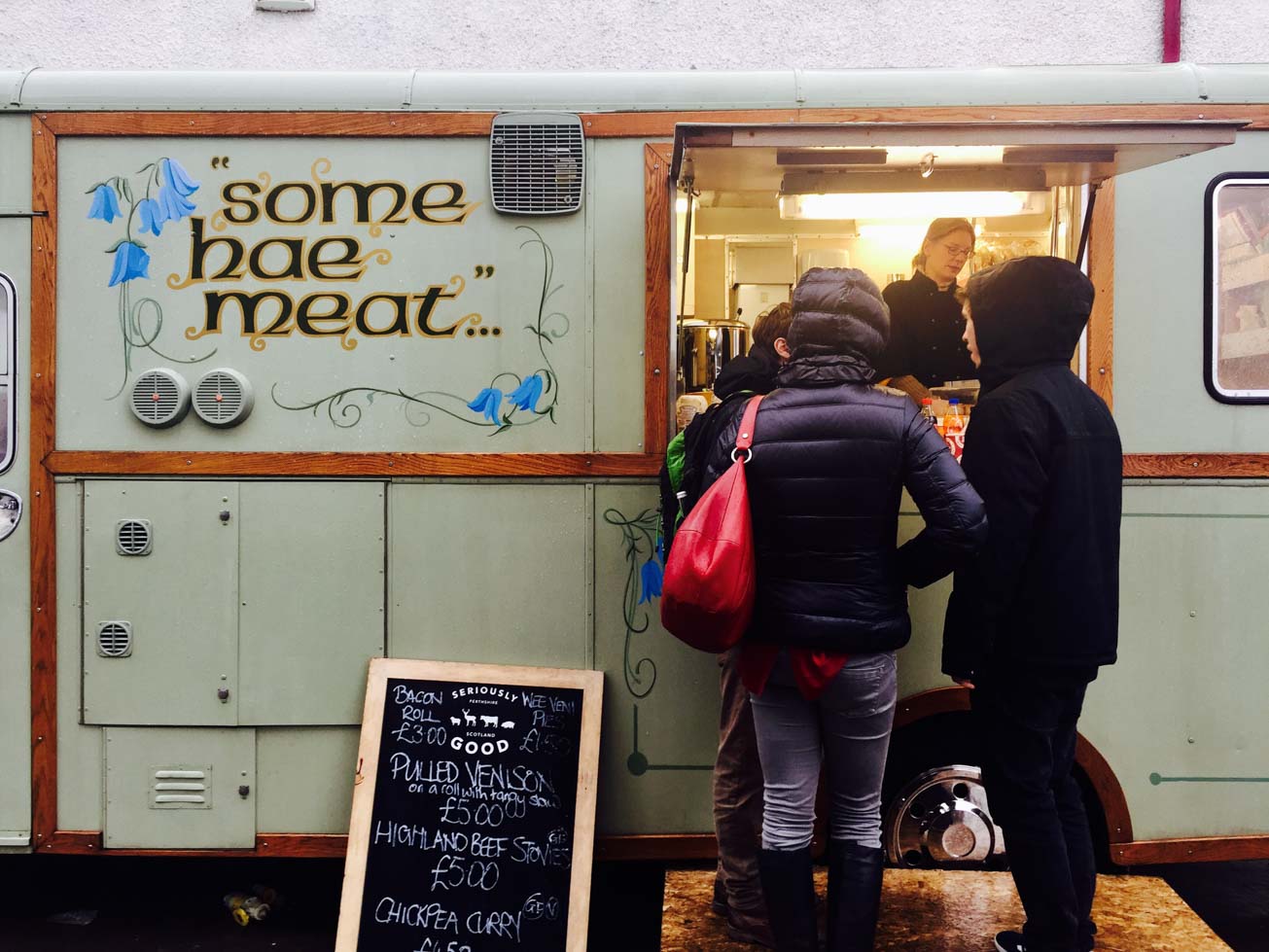 If I've made you feel hungry with this post, I've got good news! The Edinburgh Larder has already announced their next Edinburgh Indoor Market on the 25th of February. Check out their event page, see you there and don't forget: #EdIndoorMarket ! 🙂
Until the next time,
Love, happyholism and nom-nom,
Ioana