This delicious aromatic miso ramen soup is a great vegetarian choice that is easy and quick to put together.
I've been delaying posting this recipe since about January, but I ran out of excuses to delay it further. I've tested the recipe many times, for many different people, I've changed it, shuffled ingredients, improved it, etc. etc.. I cooked it every week for two months. No, perfectionism doesn't suit me: because I've cooked it so much, I lost the excitement to write about it. But today I ran out of excuses.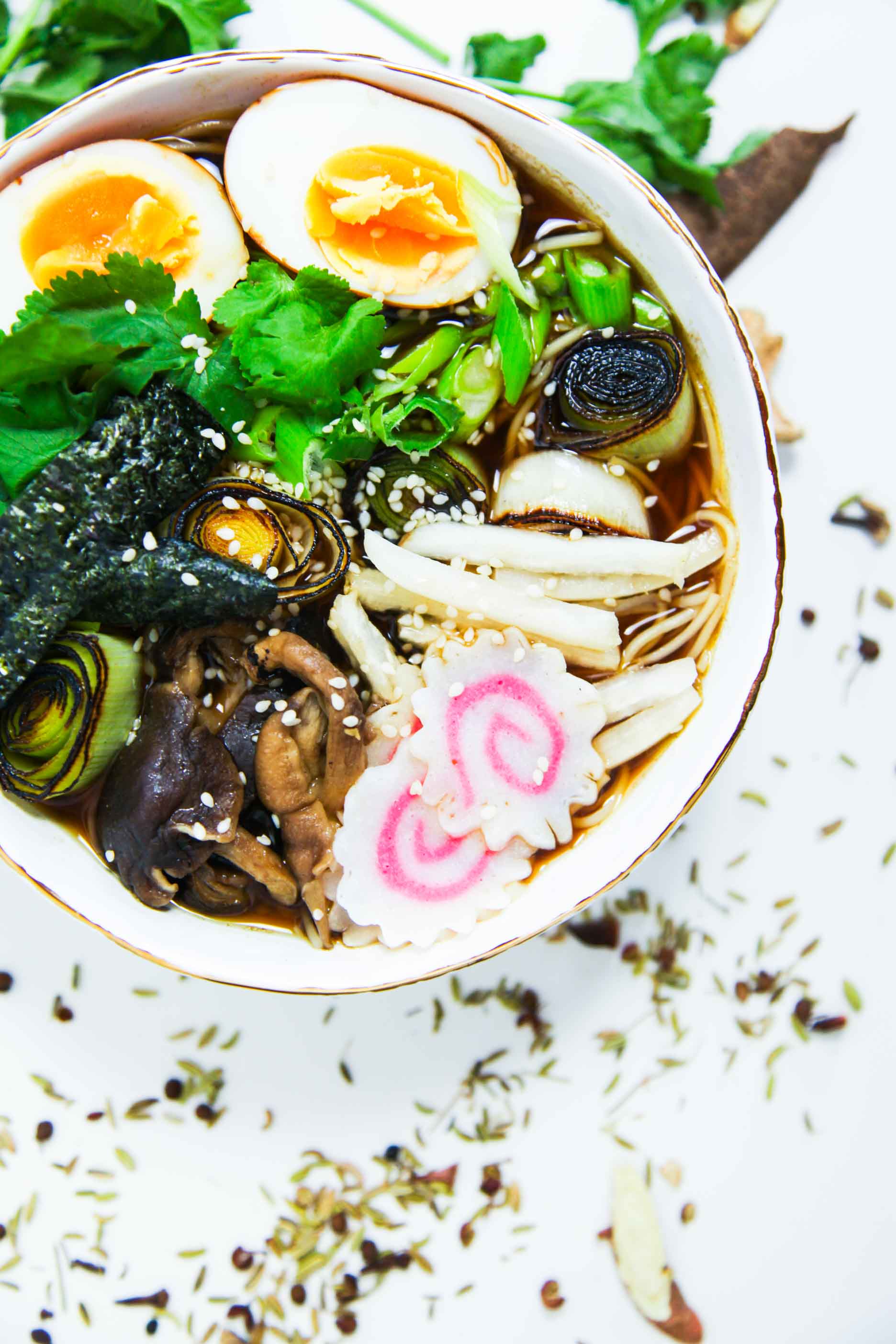 Three months later
Three months have passed and my boyfriend often asks me if I put this recipe up sob that he can share it with some of his colleagues who either smelled it or even tasted it the couple of times he took it to work. And after three months even my excitement came back. I am writing this as I am preparing a new batch of this scrumptious and healthy miso ramen soup.
Anyway, I won't be writing too much today. Mainly because I am scared that if I start telling you about the number of times I made this soup for various guests I will again get lost in my thoughts and will not complete this recipe. Today is the day. Finally.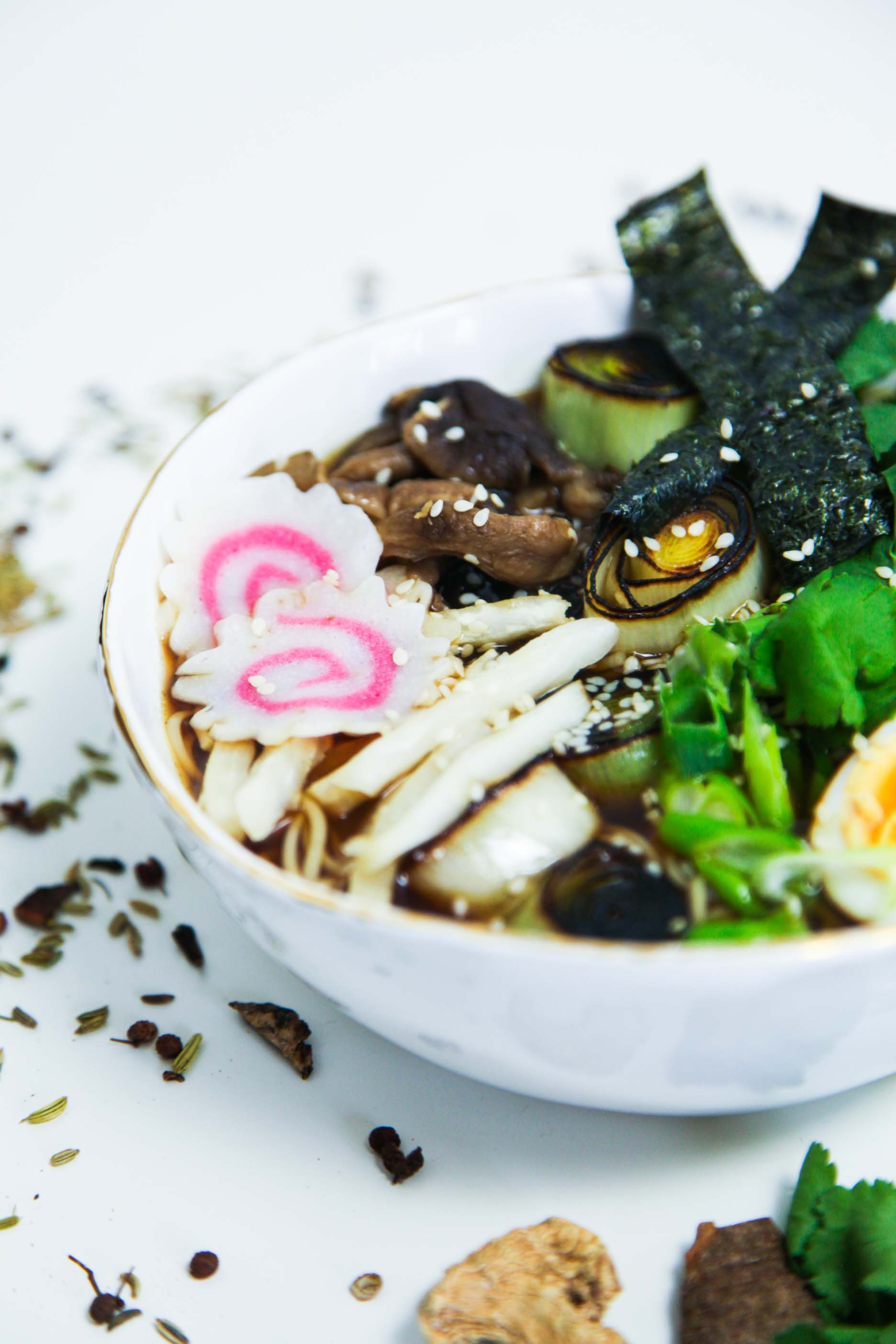 Healthy deliciousness
I can tell you, though, that the soup is so good you'll end up like me, making it way too often. It's healthy and light, quick, easy and perfect for those times you crave something good and homemade but don't really know what to make. You only need a handful of base ingredients (which you can store in your pantry, spice cupboard or fridge) to make the broth. Finally you can pick the topping to your liking. In this recipe I listed my most common topping ingredients, but feel free to replace them with blanched broccoli, roasted tomatoes (like Chef Table's Ivan Orkin), sautéed bok choi; even meat or seafood work well.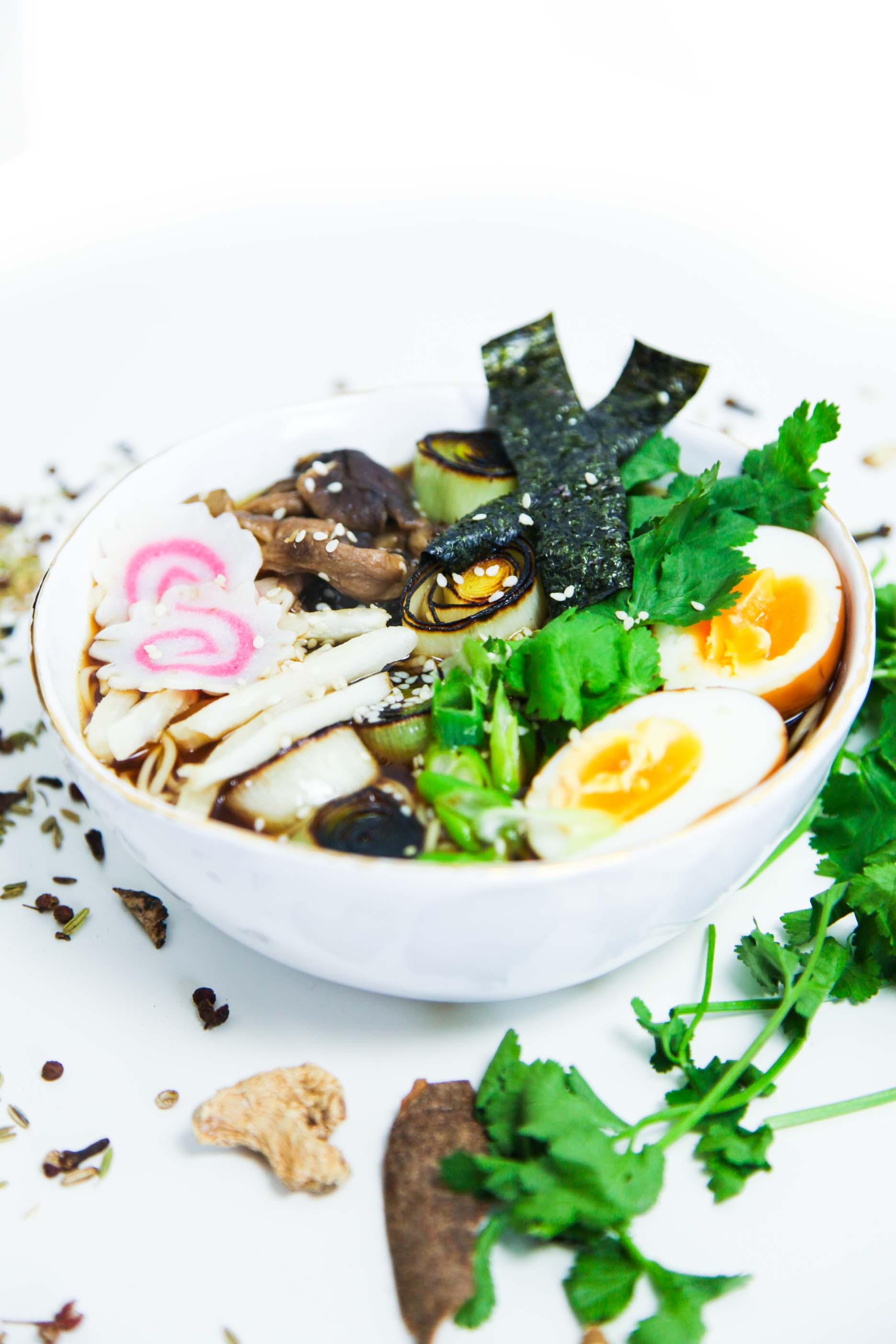 The recipe
This delicious aromatic miso ramen soup is a great vegetarian choice that is easy and quick to put together.
Instructions
To make the broth
Heat the oil in a large pot. Slightly fry the ginger, garlic, chilli and spices. Add the onion, carrots and water and bring to boil. Simmer for about 30 minutes.

Strain the broth and dispose of the rest. Return the broth to the pot and start preparing the actual soup.
To make the soup
Add all the ingredients for the soup to the broth, mix well and bring to boil. Simmer for 10-15 minutes. (With a lid on.)
For the rest
Heat the oil in a pan and grill the leeks for 1-2 minutes on every side.

To assemble, add noodles to the bowls you will serve the ramen in. Add broth (with mushrooms), then top it with one egg, halved, nori, some leek slices, chopped chives and coriander.
Recipe Notes
You may be able to find an Asian whole spice mix in your local Asian shop. As a tip, you may be able to find it under the name of 'soup spices'. If not, you can add: 1tsp Szechuan pepper, 1 cassia bark, 1 tbsp fennel seeds, 1 tsp whole cloves, 2-3 whole star anise, 1 tsp orange peel and 1 piece of liquorice.
Enjoy!
Love, happyholism and nom-nom,
Ioana