This halibut, lemon verbena, golden curry, quince and kumquat dish perfectly matches the lovely sunny days and brings you refined and refreshing new flavours. The fish is infused with lemon verbena and cooked at 50ºC sous vide (don't worry, you can do this in a pan as well). The silky and smooth curry carries typical Thai flavours of lemongrass and lime and looks like liquid gold. The sweet quince chutney, perfumed with star anise, ginger and chilli and works in perfect antithesis with the delicate acidity of the pickled kumquat slices.
Halibut on holiday in South-East Asia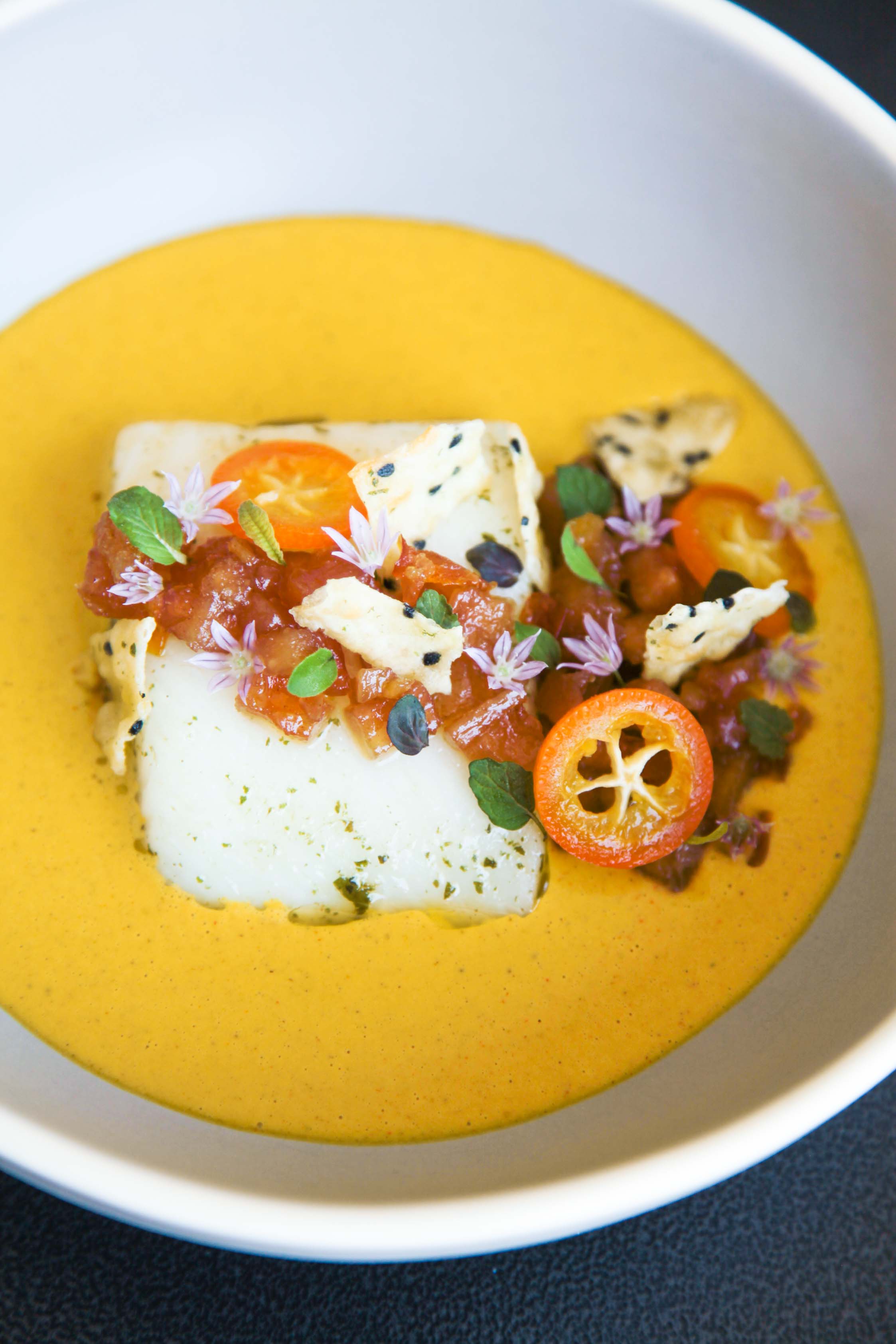 Herbs, plants and gardening
Have I told you that I have a rooftop terrace in my new Viennese flat? Well, yes I do, and shortly after the weather (finally) got nicer, my boyfriend and I started populating it with plants. We chose them based on two criteria: they had to be mostly edible and had to appeal to butterflies and bees. In case you're curious, I'll list a few: shiso, bok choy, coriander, heirloom carrots, peas, nasturtiums, cornflower, dill, parsley, four types of basil, six types of lettuce, six types of mint, three types of sage, a cola plant, red currants, strawberries, and even cucamelons. No, I haven't listed them all. 🙈

Austrians' love of plants
I noticed that in Vienna (and I presume that applies to the rest of Austria as well), it's very easy to find all sorts of plants that are difficult to come across in other countries. You can find lemon balm in most supermarkets. Plus, I came across mint varieties I had never heard of: basil mint, chocolate mint, strawberry mint (which is, by the way, fantastic), banana mint and even pineapple mint. You can also find all types of sage: purple, pineapple, mandarin… I had never heard of cola plants before moving here: they're a small shrub that smells like cola gummy bears when you rub it. I even found white strawberries, tens of varieties of tomatoes, chillies and other aromatics.
I'm not sure if it's because I only grew up in the city and never had the chance to experience the countryside life, but all these plants are fascinating to me, and so is the lemon verbena that will slowly lead me to the dish in this article.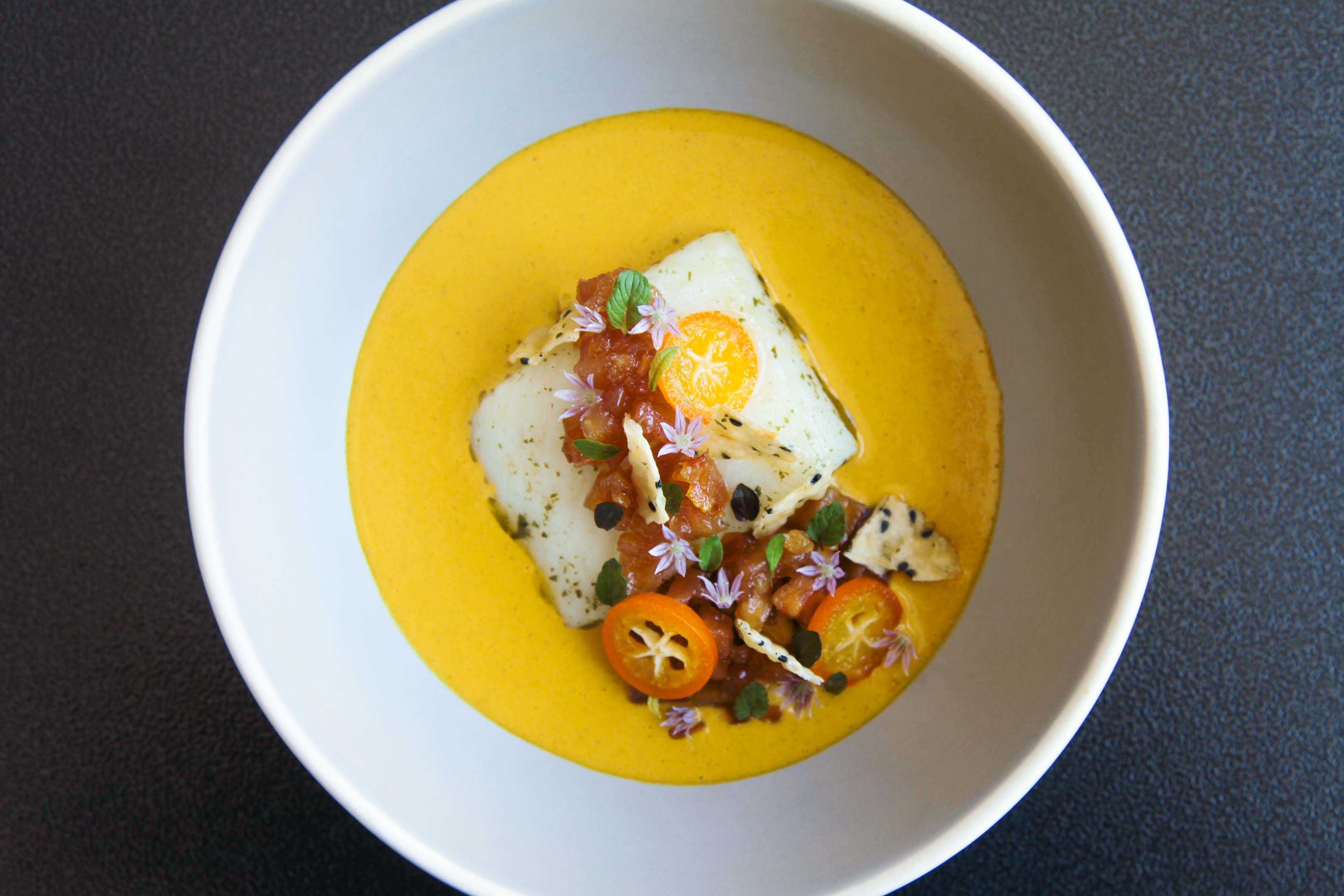 The lemon verbena story
Well, lemon verbena is one of those ingredients that you will often come across in fine dining dishes. So are rhubarb, salsify, lemon balm, morels, pig's ears and sweetbreads. Among many others. As you can imagine, I've been looking for all of these, and am slowly experimenting with each (I haven't yet cooked pig's ears though).
Grumpy encounters
On one of my quests in the local market, I discovered what the lemon verbena plant looked like, and also learned that it's a plant, not a fruit (oops). Looking at the other ingredients they had at that stall, ready to fill my bags full of amazing things to cook with, I found morels – fresh, beautiful. My natural instinct, the one that pushed my lemon verbena purchase by two weeks, was to touch one and smell it. I paid for my apparently impolite act that led to the mushrooms not being hygienic anymore, with loud shouts from the old Austrian man guarding the stall. I wanted to respond and tell him that morels are toxic raw and, anyway, who the hell doesn't wash their vegetables before cooking them, but I traded this for a grumpy afternoon.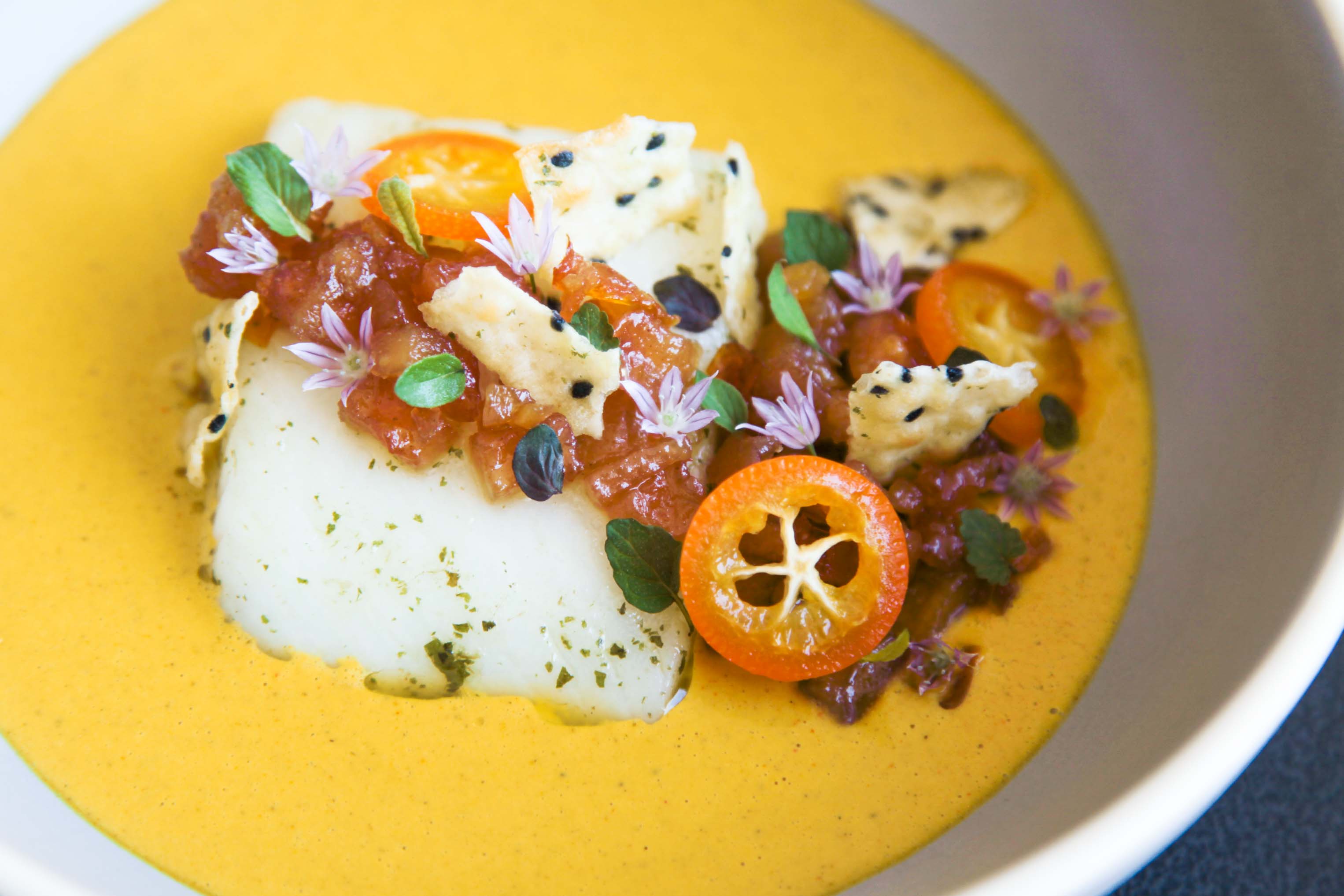 À la Française
I gave up and went to the market stall again after two weeks of constant search and recipe preparation. This time a friendly Tunisian man greeted me with a bunch of delicious free grapes and helped me pick the two nicest looking lemon verbena plants. He spoke in broken English and me in broken German until we both realised we speak French. We said 'à bientôt', and there I was, fifteen minutes later, back home, cooking my lemon verbena recipes.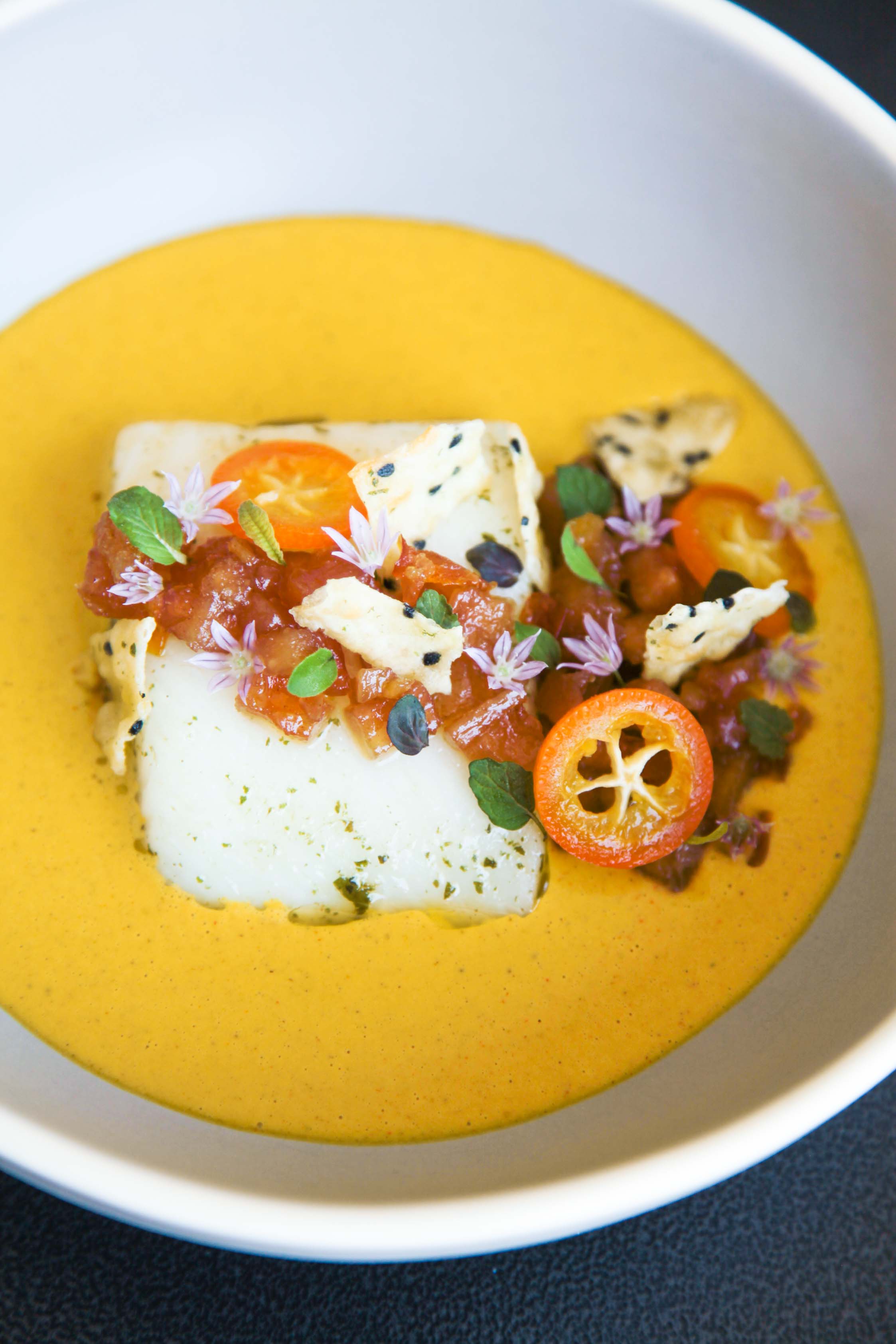 The halibut, lemon verbena, golden curry, quince and kumquat recipe
I recommend serving this dish with warm jasmine rice. Beware: the golden curry is so simple and yet so delicious you might end up using it in a lot more dishes!
This halibut, lemon verbena, golden curry, quince and kumquat dish perfectly matches the lovely sunny days and brings you refined and refreshing new flavours.
Ingredients
For the lemon verbena infused halibut
Instructions
For the pickled kumquats
Start the dish by preparing the pickled kumquats. Heat all ingredients apart from the kumquats in a small sauce pan until the sugar has melted. Remove from the heat, let it cool, then add the pickling liquid to the kumquats into a small bowl. Set aside until ready to use.
For the spiced quince chutney
Sauté the ginger, chilli and aromatics with the butter, then add the remaining ingredients and ½ cup of water and cook on low heat for 30 minutes.
For the golden coconut curry
To prepare the curry, start by dry roasting the spices in a pan until they start releasing their flavour. Grind finely with a mortar and pestle and set aside.

Sauté the garlic, shallots and aromatics (kaffir lime leaves, ginger and lemongrass) with the butter, on low heat for about 10 minutes. Add the roasted spice mix – for a fine curry, I recommend passing them through a flour sifter and discarding the larger pieces. Add the coconut milk and the stock, turn the heat up to medium-high, then cook for an additional 10-15 minutes. Remove the lime leaves, then blend the curry into a silky sauce.
For the halibut
To cook the halibut, first brine it: add the salt to a medium pot of cold water, stir to dissolve it, then add the halibut and leave it in for 15-30 minutes. This will flavour it and make it more tender.

Remove it from the brining liquid and pat it dry.

Crush the verbena leaves with the oil in a mortar and pestle. Rub the fish, then add it to a zip lock bag or wet vacuum packer, the cook it sous vide at 50ºC. If you wish to cook it in a pan, follow all the steps, but instead of vacuum packing it, cook it in a hot non-stick pan for 2-3 minutes on each side.
Until next time,
Ioana